What Format Should DJs Buy Music In? A DJ's Guide To MP3, FLAC, WAV
Photo credit: Mohammad Metri on Unsplash
Do your eyes cross when you see all the audio format options to choose from in the Bandcamp download menu? The good news is that you can DJ with all of them, but each file type offers different audio resolution, file size, and software compatibility. Here's a straightforward breakdown of audio file types specifically for DJs, including how much more you can expect to pay if you want to step up from MP3s.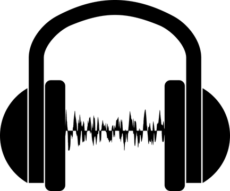 Discussions on audio file types can get very academic, very subjective, and honestly quite tiresome when what we really care about is slaying a tight mix and rocking a lit party. So this audio file format breakdown will focus on some bottom-line considerations:
Which formats sound better than others?
How much drive space do they require?
How much do they cost?
Will they work with your DJ software?
What (Common) Formats Can DJs Buy Music In?
Introducing the players in this game, the most commonly bought, sold, and spun audio formats.
Compressed, lossy formats:
MP3 – coded at 192kbps, 320kbps, and variable bit rate (VBR).
AAC –  aka .m4a files. These lossy files share the .m4a extension with lossless ALAC files, but AAC refers to the lossy files that are sold for example at iTunes.
Ogg Vorbis – free and open-source audio coding format
Compressed, lossless formats:
FLAC – Free Lossless Audio Codec
ALAC – Apple Lossless Audio Codec
Uncompressed formats:
Audio Quality Matchups
On DJTT and internet forums around the world, there are huge debates about noticeable quality differences when comparing file formats and bit rates. Here's our take on the most common questions:
192k vs. 320k MP3: Is There a Difference?
Yes. A/B testing shows a noticeable difference in audio quality between these two bit rates. If you're going to DJ with MP3s, it's worth going with the highest bit rate.
Juno Download lets you choose between 192k MP3s at an average price of $1.49 per track, or 320k MP3s at an average price of $1.89 per track. The 192k MP3 will also save you about 1MB of disk space per minute of audio. All of these choices are subjective, but I vote to invest in the higher-quality audio.
VBR MP3 vs. CBR 320k MP3: Is There a Difference?
Bandcamp lets you choose between constant bit rate (CBR) 320k MP3s and "V0" MP3s, which are variable bit rate (VBR) MP3s that may reach 320k for parts of a track, but be reduced for other parts. The main point for V0 MP3s is to save disk space by lowering the bit rate for less complex portions of a track.
Side by side, there's very little, if any, difference between the audio of these 320k and V0 MP3s. However, there's always a possibility that you'll lose some audio fidelity in a V0 MP3, so it's matter of assured fidelity vs. saving some disk space. With solid state drives, thumb drives, external drives, etc. being what they are today, my guess is that you can afford the slightly larger file size of CBR 320k MP3s, but it's not a huge deal.
MP3 vs. lossy AAC / lossy Ogg Vorbis: Is There a Difference?
AAC and Ogg Vorbis files do sound slightly but noticeably better than MP3s
In my own personal listening tests, corroborated by many others' opinion, when music is encoded at the same bit rate to MP3, AAC, and Ogg Vorbis formats, the AAC and Ogg Vorbis files do sound slightly but noticeably better than the MP3s. There's a difference in the fullness of the sound and the bass in the AAC and Ogg Vorbis files.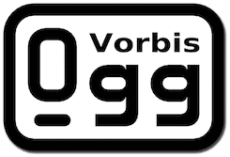 It's a subtle difference, but once you know it's there, it's a little annoying that MP3 became the ubiquitous format, rather than one of the others. AAC and Ogg Vorbis files weigh in just slightly larger than MP3s, albeit a negligible amount. Most software supports Ogg (see chart), but everything supports AAC, so you may want to consider it over MP3 when you convert music down from lossless formats.
ALAC vs. FLAC lossless files: Is There a Difference?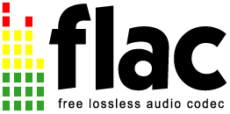 Lossless files owe a lot to the specifications of the conversion process, as well as the conversion software and other factors. If you look long enough, you are bound to find some FLACs that blow away an ALAC, and vice versa. For all practical purposes, when the extenuating circumstances cancel out, FLAC and ALAC run neck and neck, both in audio quality and file size.
unfortunately iTunes still doesn't support FLAC, and may never do so
More digital shops sell FLAC, but if you use iTunes to manage your library, you're out of luck; unfortunately iTunes still doesn't support FLAC, and may never do so. Most software, naturally including iTunes, supports ALAC, especially since Apple made ALAC open source and royalty free (like FLAC has always been) in 2011.
Uncompressed formats vs. lossless formats: Is There a Difference?
The comparison between WAV and AIFF uncompressed audio and FLAC and ALAC lossless compressed audio feels similar to the comparison of CBR 320k MP3s with VBR and 192k MP3s. Some will tell you they hear a difference, while many others say they don't. However, just because a file is "lossless," don't forget the bit rate. If you convert a 24-bit/96kHz WAV to a 16-bit/44.1kHz FLAC, you will definitely hear the difference. If you absolutely need to have the highest quality audio, which you can always down convert later, go with uncompressed WAV or AIFF.
Compatibility also comes into play somewhat. While most DJ software shows love for lossless formats, AIFF and WAV files are nearly universally accepted in commercial applications and professional music software.
On the other hand, unlike the different MP3 and other lossy formats, compressed lossless formats actually do save you a lot of disc space compared to uncompressed formats (see chart below). Since they sound nearly indistinguishable from WAV and AIFF, lossless audio presents a strong argument for ending up in your virtual crates.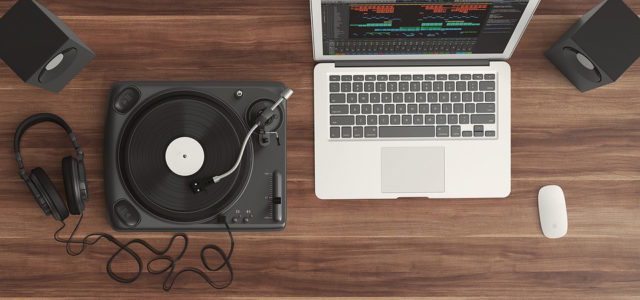 WAV vs. AIFF: Is There a Difference?
The two giants of uncompressed audio harken back to the Mac vs. PC debate. Microsoft and IBM developed the Waveform Audio File Format (WAV), and Apple developed the Audio Interchange File Format (AIFF) way, way back in the day. This used to present compatibility problems between Mac and PC software, but those concerns are generally long gone. WAV probably still has an edge in universal acceptance, but that won't affect you as a DJ.
What may affect you, however, is that WAV does not support embedded album artwork and metadata, while AIFF does. Other than that, I have never heard a difference between a WAV and an AIFF file, nor have I heard from anyone who did. File size is also identical.
Audio Format File Sizes
To compare audio format file sizes, I first recorded one minute of music to a stereo 24-bit/96kHz WAV using Magix Sound Forge Pro 3 software. I then used Magix Convrt to batch convert the file to all the other formats. The WAV and AIFF files turned out to be the exact same size.
File Format
Resolution
Size per 1 minute of audio
AAC (m4a)
320kbps /44.1kHz
2.6 MB
AIFF

16-bit/44.1kHz

24-bit/44.1kHz

24-bit/96kHz

10.6 MB

15.9 MB

34.7 MB

ALAC (m4a)

16-bit/44.1kHz

5.8 MB

FLAC

16-bit/44.1kHz

24-bit/96kHz

5.6 MB

10 MB

MP3

192kbps /44.1kHz

320kbps /44.1kHz

1.4 MB

2.4 MB

Ogg Vorbis

192kbps /44.1kHz

1.5 MB

WAV

16-bit/44.1kHz

24-bit/44.1kHz

24-bit/96kHz*

10.6 MB

15.9 MB

34.7 MB*
*This was the original 1-minute stereo music file used to convert to all the other formats.
Audio Format Pricing on DJ Stores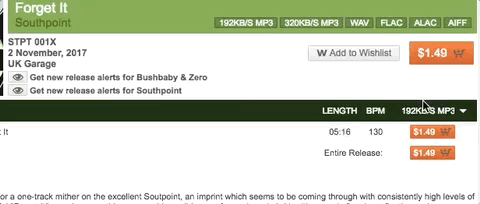 When deciding which audio file format is right for you, keep in mind that (most of the time), buying music in higher quality than MP3 will cost you extra. Sometimes this can be upwards of 75 cents extra per track.
Looking at nine popular digital download sites for DJ music, three of them—Amazon, iTunes, and Google Play—only sold one kind of lossy audio. Bandcamp however, sells all seven formats here, often in more than one resolution per format. You don't have to pay extra to download any higher-resolution audio file, because Bandcamp's business model lets each artist set their own prices. They upload a mastered track at the highest resolution possible, and Bandcamp converts that to all the other formats for customers to choose for themselves.
The remaining retailers—7Digital, Beatport, Juno Download, Tidal, and Traxsource all offer different audio formats and all charge more for higher-resolution formats. Traxsource and Beatport share a similar pricing structure. 320k MP3s cost a base price (typically $1.49-2.49 on Beatport and $1.99-2.99 on Traxsource). 16-bit/44.1kHz WAV or AIFF files cost another $0.75 on top of the base price.
Juno Download adds lossless formats to the mix and has a less rigid pricing structure. Each label or distributor uploading to Juno determines the formats available and prices, but the typical Juno Download pricing breaks down as such:
192k MP3: $1.49 per track
320k MP3: $1.89 per track
WAV, AIFF, FLAC, ALAC: $2.75 per track
Tidal is perhaps the least DJ-friendly, because its store sells albums only, rather than single songs. It does, however, offer albums as 320k MP3 or 16-bit/44.1kHz FLAC. Most of the current popular albums cost $10.99 for MP3 and $19.79 for FLAC.
The dark horse option, 7Digital, doesn't specialize in DJ music per se, but it does have a very large selection of albums and singles of all genres, including electronic, dance, and techno. It sells most of its music with a FLAC option up to 24-bit/96kHz quality, and its prices for lossless audio compare well to the others. Its albums cost less than Tidal, and you can buy single tracks for these typical prices:
320k MP3: $1.09 per track
16/44 FLAC: $1.29 per track
24/44 FLAC: $1.39 per track
24/96 FLAC: $1.49 per track
Who offers what? 
| | | | | | | | |
| --- | --- | --- | --- | --- | --- | --- | --- |
| | AAC (m4a) | AIFF | ALAC | FLAC | MP3 | Ogg Vorbis | WAV |
| 7Digital | 320k | | | 16/44, 24/44, 24/96 | 320k | | |
| Amazon | | | | | CBR 256-320k, VBR 256-320k | | |
| Apple iTunes | VBR 256k | | | | | | |
| Bandcamp | Various | Up to 24/96 | Various | Various | CBR 320k, VBR | Various | Up to 24/96 |
| Beatport | | 16/44 | | | CBR 320k | | 16/44 |
| Google Play | | | | | 320k | | |
| Juno Download | Various* | 16/44* | 16/44* | 16/44* | 192k, 320k | | 16/44* |
| Tidal | | | | 16/44 | 320k | | |
| Traxsource | | 16/44 | | | 320k | | 16/44 |
*The available formats and audio resolutions are determined by the record label or digital distributor. Not all tracks on Juno Download are available in all these formats.
Software Compatibility
Happily, audio file compatibility with DJ software has become less of a concern in recent years, although there are still some things to watch out for. Of the 11 software titles I looked over—9 deck-style DJ programs plus Ableton Live and iTunes—7 of them supported all the main audio formats.
Those who manage their music library with iTunes still can't use Ogg Vorbis or FLAC in that software; ditto for Algoriddim Djay. Pioneer Rekordbox did not list support for Ogg either.
| | | | | | | | |
| --- | --- | --- | --- | --- | --- | --- | --- |
| | AAC (m4a) | AIFF | ALAC (m4a) | FLAC | MP3 | Ogg Vorbis | WAV |
| Ableton Live | X* | X | X* | X | X | X | X |
| Algoriddim Djay | X | X | | | X | | X |
| Denon Engine | X | X | X | X | X | X | X |
| Djuced | X | X | | X | X | X | X |
| iTunes | X | X | X | | X | | X |
| Mixvibes Cross DJ | X | X | X | X | X | X | X |
| Mixxx | X | X | X | X | X | X | X |
| Traktor Pro 2 | X** | X | X** | X | X | X | X |
| Rekordbox | X | X | X | X | X | | X |
| Serato DJ | X | X | X | X | X | X | X |
| Virtual DJ | X | X | X | X | X | X | X |
* With Windows systems, these formats require Apple Quicktime to work with Live, which is only available as a 32-bit application. On Mac systems, these formats work with Live as if they were natively supported.
**Support is for non-DRM files only. Latest versions of Traktor Pro on Windows require Windows 10 to play ALAC.
Pioneer DJ
continues to keep users guessing with their newer hardware releases and FLAC/ALAC support. The CDJ-2000NXS2 and XDJ-1000MK2 both support FLAC, but the just-released
XDJ-RX2
doesn't. Double check before you buy.
We're All Ears
File formats can be a controversial subject! Share with us below any strong feelings about specific audio formats for DJing or audio fidelity for DJing in general. Do you insist on lossless audio ? Do you live dangerously and DJ with 192k or lower MP3s?
Personally, I love the quality and manageable size of FLACs. I'm glad to see more retailers selling them, with Bandcamp and 7Digital pushing their prices a little lower. I'd like to see Apple grow up and support FLAC in iTunes, but I've all but given up hope on iTunes ever getting better. At least Amazon could start selling FLACs. After all, they have all the server space in the world.