During 2018, it has felt like house music has fully crossed over into the mainstream. DJs headlining mainstages at music festivals are rinsing new-generation tech house tracks more than ever. At ADE 2018, Tommie Sunshine lead a discussion to talk about the explosive growth of dance music's seminal genre in North America, house.
"This has to be addressed…"
One of the most fascinating panels at of ADE 2018 was a star-studded line up of Austin Kramer of Spotify, Deron Delgado of Dirtybird Records, Riton, Simon Dunmore of Defected Records and Todd Terry. They all gathered to talk about an American "resurgence" in what may be the most fundamental genre of electronic music: house.
The discussion was timely. It's 2018, and artists like Chris Lake are selling out shows in small markets like Missoula, Montana, and an explosion in an Americanized version of "tech house" can be seen in all corners of the country. From Vegas club DJs to local mixed format markets, it would seem that all eyes are on house music once again.
Where It Started Getting Trendy
Thinking back a few years, one could pinpoint this craze to have begun with Calvin Harris' "This Is What You Came For" during the "deep house" craze in 2015-2016. While it's a great pop track, whether or not the tune is actually "deep house" is another story entirely.
Predictably, Harris has returned with another hit that mirrors the styles that are popular today. This record has been so impactful that it inspired a few words from Defected head honcho Simon Dunmore during the panel:
"If I look at house music pre-EDM, I never concerned myself with what was happening in the pop world. Pop music came into the dance world and that kind of confused people. Calvin Harris making house records is great for the scene, believe you me, they are great records." – Simon Dunmore
Similarly, Australian artist FISHER has seen tremendous growth in the United States in the past year, with his latest single "Losing It" being one of the most played records on the circuit, with a total of 460 spins on 1001Tracklists at the time of writing.
Deron Delgado, label manager at Dirtybird, the label that "Ya Kidding", "Crowd Control", and "Stop It" was released on, had this to say on FISHER's tremendous rise to the top:
"As soon as we heard Claude VonStroke drop 'Ya Kidding' at Jesse Rose's 50-person, intimate WMC party, we knew we had to sign it. His records have probably gone on to be the best selling tracks we've ever had on the label."
Is This Really House Music?
While it is cool to see a renewed interest in house music, any DJ who has been active in the past few years is well aware that what is happening now is nothing new.
Just four years ago, Oliver Heldens was making music that was being classified/described as "deep house." While nobody can deny Heldens' prowess in the studio (I still play a good Hi-Lo tune from time to time), describing his music as deep house is just plain incorrect.
Regardless, he's made a unique set of huge club tunes that have been played nonstop by DJs all around the world.
Will "tech house" have the same fate? It is entirely possible at this point, and some of the genre's purists have started to jump ship. Coyu is one of the genre's OGs who is not afraid to speak his mind on what he sees happening in his scene.
"The New EDM"
Considering this, should it come as any surprise that a fanbase that was listening to big room two years ago expects the same swirling buildups, microphone countdowns, and showboating antics from tech house DJs that they did from their earlier EDM idols? House music, with tech house in particular, is often called "the new EDM." Don't believe me? Check out Hardwell playing "Losing It" in the video below.
We all know that trends come and go. A big DJ does not simply "blow up," they are carried to the top by a diehard group of supporters. Similarly, a track does not magically end up on a chart. It is pushed there by the joint inertia of streams, downloads, and spins from other DJs.
It's still up in the air as to if this current wave of crossover house music will to make the same splash that EDM did is still up in the air. Still, many see this as a welcome change from the dominant American festival staple, big room, which has dominated the uptempo genres for a decade.
Epilogue: Beatport's Top Genres
While we're talking about genre discussions at ADE, there was another interesting data set that popped up later in the conference at a presentation by Beatport – showing off their top genres for recent years. We've seen similar trend charts in the past, but this one seems to be the most current: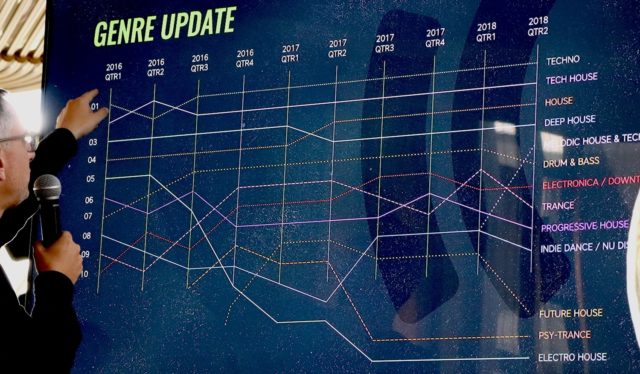 Is this new "Americanized" tech house here to stay in pop electronic music, or just another passing trend? Let us know your thoughts in the comments. 
More highlights from ADE 2018: