The brothers that make up the electro-house duo, Tiefschwarz ("deep black" in German), Ali and Basti Schwarz, started DJing in Stuttgart, Germany in the early '90s. Since then they have risen from local club promoters to worldwide club culture celebrities. Through it all they witnessed several sea changes in the way that dance music is produced, distributed and DJ'd, yet continue to thrive. On a recent solo stop to San Francisco, Ali Schwarz sat down with Ean Golden to discuss the acceptance of digital DJing, the merits of Internet distribution, the importance of personal style, the questionable necessity of big music labels and the one single constant in the world of DJing: that no matter what happens, it's always about the music.
THE GEARS OF TIME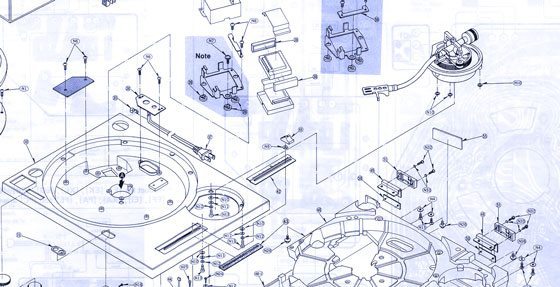 DJTT: Is there anything new in your DJ setup these days?
I just got in contact with Pioneer in Miami. The new CDJ-2000s are amazing. The designer gave us two for free. It's crazy. You can travel with your USB stick and just plug it in and then you see all the files on the screen. It's basically like Traktor but in the actual CD player. It's amazing, but I do want to try out Traktor and see which one is more interesting. I like to play with CDs, but to burn the CDs gets on your nerves. We just get so much stuff sent to us everyday.
DJTT: If you start using the CDJ-2000s, you're going to need them everywhere you go.
As far as I've heard all the major clubs and venues will have them in a short time, 'cause it's such a great tool, and they're not that expensive, so I think it's just a matter of time before everybody upgrades from the CDJ-1000s.
DJTT: Most of the venues you would play at would have CDJ-2000?
It's gonna be an essential tool, like the Technics 1210. I mean, nowadays, you have to ask for turntables. There's no turntables anymore, unless you say 'I play Traktor, and I'm using the vinyl', but they fade away more and more. In Miami, at most of the parties it was Traktor with CDs, or just CDs. Only a few had turntables, but you basically have to ask for it. In Asia, that's even more the case. It's sad, actually, but you can't turn back the wheel.
DJTT: No, you can't, and turntables inherently have a lot of problems.
Yeah, but funny enough, 5 years ago, it was only turntables, and it worked. But it's just changing.
DJTT: Do you think the features of digital technology, such as Traktor, are damaging the quality of what DJs do, or is it all just tools with which you're mixing?
In the beginning, it was this big discussion that this digital world kills vinyl, but that discussion is all over. I think it should be only about the music, and if you feel comfortable with Traktor, use Traktor. If you're comfortable with vinyl, use vinyl. It doesn't matter. And if you want a lot of controllers and special effects, use them. As long as you're able to give the crowd a good feeling and create a good atmosphere and energy, I don't care what technology you use. And sometimes less is more. I've seen DJs using a lot of gear, and they get lost in a lot of technical blah blah. It's over produced and there are too many effects. C'mon, focus on the music. And the music itself has breaks and an arrangement. Sometimes I don't understand DJs who put all these effects and loops on top of a well-thought out production. There are some DJs who can do that really well, but it's only a few. For me, the way you select the music should be enough.
DJTT: You've played at a lot of top clubs, and up to about 4 years ago, there was definitely a stigma about digital, particularly controllers. Would you say that's pretty much gone now?
It's the same thing we had with vinyl and CDs. We all are still just listening to music, and I think it's much more about your personal taste, your personal filter, than about technology. Big vinyl DJs are only using Traktor now, and the parties are awesome; it's great.
DJTT: Dubfire for example, was using a Faderfox, and now he's using the Native Instruments X1. That's totally accepted now?
Totally accepted. Yeah, I think it had to be a discussion for a while, because there was a vinyl-protective group. But now, nobody cares anymore — I hope — because it doesn't really matter. And vinyl is dead; it's dead. It's gonna be a special item for collectors, and probably will exist forever in that way, but that's it. It's over. You can really count on two hands who's carrying vinyl bags around the world. It's dinosaurs like Sven Vath or Ricardo Villalobos, and for them it's great because that also makes them special. But at the same time, no one really gives a shit anymore. You have to feel comfortable with what you use, whether it's vinyl, CDs or any digital gadget.
DJTT: With DJ Tech Tools we try to maintain the DJ culture even though we may have lost the record stores along with vinyl.
Which is a shame. I think the biggest loss is not the vinyl itself, but the shops. Shopping online is a pain in the ass. It's not fun; there's no interaction with people. It's cold and technical. Going to a record shop is something special. It's searching, listening and interacting. That's something I miss.
THE RECORD INDUSTRY


DJTT: How long have you been producing music?
We started in the mid 90s. I was running two clubs back in the day in Stuttgart. We were our own resident DJs. We started to tag team and play together. We got more and more comfortable, so that's when we founded Tiefschwarz [in 1996] as our project. That's also about when we started producing with friends who were already a bit more experienced.
DJTT: Was there a big break or moment that catapulted you higher than the local Stuttgart scene?
Our clubs at the time were pretty well known for deep house music, so we had a lot of international guests. Because of that success, our name got spread all over Germany, Austria, Switzerland, France, England a little bit, and we started touring ourselves. We also did a couple of remixes that did really well, and our first original productions got licensed to Wave Music in New York – Francois Kevorkian's label. Then we did our first album, which got licensed to Classic in London, which was a very hot, happening label at that time, and that was kind of the first step to another level. So we kind of re-imported ourselves to Germany through England.
Ever since, we were traveling around and moved to Berlin for the second album. Now we just finished our third album, Chocolate, coming out on our own label, Souvenir, at the end of the May. We're happy with the result; it's like an interesting mix between house and techno. It's a physical CD and a digital bonus album on top, so it's basically two albums: one CD and one that's only digital.
DJTT: As the viability of selling music as a dance artist has decreased over the last 10 years, has the focus shifted to making solid money as DJs?
Unless you had a hit, you never really made money out of production. Of course there was some money, and back in the day you had pretty high fees for remixes, but that has all changed. Now you need the production to stabilize your DJ level, but the money is in performing live. It's the same thing with bands. Like Madonna signed to Live Nation, which is basically a booking agency. I have friends in Germany, really well-known pop artists, who only do albums now because they need more content to perform live, and that's basically the same story with DJs.
You need to define your own signature to make yourself special. There's so much output, you need to be known for some special signature. And it's also fun. It's not that you have to do it, it's just that you love being in the studio and love creating art.
DJTT: Some artists are very open with giving their music away on the Internet, and other artists are very protective of that. Should a new DJ just put music out there and get exposure first, and then collect money through performances second, and not worry too much about protecting it?
I would say don't worry too much, because at the end of the day, it's gonna be on the Internet anyway. Somebody rips it; you have no control over that. I think it's important that you concentrate on your own signature and push your own taste. Make yourself special through your music, but don't worry too much about the release of it, because it's everywhere.
It's also part of promotion. You can really push it if you send it to certain DJs you like, and ask them to play it out or chart it. And if it does well, you're also going to find people who want to buy it. I'm not one of these younger kids who want everything for free. I go to Beatport, and I even go to CD stores and buy CDs still. It's a mixture and a balance, but I'm aware that all the young kids just get everything for free. They don't give a shit.
DJTT: For years, DJs would have killed to get records out on Wave or Classic like you did. But for your third album, you're doing a self-release. There's definitely a trend to go the self-release direction.
Yeah, 'cause you don't do anything else differently that way. You need a good a team, the knowledge of how to use the Internet and a good distributor. If you have that, it doesn't make sense to give it to another label, because you give away your rights, almost half the money, and they just press the same buttons.
With a self-release, you make your own platform stronger. You attract other artists to join your network. You know, we have the label, we have the tools. If we don't release our album on our own label, that gives the wrong signal to friends, colleagues and new talents we want to build up. If you're not even confident to release your own stuff on your own platform, why should anyone? I know some friends who had their own little labels and they gave their albums to bigger labels. But they were really disappointed because these bigger labels were not able to sell any more records.
Now it doesn't really make a big difference if you're a small or big label unless somebody puts some money on the table, but nobody really does that anymore. We invest a little bit in our own project, but at least then the payback shows.
DJTT: Would it be wiser for the new DJ get a label to pay attention to them, or start their own label and just get the music out there however they can?
When you really start, I would spread it through several labels. Let's say you're a big fan of Radioslave's label or you like Ghostly or Cocoon or Get Physical and want to be part of that scene. I would feed them to get your name built up, but there's no rule for that. You can do it by yourself. The music also speaks for itself. There are hundreds of labels you've never heard of that just pop up, so it's really hard to tell. It definitely makes sense to connect yourself with a well-known label for a certain type of music to build your name. When a bigger artist takes you on board and plays your music, it definitely helps.
DJTT: Could you name 3 timeless tracks that you always reintegrate into your sets and are staples for you?
That's very, very hard to say. I don't particularly have those tracks because there's too much good music out there, but a few great tracks that are pretty old already are "God Made Me Funky" from Mike Dunn, "Easy Lee" from Ricardo Villalobos, and some old Carl Craig stuff. It's really hard to say.
DJING TIDBITS


DJTT: Do you have any recommendations for DJs who are opening for you and trying to impress you?
I always tell them to feel totally free. Don't play for me; play for yourself. I don't even mind if you play your biggest hits. I really appreciate when a DJ is really into his game, into his music and doing a great job. It doesn't happen that often, but sometimes I'm like 'wow, well done.' When people are aware of what they're doing, they really know how to balance the music, and not make it too pushy to impress the main act. That's also a question of experience.
Some DJs ask me when I show up like a half hour before my set 'Should I bring it down, or…?' And I say 'man, feel free,' because I'm not going to play the same music. Of course if he knows what I'm doing, then you can kind of follow the vibe, but sometimes the set is just cut off and you start from zero again. So it's hard, but most of the time the DJs coming before you know where your'e coming from and it fits. But sometimes when you're in Asia where the culture's not so defined as in parts of Europe, they don't have a clue anyway, but that doesn't happen too often.
Thanks to Blasthaus for setting us up with the Interview!
Want More? Check out our interview with Claude Von Stroke on Production