With only 2 days left before the big holiday, we have a special gift for all Midi-Fighter owners. In the video above you will see several new features released in our newest firmware update including support for a special Easter egg that has been in the hardware all along 🙂 Follow me after the break for a tutorial on how to add a LED that pulses to the beat. Its the perfect DIY project for the holiday break.
LED MOD!

In that video, we demonstrated how to trick out your midi-fighter board with a special LED that responds to MIDI beat clock. Just tell Ableton or Traktor to send midi clock out to your newly modded controller and it will automatically pulse with the beat!
UPDATE YOUR FIRMWARE
To get the new features including 4 banks mode, the beat pulse LED and super faders on the analogue expansion ports. Just click on the link below. For now, its a Windows only installer, but a MAC version will be available on Midi-Fighter.com next week.
DOWNLOAD THE FIRMWARE UPDATE PROGRAM HERE (WIN ONLY)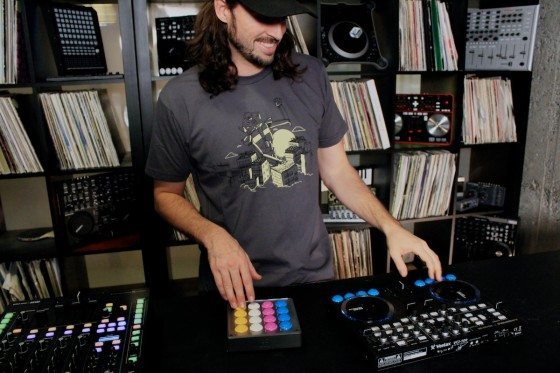 You may have seen a new T-Shirt that I was sporting in the video, well  its one of 3 brand new styles we just printed (including the winner of our T-shirt contest!) and they are all available in the web store now.