Every solid organization needs a group of dedicated workers to help invent masterpieces, balance the unbalanceable, fight fires, and occasionally mash a few arcade buttons that were getting a bit too cocky. There's an absolute deluge of work here at DJ Techtools recently – with the launch of the Midi Fighter Pros and the new web store, so we'd like to take today's article to acknowledge the folks who are spending everyday running and improving TechTools.
Without further ado, let's meet the staff.
Michael Mitchell // Electronics Engineer, Designer of the Midi Fighter Classic
How Did You Come To DJTT?
I first started working with DJTT when designing the Midi Fighter, following that I worked with Ean on a number of other projects like the VCI update kit and the Dicers, eventually Ean offered me a full time position in product design. Following a drawn out VISA application process I emigrated to the US from New Zealand early in 2011.
What Do You Do Here?
I do electronic and mechanical design as well as some firmware support for the Midi Fighter Classic and Pro, and also have some exciting new products currently in the works.
What and With What Do You Spin?
I first started out mixing Electro on a VCI arcade with Traktor 3. In the following years I switched to Serato mainly out of convenience and became a self confessed DnB and Dubstep head. Nowadays I try to avoid the tempo trap these genres represent and my sets will include anything with a phat bass line and a sick break. While Serato is a great product I'm getting tired of the lack of innovation in its development so will probably switch to Traktor Pro 2 soon.
Serato SSL on a Macbook
Rane SL3
Novation Dicers or OG Midi Fighter
TMA-1 Headphones
Obligatory SoundCloud Link: http://soundcloud.com/tronic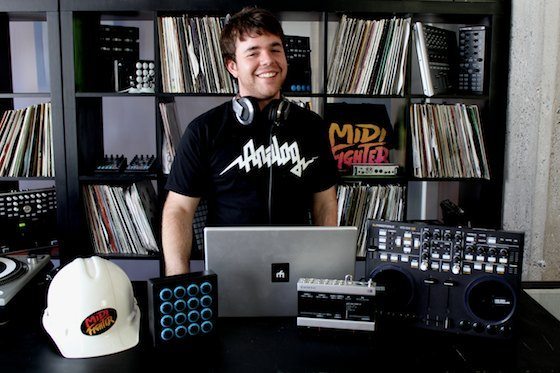 Zach DeRossette // Director Of Customer Relations
How Did You Come To DJTT?
I found DJ TechTools sometime in 2008 looking for a mapping for my VCI-100. About a year later, summer of 2009, I just graduated college and moved to San Francisco. Shortly after I arrived, DJ TechTools was looking for help with the web store. Instead of applying online, I decided to make an unannounced trip to Ean's apartment (former DJTT HQ) in an attempt to convince him to hire me. I started off as an intern, but quickly filled the role of store manager.
What Do You Do Here?
I basically deal with everything that involves customer interaction. Store Manager, Customer Service, Forum Administrator
What and With What Do You Spin?
Too many genres to list, but lately I have been spending most of my time focusing on Nu Disco, Electro House, Breaks, and Downtempo.
Traktor Pro 2 on a Macbook Pro
VCI-100SE Arcade
Midi Fighter Classic
Pioneer HDJ-2000's
NI Audio 8 sound card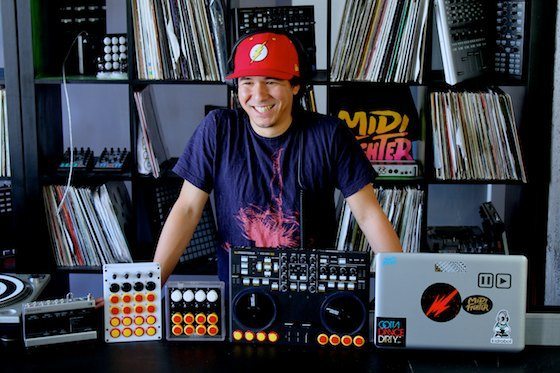 Chris Lim // Engineer, Mappingologist, Purchasing Guru
How Did You Come To DJTT?
I came to DJ TechTools in the fall of 2009 after a stint working in acoustics right after finishing my engineering undergraduate studies at UC Berkeley. I started as an engineering intern for Ean and the first project I remember working on was the Midi Fighter case (which went through a number of iterations before becoming the current silicone case). Shortly after I grew into a number of other roles which needed help like mapping and purchasing in addition to my engineering roles.
What Do You Do Here?
I help out with design and development of our products in addition to creating all of our supported mappings (with Ean's direction and help of course), purchasing and forecasting for of our internal parts and third party products, helping to moderate the mapping related sections of the forum, and occasionally writing/editing articles for the blog.
What and With What Do You Spin?
I actually didn't have any true "DJ" gear before joining DJ Techtools, just some guitars, synths, samplers, and effects processors; however, I was a radio DJ for KALX Berkeley during my college years so I was naturally interested in taking the next step to getting some real DJ gear and transitioning from being a radio DJ to a "DJ" (no offense to radio DJs, but I personally didn't have any real mixing skills back then). What I spin differs greatly depending on the setting. It usually ranges from electro, house, indie, hip-hop, electronica, and some more weird ambient stuff.
Traktor Pro 2 on a Sony Vaio (Windows 7)
Traktor Audio 8 soundcard
Vestax VCI-100 Arcade Edition
Midi-Fighter Classic/Custom
TMA-1 Headphones
Obligatory SoundCloud Link: http://soundcloud.com/flashflooder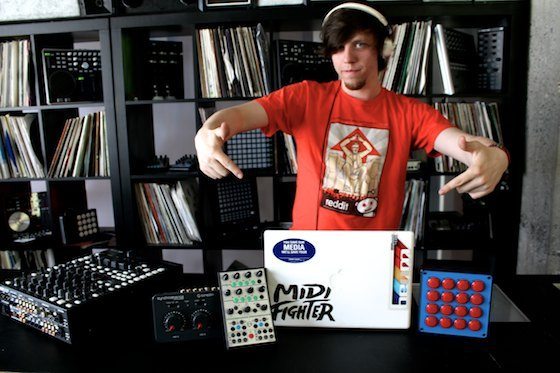 Dan White // Managing Editor
How Did You Come To DJTT?
I came to TechTools last December after two years DJing clubs, parties, and yes, weddings in North Carolina. I met with Ean to apply to be his personal assistant and quickly took on a number of projects and roles here.
What Do You Do Here?
You can see a lot of my contribution in videos that we post, many of them have had a fair amount of shooting and editing put into them by yours truly. I also shoot many of the DJTT photography, help out with customer service, help coordinate Ean's very busy schedule, and this one time, I installed a dishwasher.
What and With What Do You Spin?
I'm not afraid to admit that when I first started to DJ, I used two pieces of kit that often overlooked around here – a pair of Denon S3500s and a copy of Virtual DJ 6.  Check out my current gear setup above, it's pretty effects focused.
Traktor Pro 2 on a too-old MacBook
M-Audio Connectiv soundcard
Pioneer DJM-400 mixer
Panasonic RP-HTX7s (for my money, the best sub-$45 headphones on the market)
FaderFox DL3
Midi Fighter Classic
Obligatory SoundCloud Link: http://soundcloud.com/djspacecamp
But wait, there's more!
We've got three other awesome part-time staffers who we'd be remiss in not mentioning. Marlene Mendez, who is our awesome packaging and fulfillment expert, and plays a competitive women's tackle football. Mitch Sherry, who is our recently-hired assembly and soldering assistant. And of course, Tony, who builds and solders many of our controllers.
In addition, there are a number of other folks who work hard and have worked hard for DJ TechTools over the past few months, including but not limited to: our coders – Robin Green on the many features of the Midi Fighter firmware and Bobby Williams with the code behind our new webstore; our friend JesC from the forums who has taken on some additional customer service work for us; all of our forum moderators, our many authors and editors who write and create content for the blog; our legal and business consultants; and of course, you, the readers and fans of DJ TechTools. Without all of you, we'd be writing for no one.