This week is shaping up to be an exciting one for video DJs, with Serato officially releasing their new video plugin the same day that Inklen drops their new 2.0 version of Mix Emergency packed with brand new features. Things have been heating up, with ME2 closed off from new versions of Scratch Live and Serato Video MIDI mappings soon to be supported in ITCH. Curious what the best new program for video mixing is today? Click past the jump to read our comparison of the new offerings and to read what Serato and Inklen have to say about their new releases!
(Update: Mix Emergency is now fully compatible with SSL 2.4)
Serato Video was announced earlier this year just before NAMM so that was not a big surprise, but what we weren't expecting was a brand new version of Mix Emergency that may have more features on the exact same day.
At A Glance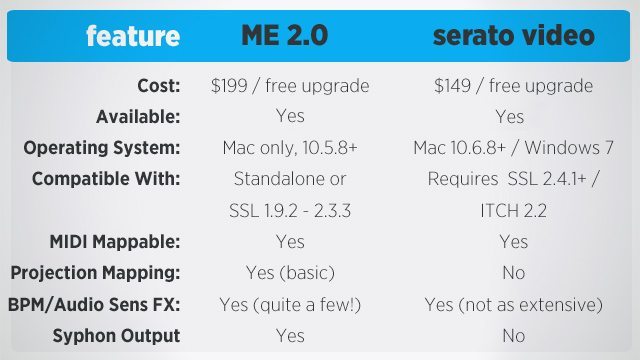 Mix Emergency 2.0 is the next logical step for the software, really taking the effects and features that ME has been known for to a new level. They've introduced a load of new beat-synced effects, transitions and Quartz FX, as well as some smaller features like projection mapping capabilities (not as complex as Amon Tobin's projection mapping show, but still a start) and MIDI output – both of which make ME2 a more diverse solution for video DJs looking to do something new and different.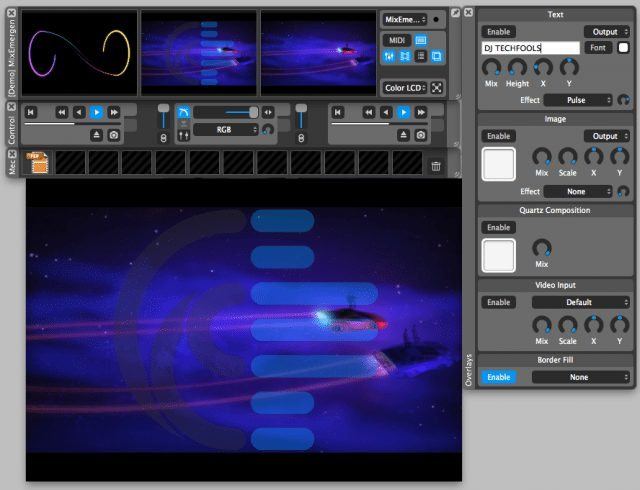 Serato Video is largely a step forward for the video engine behind the plugin. As Serato noted when we spoke to them today, the major change versus Video SL was complete rewrite of the backend architecture. This promises not only stability and the ability to use Video in ITCH, but also means that future development of the plugin will be easier for the team behind it all. We expect to see a much faster development cycle here, especially to continue giving Mix Emergency a run for its money.

Letting Them Speak For Themselves
We decided instead of doing a traditional rehashing of the press releases that new product releases often encompass, the best way to compare the two softwares would be to get in touch with the folks at Serato and Inklen and see what they have to say about their new products, and (albiet very carefully) about each other.
Inklings from Inklen
First up, we chatted with Nick from Inklen:
Hey Nick! Thanks for answering a few questions for us. What improvements in Mix Emergency 2.0 are you most excited about? 

The new beat-synced components (effects, effect parameters, transitions, and Quartz Compositions) are the most exciting for me – not only because I think that they're great features, but also because they open the door for a whole range of features that I'm hoping to implement in the future.

I've also been excited to see how the Automatic Border Fill feature would be received by users.  I think it's one of those features that doesn't sound too exciting, but will really be a time-saver for working Video DJs.

I'm really enjoying the MIDI output feature too – in particular, I really like having Touch OSC (which I'm running on an iPad) update to reflect the state of my effect parameters.

What does ME2 have that Serato Video doesn't offer? 

Every new feature listed for MixEmergency 2.0! (see the full list here)

As well as that, there are features such as performance recording and exporting (since v1.1), delay compensation (since v1.5 – this is a huge help if you're having video delay issues in a club), high quality video output (since v1.0), automatic transition changes (since v1.0 – freeing the DJ to concentrate on their audio), video preview windows that can be resized and repositioned, and Syphon output (since v1.7 – this is huge, and allows VJs to send the output of MixEmergency into other applications, such as MadMapper, Resolume Avenue, Modul8, etc), just to mention a few.

Who (that our audience might know) is using ME2 when they're playing out?

At the last WMC VJ battle, the top 3 spots went to VJs using MixEmergency (DJ Crime, Jordan Laws, and Jay E) – and this year Jay E has taken out the top spot.

Jay E using Mix Emergency at WMC 2011! Click to watch his winning set.

There are a number of people starting to use projection mapping in their shows, and it is slowly making its way into clubs too. I've seen a bunch of people setting this up in clubs around the US recently – creating dedicated sets and running MixEmergency alongside other VJing software.

We'd also be interested in hearing why ME 2 isn't going to work with newer versions of SSL – is Serato closing you out? Any plans to expand beyond Serato?

At this stage, we're still discussing this with Serato. In the meantime, we recommend users stick to using versions of Scratch Live between 1.9.2 and 2.3.3. When we have any further news on the matter we will inform our users.
What's that? You want to watch a promo video that tells you everything new in Mix Emergency 2.0? Your wish is our command:

Serato Speaks!
We also asked a few questions of our friends over at Serato Audio Research (also located in New Zealand! Kiwis make great software, apparently!):
What's improved in Serato Video over Video SL?

We've rewritten the entire architecture, so that Serato Video is more tightly integrated into the software as a whole for improved DJ workflow. There are performance improvements that [you] can experience now, but the real benefits will be in future updates as the new architecture opens up the plug-in to much more development & new features.

In Serato's eyes, what's the most exciting part of this release?

Serato Video now works with both Scratch Live and ITCH […] each ITCH controller has unique features, so there are many more creative possibilities for manipulating video playback. This versatility is open to all Serato users; you only pay for Serato Video once even if you use both Scratch Live and ITCH.

What does Serato Video bring to the table that its competition is lacking?

[…] it's the experience of using Serato software & supported hardware with Serato Video that really puts it above the rest. Scratch Live and ITCH are professional solutions; software and hardware carefully co-engineered for the tightest response and maximum stability. No other solution offers the ease of Serato plug-and-play connectivity.

Is there a team that will continue development of video in Serato?

Our developers have worked incredibly hard on the new architecture for Serato Video. Now the platform is more open for future developments, you can expect to see some exciting updates coming in the future.

New features are planned for forthcoming updates and we're looking forward to showing you what we have up our sleeves.
We'd also be remiss if we didn't post this pretty awesome promo video for Serato Video featuring the man himself, Fatboy Slim.
Who comes out ahead?
For the moment, there's no clear winner in this battle – but the rest 2012 will really give us a better feel for who will stay on top.
Mix Emergency 2 has a more powerful feature set for the time being – so if you're on a Mac, there's no reason not to give it a shot! Here's a link to the free downloadable demo on Inklen's site. Mix Emergency is more expensive, but not prohibitively so, and while there's some question as to the future Serato compatibility, ME2 works just fine as a standalone solution.
Serato clearly is throwing their hat into the ring hard- there's a serious team and money behind the Serato Video division, and with proprietary hardware and software, many will crave the Apple-like simplicity that is offered with this solution. ITCH users will probably appreciate how easily Serato Video works with their pre-existing setups (we can't wait to see someone destroy a video set with a Twitch and Itch!). Serato also has a full free demo available on their site, check it out here.