Most digital DJs don't have to worry about scratched records or broken needles, but that doesn't mean that the modern DJ can't prepare for the worst. In today's article, we walk you through putting together an USB-drive based emergency kit that can save your set, and we're giving you a starter kit to base your own around. Read for the complete guide!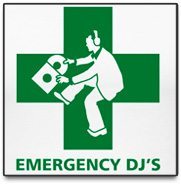 If you've ever prepared a household emergency kit, you know that survival kits aren't designed to replace everything you own, but instead to allow you to survive when you don't have your normal comforts of home around you. Include the essentials in your emergency kit – everything that you might need if you were to be thousands of miles away from your DJ laptop, without internet, and be asked to play a gig. Sounds daunting? That's exactly why you need to make a kit!
DJTT EMERGENCY STARTER KITS
We've gone ahead and started building the groundwork for these kits for you, filling them with backup DJ software, common soundcard + mixer drivers, controller drivers, and a few other goodies that might come in handy in any situation where you don't have access to your normal computer. Everything in these kits is free to download off the internet, but this is the only one-stop-shop to make sure you've got some of the most common downloaded drivers and tools out there.
Timecode Bonus Time: DJ with Serato and think you might ever be in a situation where you'd need to use timecode CDJs? (you'd be surprised how often this can happen, especially when you're in a club with older media players). We've included copies of Serato's and Virtual DJ's timecode files so you can burn it to a CD or copy it to another drive to work with a CDJ unit.
What's included:
A reference copy of the Camelot Wheel / Circle of Fifths
Serato Scratch Live + Itch
Novation USB drivers
Traktor S4 / S2 drivers
Pioneer Rekordbox (you'll still need a free license from their site)
Denon Engine
Mixxx (pretty solid free DJ software)
All common Allen & Heath digital mixer drivers (DB4, DB2, DX)
All common Pioneer digital mixer drivers (850, 900nexus, 2000, 5000, T1)
Audacity
Common standalone soundcard drivers (Audio 2/4/8/10, Maya 44, M-Audio Connectiv, Numark DJIO)
Timecode files for SSL and Virtual DJ
Download the basic starter kits now:
Of course, our starter kits should only be a beginning basis for you to work off of when building up your own. We've divided up the key elements of a well-packed USB DJ kit below:
TRACKS ON TRACKS

First and foremost, you're going to need music. Take a few minutes to think about the different types of gigs you play, and what you might encounter out in the world. Odds are you've already got playlists that you've made to fit each of these situations.
For example, here are the music folders that live on my USB drive:
a late night deep house set
a high-energy electrohouse set
a wedding reception playlist (We Are Family, anyone?)
a set of my personal favorites (tracks I love to DJ with)
These are all always ready to go because I know that the contexts in which I play would most likely match one of those groups of music. I recommend not trying to put your entire DJ music collection on your drive, especially if you're like many DJs with a massive library. This can create more work for yourself in having to sort through all of your tracks, not fun since you're already (hypothetically) in an unfamiliar and difficult situation.
You should ideally update the music on your drive once fairly often – especially if you're a more request-friendly DJ who is likely to get asked to play recently released songs from inebriated bacholorette parties that always seem to find their way to your gigs.
SOFTWARE AND DRIVERS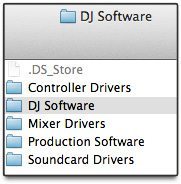 Whether you're the victim of lost luggage and have to use a cobbled-together setup or you find yourself invited to play a set at a friend's house party, it's important to remember that situations can arise where you don't have your favorite gear with you ready to go. For this reason, you'll want to include drivers and software for if you have to use unfamiliar hardware or even potentially someone else's computer. It's a great idea when building your kit to download a new installer of whatever DJ software(s) you use and own, and putting the installer in a folder (along with your serial number) so you'll be able to install a new copy on any computer you might have to use.
As far as drivers, we've collected some of the most common drivers for soundcards and controllers with audio interfaces that you'll run into in the wild. The priority here is focused around making sure you can get audio out of your computer no matter what! Check out the common drivers in the Starter Kits at the end of this article.
Bonus Tip for Traktor Users: You can actually save your entire layout, deck behaviors, effects, and controller preferences to a file and load that file on any other Traktor installation – just use the big export button at the bottom of the Preferences screen. This would be a perfect addition to your kit!
YOUR PROMOTIONAL MATERIALS

You never know who might want something from your electronic press kit at any time – so bring the entire thing with you! Case in point: while I was interviewing a DJ in San Francisco prior to a gig a few months ago, one of the venue's staff came up and asked if he had his logo with him so that it could be incorporated into the in-house visuals show. Missing these types of opportunities can happen, especially if you're like most of us and don't have a tour manager following you everywhere – so why not have your whole EPK on you all the time?
Along the same lines, don't be afraid to throw your original tracks, remixes, or recorded mix sessions on your drive to have on hand should anyone with a laptop (often other DJs!) enjoy your set and you want to give them some of your stuff for them to play out.
SELECTING A USB DRIVE

Flash drive technology has been refined and has dropped in price significantly in the last 18 – 24 months, with reliable brands like Kingston and SanDisk selling thumb drives for less than $1/GB. We recommend:
Buying two or more identical drives and mirroring them for extra redundancy
Buying as large in memory as you can afford (at minimum 4GB)
If you don't already own some thumb drives you can dedicate to DJing, Amazon has a number of well-reviewed drives – compare them
all here.
Remembering Your USB Drive: A drive that you forget when you leave home is just as useless as no drive at all! Consider getting a USB drive with a hole for a keyring and putting it on your keys, so you'll always have it – or maybe find a classy one that you can wear around your neck!
MAKING THE BEST KITS EVER
These are just the beginnings of the DJTT Emergency Kits – as opposed to just adding more drivers and software, or choosing mappings based on our own speculation of utility, we're interested in your feedback. Let us know in the comments section what you think the most valuable tools, drivers, or software you can have on a DJ thumbdrive are, and we'll release another version with the best of your feedback next week.
We've written in the past about preventing emergencies – check out our article from earlier this year on protecting your DJ gear!