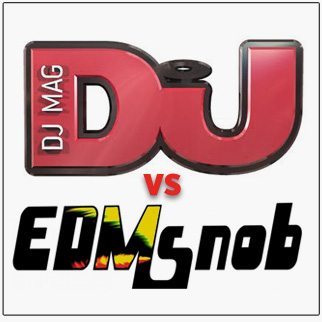 In the latest chapter of the ongoing kerfuffle surrounding DJ Mag's Top 100 DJs list, EDMSnob.com has accused the industry publishing giant of taking money in exchange for featuring the artists prominently in articles and features, citing a number of invoices that show artists like Ferry Corsten and Paul Van Dyke sending money to the magazine. In their blog post, EDM Snob goes on to call into question the inherit bias that DJ Mag then potentially has towards high-paying advertisers:
"Such large payments secretly changing hands between artists and DJ Mag call into question the impartiality of the magazine's other ventures, especially the Top 100 DJ poll. While no evidence has been presented of any tampering or altering of results whatsoever, it is obvious a conflict of interest exists for an organization purporting to conduct an objective poll. The fact that this conflict of interest has not been addressed, either by refusing payments from Top 100 Poll participants, or at a minimum disclosing the conflict to the public, is greatly troubling."
DJ Mag has responded this morning with their own explanation – that the invoices were only for legitimate advertising and CD covermount deals:
This can easily be verified by checking the magazine issues mentioned. They are not "secret documents" but are confidential company invoices and have been obtained without our consent.

We cannot stress enough that as guardians of the Top 100 DJs Poll we take the integrity of the Poll extremely seriously. […]

We view the obtaining of these invoices as a criminal matter and have contacted the police
ANYTHING FOR A CLICK
Another interesting angle here is that both DJ Mag and EDM Snob stand to benefit from this ongoing drama. Being able to call out new cheaters and reveal them slowly, one at a time over the course of an investigation keeps DJ Mag in the minds of many (Editor's Note: yes, covering this story furthers this process). In their response to EDM Snob's accusations, DJ Mag even seems a touch jealous of the attention that EDM Snob is getting:
This stunt simply looks like an attempt to drive traffic and interest in EDM Snob's blog, and divert attention away from our ongoing investigation into cheating in this year's Poll.
Should DJ Mag really concerned about holding attention to their own investigation of cheaters? The ideal situation would be to just have a poll that doesn't have a cheating scandal associated with it, right?
At the same time, EDM Snob – no matter if their allegations are well-founded or not, is getting a massive amount of traffic every time they try to reveal a new DJ-centered Watergate-style scandal. At the moment, EDM Snob remains ad-less, so there's no direct correlation between pageviews and profit for them.
WHO WE SHOULD CARE ABOUT
As many of our readers have noted on each new news item about DJ Mag's poll and allegations surrounding it, does anyone really care about the DJ Mag Top 100 anymore? Judging by comments – our audience doesn't, and the Top 100 list is more important to people who aren't DJs (like promoters, who can easily sell out a night by telling people that the #14 DJ in the world is playing their event).  Let's instead look forward to top DJ polls that not only have significance in terms of voting style, but also reveal new and rising stars to the community, like Resident Advisor's Top 100 DJs survey.
More Info: