With all due respect, one of our first reactions to the Stanton DJC.4 was one of surprise. Here's a 4-deck controller with a 4-channel soundcard that looks solidly built and has many vital features well packed into a small surface, all for about $350. Of course, that's without answering any of the key questions about the audio quality, the playability of the jog wheels and other controls, the output levels, mappings, and so on. We've answered all of those after the jump!


Manufacturer: Stanton
Price: $349.99 (Amazon)
Availability: Now
Communication: MIDI over USB (AC or USB powered)
Ships with: Virtual DJ LE 4-Deck Edition, USB 2.0 cable. (Traktor Pro mapping available.)
Weight: 6.4 pounds (2.92 kg)
Dimensions: 16.1 x 11.7 x 2.6 inches (41 x 29.7 x 6.5 cm)
The Good: Pro grade construction. Very playable jog wheels with adjustable touch sensitivity. Push-button EQ knobs for EQ kill on push. Very usable Traktor mapping available. Quite reasonable price.
The Bad: No booth outputs. Some plastic buttons where we'd prefer rubber. Front-panel buttons don't press in. AC adapter not included. No full-version software included.
The Bottom Line: While it was seemingly designed for a version of Virtual DJ 7 LE, that shouldn't dissuade users of other popular programs from trying the DJC.4. This feature-rich controller packs a lot of very well-made components into a small, but not overly-cramped surface area. It presents competitive sound quality and a couple of useful features not found on more expensive controllers.
BUILD QUALITY AND DESIGN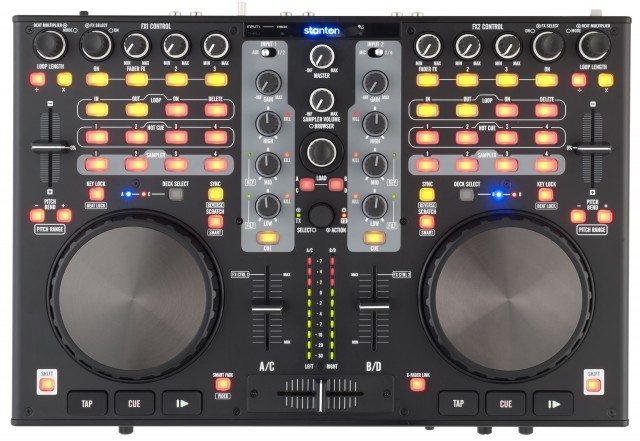 Check out this well-appointed controller. While it doesn't break any of the established molds in terms of form factor, feature set, elegance, or ruggedness, it does cover all the bases and is a well-rounded 4-deck controller (with two channel faders and jogs, but the ability to control 4 decks) with a decent 16-bit/48 kHz soundcard for the money.
The bottom half of the chassis is molded plastic with rubber feet on the bottom, and the handhold side indents for easy carrying. A durable metal top plate and solidly constructed controls, including chassis-nutted pots, and slick touch-sensitive jog wheels, make the DJC.4 literally and figuratively shine.
In all there are 95 assignable MIDI controllers (63 buttons, 5 faders, 12 push encoders, 22 control knobs, and 2 touch-sensitive jog wheels), and all of them can have another layer of functionality through the Shift buttons.
Mixer section:
Replaceable crossfader with adjustable crossfader curve
2 channel strips, each with 60mm volume faders, LED level meters
3-band EQ with center detent push encoders (push=EQ band kill)
Mid and Low EQ encoders switch to Key and Filter knobs using Shift
Master section: master output knob, browsing encoder with 2 deck load buttons
Second push-button encoder and Sampler Volume knob that act differently according to the software and mapping used
Deck section x 2:
Touch-sensitive, jog wheels with adjustable sensitivity and a Scratch button for toggling the top of the wheels from scratching to pitch bending
High-resolution pitch faders with Key Lock button and Pitch Bend buttons (Pitch Range with Shift)
FX section with knobs and buttons for 3 effects, plus an endless rotary push-button encoder
Looping section with a push-button encoder and 6 buttons for loop length, loop in/out, loop on, and loop delete
Sampler section with 4 sample trigger buttons
Deck Select button (for decks A/C or decks B/D)
Sync button (Reverse with Shift)
Transport section with 3 rubberized buttons for playback and track temp
Back panel:

2 stereo RCA inputs for a CD player, turntable, etc. — switchable from line to phono level
Grounding post
1/8″ stereo Aux Input for a smartphone, MP3 player, etc. — with Input Gain knob and PC/Thru switch
2 Master Outs: balanced 1/4″ outputs or unbalanced stereo RCA outputs
USB and power jacks
Power on/off button
Front panel:

1/4″ Mic input with level control and Mic Off/On switch
2 jog wheel Touch Sensitivity knobs
Crossfader curve control: long fade to quick cut
2 headphones outs: 1/8″ and 1/4″ stereo (active simultaneously),
Headphones Mix and Headphones Level controls
CONTROLLER PERFORMANCE
Count the number of push encoders on the DJC.4 as one of its striking features. Particularly, the push-button 3-band EQ felt great to use. Pushing them activates EQkill for that band, although with all 3 EQ bands killed, you still get some output volume for the track; it is not completely muted.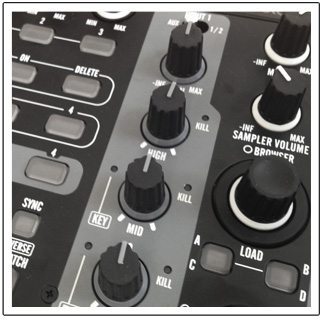 The Shift button also adds some most welcome functionality. For example, Shift+Low EQ = channel Filter control, and Shift+Mid EQ = channel Key control. Shift+Pitch Bend buttons = adjusting the range of the Pitch fader, and you can also program in your own Shift operations.
A replaceable crossfader feels on par with the quality of a mid-range mixer crossfader, rather than the chintzy crossfaders you sometimes see on controllers that teeter dangerously close to the "toy" end of the controller spectrum.
If you're used to the effects controls being laid out the same way from left to right on each deck, like most controllers do, it may take some getting used to as the DJC.4 effects controls are like a mirror image, with the FX Select and On/Off controls situation on the left-hand side on Deck A and on the right-hand side of Deck B.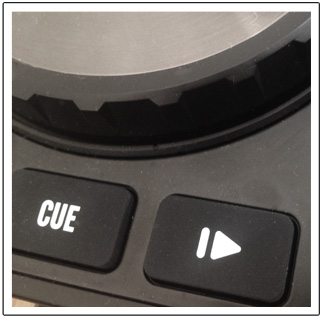 The jog wheels on the DJC.4 are an interesting case. While some may prefer a vinyl layer on top, these wheels have a satisfying rotation action with neither too much nor too little resistance. You can adjust each one's sensitivity with the front-panel knobs. At high sensitivity — and with the backlit Scratch button enabled — a tiny movement will initiate a scratch, and at the lowest sensitivity setting, a full revolution of the wheel will just barely give you a vinyl-style slowing or speeding up effect.
With Scratch mode on, touching the top of the wheels will initiate scratching, while you can still use the sides of the platters for pitch bending.
On the topic of rubberized vs. plastic buttons, DJ TechTools may sound like a broken DVS vinyl at this point, but we tend to prefer well-spaced out rubber pads or arcade buttons for cue and sample triggering, particularly if the goal is to play such buttons like an instrument. On the DJC.4, the rubberized transport buttons feel great, while the rows of Loop, Cue, and Sample buttons fall into the slightly cramped, less playable plastic variety. Of course, this has become something of a fact of life for DJ controllers, and we recognize the catch-22 of providing big, playable buttons: They necessitate a larger, more expensive controller, and not all DJs will even care one way or the other.
So the standard recommendation applies: outsource the button-mashing duties to a separate pad or arcade-button controller. The compact DJC.4 will clear some room in your DJ bag for this!
SOFTWARE: VIRTUAL SANITY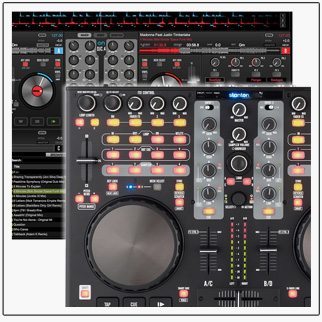 The DJC.4 does not include a full pro version of any DJ software, and its control scheme was designed for a one-to-one connection with an included version of Virtual DJ 7 LE. Sure, VDJ may never be the most glamorous or popular of DJ programs, but the more we're exposed to it, the more we're coming around to it. In terms of features, it's a serviceable program, especially if you have the Pro version (about $299) or are looking to perform music video mixing. Its simpler approach to certain areas, such as sampling may even feel less intimidating and more accessible to some people.
Additionally, using Virtual DJ may be the only way to squeeze every last available feature out of the DJC.4, for example, the Fader FX feature, which toggles the channel volume fader into an effects control, or the X-Fader Link and Smart Fade crossfader controls.
However, Virtual DJ is never going to be everyone's cup of Red Bull. The good news is that mappings are starting to surface, and DJTT got the first Stanton Traktor mapping for the DJC.4 just in time to test it.
TRAKTOR PRO MAPPING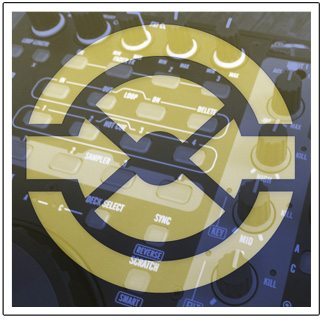 The Traktor mapping we tested came directly from Stanton and was made for a 2-deck, 2-Remix Set configuration. While some of the DJC.4 controls designed for Virtual DJ did not have a direct correlation in Traktor, just about every control did something useful, and the few odd buttons that did nothing could be programmed to your taste.
Most of the controls functioned in Traktor exactly as advertised. For example, the Scratch button toggles jog wheel scratching on and off, very nice for users of the Kontrol S2 who are missing that feature. The EQ kills work; the Deck Select button works; Shift+Low EQ works the channel filter and Shift+Mid EQ works the channel Key knob. In Virtual DJ, the DJC.4 Sampler buttons simply trigger pre-loaded samples. With this Traktor mapping, those buttons send loops of the specified loop length from Decks 1 and 2 to the Remix Sets of Decks 3 and 4 respectively, allowing for quick and easy capturing of sample loops.
The DJC.4 Select/Action encoder works the Traktor Loop Recorder. It selects loop length, and pushing it starts recording. The Sampler Volume knob of the DJC.4 controls the volume of the Loop Recorder playback. There are a couple of caveats to the Traktor mapping in the FX sections: the FX Select push encoder controls the wet/dry mix, and pushing it returns the wet/dry value to 50%. Also, if you have a Single FX deck open in Traktor rather than Group FX, the FX On button doesn't turn the effect on. Of course, you can tweak the mapping if you desire.
When comparing the Traktor Kontrol S2 to this unit, the DJC.4 takes up significantly less surface area, shorter in both length and width. The Scratch button on the DJC.4 was nice, as were the EQ kills. Also, the Tap button on the DJC.4 enables continuous playback from Cue point from a paused state, without needing to hit Play as well. Of course, the S2 has the more playable rubber buttons, but not as many of them. Finally, with its external inputs and dual headphone outputs, the DJC.4 has more generous audio routing options.
SOUNDCARD AND USB BUS POWER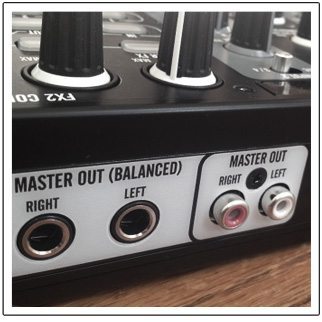 While there is an optional AC adapter for the DJC.4, out of the box it just comes with a USB cable to run off of bus power. That being the case, the output levels that DJC.4 achieves while having tons of backlit buttons to power are rather remarkable. With a single set of cans connected, the headphone output of the DJC.4 is super loud. Plugging in a second pair, the headphone output level drops noticeably, but still remains at a usable level for a club environment. I do wonder if that level drop occurs even when using an AC adapter, but we didn't have one to test.
The two audio inputs for line- or phono-level external decks come with switches in the mixer section for Aux/Input 1-2 and Mic/Input 3-4. So you can't have all four inputs active simultaneously, but you do have some good flexibility. The Aux input has a Thru switch that will bypass the computer audio and push the Aux Input to the master out. The Aux input will play without any software running, so it could save you in the event of a software crash, but if you have a computer crash, you'll need an AC adapter to keep the DJC.4 powered and use the Aux input.
Audio fidelity tops out at 16-bit/48 kHz, which is lower than many controllers support, but it's enough for most DJs anyway. I tested the audio quality at 16-bit/44.1 kHz against the M-Audio Conectiv and the Kontrol S2. I found that the DJC.4 had a smoother, less distorted bass response than the Conectiv and generally just a more satisfying sound. Against the S2, the DJC.4 exhibited better stereo sound separation, but other than that was pretty neck-and-neck with the well-regarded Native Instruments soundcard. I can't definitively say whether one sounds better than the other, but for me, the fact that the DJC.4 holds it own says a lot.
FINAL THOUGHTS
In terms of build quality, included software and playability, the DJC.4 might not stand at an equal to the Kontrol S2 – but for a budget-minded controller, the Stanton unit makes a lot of sense. Sure, you might need to make some mapping tweaks to really make the DJC.4 on the same level, but it may be worth it. Additionally, the DJC.4 wins out in terms of size – making it a great choice for mobile DJ gigs.
If you're already a Virtual DJ 7 user and want a good controller for it, you have many options – but the DJC.4 would be an excellent choice. Its features, build quality, sound quality, and portability all rate very high for the price.
Ironically, if you spend the $300 to upgrade to Virtual DJ Pro 7, that's more than you'd pay for a Kontrol F1 and Traktor Pro together. But that's the state of digital DJ gear right now. NI has largely made its hardware a gateway to its software, making Traktor Pro the best bundled program available right now. However, that takes nothing away from the DJC.4 as a piece of hardware. While at first glance it may look like just another one of the many "me-too" products out there, it's a sleeper in the controller world.
If the DJC.4 seems like the controller for you, you can purchase it here on Amazon.