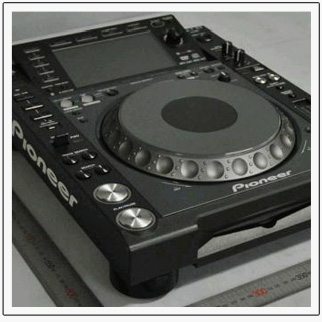 This morning we've spotted the first photos of the brand new Pioneer player that was teased last week (see the full teaser video below with carefully blurred out products). While not finally confirmed from Pioneer (the video promised a launch date of September 6th), the photos cropped up on our Facebook news-feed, seemingly sourced from a Korean product page for the new units. Click here to expand the photo, so you can see the shot in its full, mediocre resolution.
The Korean product page even names the unit as the CDJ-2000NXS – an expected alignment of Pioneer's product line to bring the DJM-900 Nexus a set of players – but any non-physical details will likely not emerge until Thursday. Immediate differences on the unit itself that our team has spotted include:
Five source buttons instead of the normal four – this likely will be Pioneer's new wireless Rekordbox loading system
Two silver buttons above of the pitch slider – we've heard in the past unsubstantiated rumors of Pioneer developing Sync – could this be it?
Concurrently with our own tip off, our forum members also spotted the picture and made a few observations of their own. In addition to HedgeHog confirming the legitimacy of the photo, check out forum user wampaone's astute analysis:

Another forum user, DSP, did some Google sleuthing and found another product page (this one from Italy) with this feature list for the new CDJ-2000 Nexus units:
This Pioneer CDJ-2000 NXS/Pioneer CDJ-2000 MK2 has got some new features such as:
– BEATSYNC Feature (as seen on Pioneer XDJ-Aero)
– Loop Chopping/Slicing via 'LOOP MODE'
– Zoomable waveforms
– SLIP Mode
– An even better Rekordbox integration
– Advanced hot-cue's
– Renewed, better quantize function (in combination with the beatsync)
– Rekordbox mobile app integration (as seen on Pioneer XDJ-Aero)
– Multicolored waveform display
Watch Pioneer's official teaser below – and stay tuned to DJ TechTools, we'll have more exclusive updates this week on this product announcement.

More Info