Today we're launching a brand new contest to search out and give exposure to all the great talent in this community. Like our last contest, which was a massive success, this one is based around a brand new Mad Zach Ableton kit, which you can download for free through our new personal portal: my.djtechtools.com. Continue reading for a mind blowing performance from our last winner, Riccardo Betti, along with download links for the contest.
If you remember the last time we hosted a soundpack contest, you'll recall that videos went massive – the winning video by Riccardo Betti now has nearly 2 million hits on YouTube! With that kind of momentum, we couldn't help but want to take it to the next level, so now it's time to do another contest with better samples and bigger prizes.
First, to get you super inspired: here is a demo video from Riccardo showing off the new Ableton pack. This was performed all live in the first take at DJTT HQ using nothing but Mad Zach's remix sound pack and two MF3Ds.
To enter, just Download Mad Zach's soundpack now and choose which of the two contests below you want to enter in!
SIDE A – LIVE PERFORMANCE CONTEST
This contest's Side A is all about live performance and collaboration. Download and load up the drumrack or samples on your MIDI controller and show us what you (and your friends!) have got. We want to see all live, no gimmicks throwdowns. There really are no strict rules, and you don't have to perform with others – but it will get you initial bonus points. We recommend using Ableton Live to load up Mad Zach's drum rack for maximum effect (there's a lot of mad trickery in there) but if you want to load the samples into something else like Traktor, Maschine, an MPC, or any type of performance controller – go for it!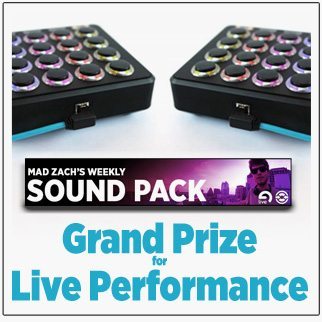 Grand Prizes: Two Midi Fighter 3Ds + the full back catalog of Mad Zach's Sound Packs
How To Enter: Just post your performance video as a video response to this video and put "myDJTT Remix Contest: Side A" in the title.
For some great advice on how to get started watch Ean Golden's advice on making a great DJ video and Mad Zach's finger drumming tutorial.
Choosing The Winners: Winning videos will be judged on liveness, originality, and arrangement. Please limit length to 2 minutes. Winners will be announced October 12th. No, you will not be competing against Riccardo or the example video above.
The Deadline: To be considered in the contest, please submit your entry by midnight PST on October 10th.
The Last Winner: Our now good friend Rick Fresco took the cake last time with his amazing hip hop jam on a Novation Launchpad. Winning the DJ TechTools live remix contest apparently has some great perks. Not only did Ricardo get amazing exposure on YouTube, but gig and television appearance requests all over the world.
We asked Riccardo how he got his video so tight, and what advice he has for this contest's entrants. His answer was simple: lots of practice.
SIDE B – STUDIO REMIX CONTEST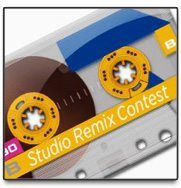 Side B of this contest has you wagering your studio skills. Download the free remix samples and parts here and go to work building out a slick remix. We encourage you to limit use of sound sources outside of the pack and keep the final product under five minutes.
Grand Prizes: A pair of Rokit 6 studio monitors and the full back catalog of Mad Zach's Sound Packs
Choosing The Winners: Winning entries will be judged on originality, composition, and mix. Although likes and plays are a great way to garner community and friend support, this will not be a popularity contest, we're looking for quality first! Mad Zach and Ean will be the primary judges here. To be considered, submit your remix no later than midnight PST on October 10th.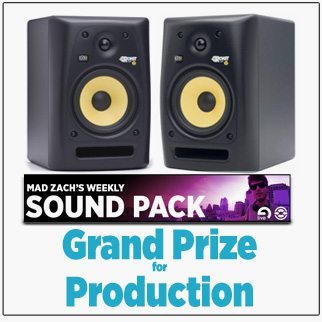 How To Enter: To enter, just upload your remix to Soundcloud and submit to our MyDJTT contest group. To do that, just join the group, then upload your remix to Soundcloud, and hit the "Share to group" button on the track itself: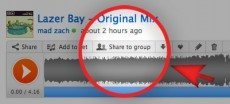 Be sure to make it a free download so everyone can bump your remix around the world! Winners announced October 12th.
"Lazer Bay" – The Original Track by Mad Zach: To get things started, Mad Zach dusted off one of his early soundpacks (Layerz upon Layerz – Week 7) and transformed it into a full fledged track. Here's the original tune that you'll be remixing (it's a free download in your MyDJTT portal with the same contest download link):
Once again, if you haven't gotten your hands on the remix parts in the free soundpack for this contest yet, they're a free download here. We're all excited to see what you've got, so show it off!
MY DJTECHTOOLS IS NOW LIVE
We're excited to launch the new section of our website that will be home base for new services and features over the next few months – Go ahead and sign up here now!

You're probably wondering: what can I do on MyDJTT?
Upload an avatar and fill out your profile
Add the gear you use – so we can build a feed of personalized content and news along with gear updates.
Download the MyDJTT Contest Soundpack (see below!)
This will be your future login/user for all features on the site including comments and sounds
All downloads and purchases that you make in the store will always be stored here for future reference.