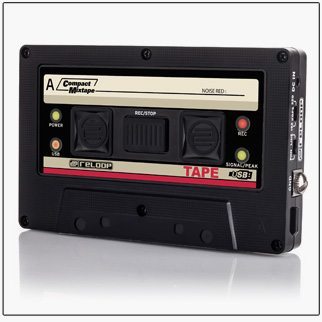 If you made it to the BPM show earlier this month, you might have seen Reloop's new mix recording kit, a simple USB-drive based recording interface that allows for really simple recording of DJ sets. Reloop showed off the basic concept last week, but now we've finally got the official technical specifications and feature lists that we all crave.
The Tape is essentially a sound card – you'll have to supply your own USB keydrive or external hard drive to record onto, plug it into the device, and press record. There's switch that allows the user to toggle between 320kbps and 128kbps recordings, and a phono/line switch complete with a grounding post to make a direct recordings from vinyl also possible.
Additionally, if your mixer only has one output available, the Tape can pass the master signal through – recording the mix and passing the audio along to the speakers or amplifier.
First impressions are this little guy might be a great addition to a lot of DJ's bags, especially if you're in the habit of recording every single mix. The Reloop Tape is set to be in stores in January 2013, and Reloop has confirmed the price to be $129 at MSRP.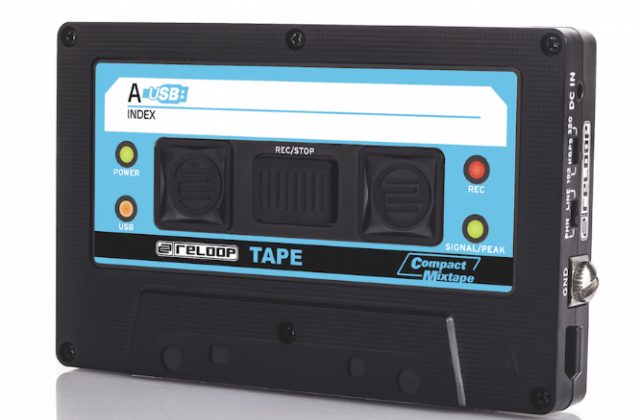 Here's the full feature list and tech specs from Reloop's press release:
features:

USB mixtape recorder with retro tape look
Direct recording of mix sets on USB sticks or external USB hard drives
Connection of line and phono sources (e.g. mixer or turntable)
Easy operation without complicated settings for secure recordings, even in dark surroundings
Can also be used for converting analogue vinyl into digital format, with a dedicated turntable grounding post-
Direct recording as MP3 files on a USB storage device; no computer necessary
3,5mm stereo jack input (including appropriate RCA-to-stereo jack cable and turntable
grounding)
Hi-speed USB port (for USB stick or external USB hard drive)
Switchable recording quality (192kbit/320kbit)
Numerous status LEDs (power, USB, record, signal/peak)
3,5mm thru connection for signal routing; convenient for when the mixer does not have a recordout connection
Various design sticker sets available
Mains connection (mains adapter included)

technical datas:

Input: 1 x phono/line 3,5mm stereo jack
Output: 1 x line 3,5 mm stereo jack (thru port)
USB port for sticks and external hard drives
Grounding: GND screw
Dimensions: 103 x 14 x 65mm
Weight: 59 g
Incl. RCA-to-stereo jack (3,5mm) recording cable with grounding, mains adapter and 3 design sticker sets available for retro look