When you've got to record a set quickly and easily, you reach for a Tape. This retro-styled audio interface captures MP3 files to any USB device that you provide. Just plug your master output into it, and the Tape can pass the audio through to speakers, a mixer, or an amp. But is vintage chic and MP3 recording enough for you to press play on this niche DJ gadget? We've got the full review of one of the world's first units.
Manufacturer: Reloop (official product page)
Price: $129 (estimated MSRP)
Availability: Early 2013 (As early at mid-February)
Weight: 2.1 oz.; 59 g
Dimensions: 4.05 x 2.55 x 0.55 inches (103 x 65 x 14 mm)
Input: 1 phono/line 3.5 mm stereo jack; USB port for thumb drives and external hard drives
Output: 1 line 3.5 mm stereo jack (and 3.5 mm stereo jack Thru port)
Grounding: GND screw
Ships with: RCA-to-stereo jack (3.5 mm) recording cable with grounding, AC power supply, and 3 design sticker sets for a retro look
The Good: Super small and light for easy travel. Simple, fast recording to a USB device. Grounding post with Phono/Line switch makes it easy to convert vinyl to MP3. Audio Thru port lets you use the Tape even if you don't have auxiliary outputs to spare. Thru port does not color the sound.
The Bad: Plastic casing may not be the most rugged for the road. No internal storage, SD slot, battery, or digital input. No lossless/uncompressed recording option.
The Bottom Line:  If your DJing setup doesn't allow for simple internal recording from software, the Reloop Tape makes it wonderfully easy to record your mixes or any other audio from any hardware with an RCA or minijack output. Niche gadget that won't appeal to every DJ. Another great use for the Tape is fast and simple converting of music on vinyl to MP3.
THE STORY OF THE TAPE
Everyone with at least one grey hair on their head — and even a few of you fresher faces — must have fond memories of scoring your favorite DJ's latest mixtape at a record shop, in the parking lot of a summer festival, or directly from the tape deck of a passed-out friend. A lot of you probably recorded your first mixes to cassette, as well.
Those days are through, but the gear aficionados at Reloop still wanted to spark up some mixtape nostalgia with its new Tape recording interface. This simple device accepts phono- or line-level audio inputs and records them to a connected USB drive (not included) at either 192kbps or 320kbps MP3 quality. That's the core functionality – from there you connect the USB stick or external hard drive to a computer and do with the recordings what you will.
THE RELOOP TAPE ITSELF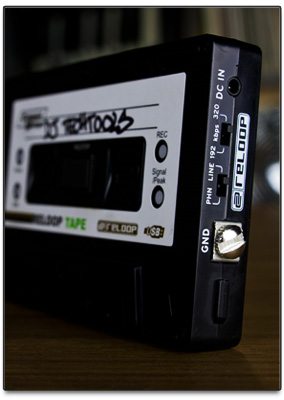 Smaller and lighter than an iPhone, the Tape is an extremely DJ-bag-friendly gadget. Designed to look like an old-school cassette tape, it also has that cassette-like plastic casing, which keeps the weight down but also means you should be careful packing it up with your heavier gear.
The Tape comes with a small AC adapter, and unfortunately, a battery power option is not available. You also get an RCA-to-minijack audio cable with grounding, so you can use it with a turntable or line-level gear. One side of the Tape has a grounding post and a phono/line switch to select your recording source. Another switch toggles between 192kbps and 320kbps MP3 recording quality.
The bottom of the Tape has a USB port for USB thumb drives or external hard drives. There's also minijack Input/Thru ports, for audio passthrough from the input to a soundsystem, in case you only have one set of master outputs.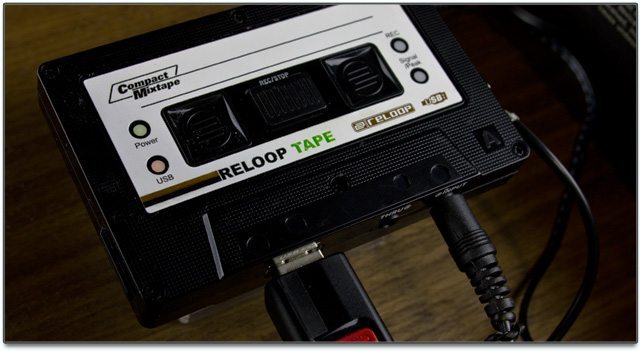 On the top face of the Tape, there is a single Rec/Stop button and four indicator LEDs. These LEDs look fairly dim—but still visible—when in bright natural light, but are plenty bright in low-light conditions. LEDs light up to indicate that the Tape has Power (green) and a connected USB device (orange). If there is an input audio signal, the Signal/Peak LED lights up green for an acceptable signal, or red for a clipping signal. After you hit the Rec/Stop button to begin recording, the REC LED flashes red while recording is active.
When you're done with it, you can disconnect the USB device without powering down the Tape first. When you transfer the USB device to your computer, there will be a folder called "Reloop Tape" with the files inside titled sequentially as mixtape_00.mp3, mixtape_001.mp3, mixtape_002.mp3, etc.

RECORDING QUALITY
Operating the Tape couldn't have been much simpler. As long as the power cord and a USB device are plugged in, all you is press Rec/Stop to begin and end recordings. The bigger questions have to do with the audio results.
When using the Thru output of the Tape to pass the RCA master output of a controller out to speakers, the sound levels were boosted somewhat, but the audio quality sounded identical to my ears as when listening to the straight master output. In other words, the Tape's Thru port does not seem to color or affect the sound quality, but it does make it a little louder.
It should go without saying that if you're considering using the Tape, then recording internally from DJ software either isn't an option or is of some concern to you. But to have something to compare the Tape's results to, I recorded identical material both to the Tape and to Traktor Pro's internal recorder. Most DJ software these days include an internal recorder, as in Traktor Pro, Serato DJ, etc., and usually record uncompressed WAV and/or AIFF. It's too bad that the Tape didn't include an uncompressed recording format, both to keep up with what's available in software and to make the recordings more eligible for professional distribution.
Read More: How To Start Recording Your DJ Mixes
Check out the short audio clips below. It's worth noting that when I made a WAV recording from Traktor Pro 2.6's internal recorder and then converted that to a 320kbps MP3 in iTunes, that file had a louder sound level than the 320kbps MP3 that was recorded on the Tape.
REWIND!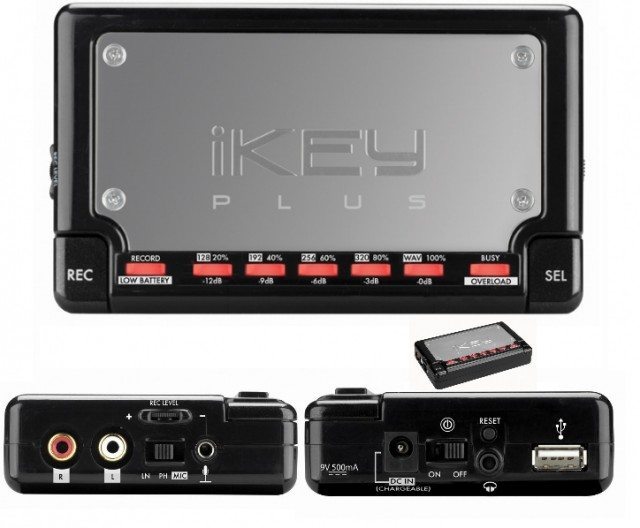 The Tape draws a lot of comparisons to the iKey and iKey Plus that Gemini distributed around six years ago and later discontinued. As press time, we didn't have a street price yet for the Tape, but only the $129 MSRP. Either way, the Tape is priced similarly to the iKeys, or perhaps slightly lower once the retail discounts kick in. The Tape is smaller and lighter than the iKeys, but also has fewer features. Notable attractions to the iKey Plus that are missing from the Tape include uncompressed WAV recording, battery power option, mic input, headphone port, and input level control. However, the iKeys didn't have the audio thru port that the Tape has.
EJECT!
Unless you're fooled into thinking the Tape is an actual cassette tape, what you see is what you get: a simple audio interface for recording an input as MP3 to a USB device and passing that audio through to a soundsystem if necessary. It operates simply and as advertised, and the audio quality is pretty standard-sounding MP3.

There are several features that may be seen as missing from the Tape: battery power, internal storage, or at least a slot for microSD cards that the kids are using in their Android phones these days. But there's a niche appeal to the Tape that a certain sect of DJs will appreciate.
If you spin without a laptop or have a setup using more than one laptop or multiple software programs, where internal recording may be a hassle, the Tape presents an exquisitely simple option for you to record all your sets at a moment's notice to the plentiful storage of today's low-cost USB thumb drives. It's also a fiendishly easy way to capture vinyl to MP3.
Would you like to roll with Reloop's Tape? Why or why not?
Markkus Rovito is DJTT's Technical Editor – hit him up on Twitter if you want to see a review of a specific product or software!