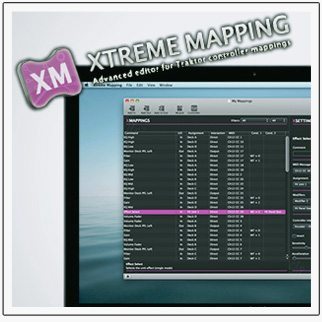 Xtreme Mapping is an advanced MIDI mapping editor tool for Traktor and has just recently updated its software (now version 1.4) to be compatible with the Kontrol Z2 and other new Traktor 2.6 commands and features (also back compatible to Traktor 1.2.7) while also fixing a few minor bugs. In case you were wondering, the software is only compatible with Mac OS X, sorry PC users.
If you're thinking, this sounds cool and all but why do I need this? Well, as someone who's been using Xtreme Mapping, I've found some of the many useful features of the software include: the ability to copy and paste commands within a mapping or to/from different mappings, the safety of having an undo command, the ability to change the assigned MIDI channel to a group of commands, the ability to change the mapping assignment for a group of commands, and the helpful "wizard" tools they've created. The latter allow the less experienced MIDI mapper to easily get started making their mapping ideas come to life by providing a simple step by step interface to setting up FX, mixer, track deck, and Remix Deck mapping controls.
Overall, I've found that Xtreme Mapping makes Traktor MIDI mapping more time efficient such that I can focus on the fun of designing and playing rather than the manual labor of creating and editing each command line that you'll find in Traktor's Controller Manager.
(Editor's note: Chris/Flashflooder is the DJTT mapping specialist who executes and maintains such crazy mappings as the MF3D DeckGratMotion and theVCI-400 SE Flashflooder)
To coincide with the launch of version 1.4, Xtreme Mapping is running a 50% off sale for the software ($3.99/€3.59, regularly $7.99/€6.99) until Sunday, November 25th.
More Info: