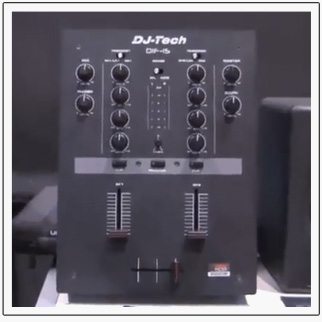 We're still decompressing from the NAMM show here at DJTT HQ, but that doesn't mean the coverage has stopped. Sometimes, other people summarize a product better than we ever could. That's the case with Q-Bert's below video about the new DJ Tech mixer, the DIF-1S.
The first demos of the new mixer were on the floor at NAMM 2013, and while it's not slated to come out until August, we're convinced that it could be a great mixer to introduce onto the market.
The turntablist-friendly mixer is especially fascinating for two big reasons:
It's extremely affordable at ~$160.
It has a Mini-Innofader (learn more about these here) as the crossfader
But sometimes having someone who really knows what they're talking about is way more interesting and telling about a product than anything else – see here:
The DIF-1S can also have the crossfader swapped out – so if you want the regular Innofader in there, it's easily done. Additionally, the mixer sports switchable Line/Photo inputs, meaning that it will integrate quite easily into a DVS system.
Only two drawbacks as far as we can see: the upfaders aren't swappable, and there's only RCA output on the mixer.
Fancy one of these simple mixers as a bedroom scratching workhorse? Let us know if you agree with Q-Bert in the comments below.