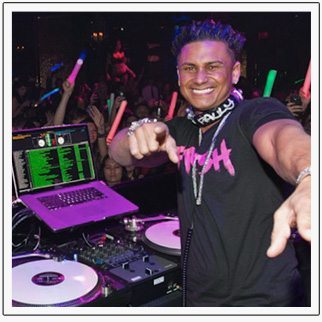 It's been a few months since our last edition of Great DJ Stories (about DJing at Obama's election party), but this morning we've been sent another spectacular story about a unique situation in which DJs find themselves. Today's story is a critical-yet-humorous review of a set by Jersey Shore celebriDJ, Pauly D, published in full by our friends down under at inthemix.
Here's our favorite selection from the minute-by-minute account by Andrew Wowk – a self-proclaimed "techno nerd":
9:37pm – Pauly attempts to scratch for the first (of many) times. Someplace, somewhere, DJ Shadow shudders and doesn't know why.

9:38pm – Pauly drops a track that the support DJs just before him finished with. I do not profess to know its name, my knowledge of commercial 'EDM' admittedly (and proudly) limited. His status as some kind of idol for the frontally lobotomised is confirmed: the crowd explodes.

9:45pm – As the set carries on, Pauly raises what looks like a deformed limb (possibly an arm) and thrusts it upwards into the sky. He calls this a "fist pump" and demands the crowd perform it with him (they, of course, do). Its purpose is lost on me, but if I had to speculate, I would say it is some kind of movement designed to appeal to those who were not born with the ability to dance with their hips and legs.
Read the full account over at inthemix.