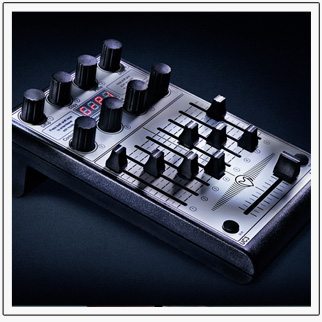 It's always nice to see versatile new controllers being introduced onto the market that will work in a variety of setups – perhaps one of the reasons that the soon-to-be-shipping Behringer CMD series has so much pre-release buzz. German-based Faderfox has been doing this for years – and their new controller, the Faderfox UC3, is no exception.
One of the big differences between this unit and the introduction of previous Faderfox models is a well-reduced price, expected to cost just €169 (including VAT), or about $230. This price change is reflected across the entire Faderfox line – meaning that the DJ3, DX3, DS3, FT3 controllers will also all be the same price.
Back to the UC3, the unit sports nine faders and eight push-encoders all of which can be switched between eight different groups/banks. Check out the layout in the photo below:
Here's the full product specs on the brand new controller:
Features

Universal controller for all kinds of MIDI controllable software
iPad compatible with camera connection kit
Control surface setup for Ableton Live 8 is included (no manual mapping necessary)
USB interface – class compliant / no driver necessary
8 push encoders without detents (resolution about 36 pulses)
8 faders with 45 mm length
crossfader with 45 mm length
4-digit-display to show control values and programming data
14 bit high resolution encoder mode for sensitive parameters
data feedback for encoders avoid value jumps
All controls fully programmable in the device by channel, type, number and mode
Advanced programming functions like copy, paste and channel set
8 groups for all controls
About 136 commands per setup (17 controls x 8 groups)
16 setups with backup functionality
USB bus powering –­­ consumption less than 500mW / 100mA
Very compact design in a black, plastic casing with metal faceplate (180x105x70 mm, 350 g)

System requirements

PC or Mac with a free USB port (1.0 or higher) or any USB hub
iPad with iOS5 or higher
More Info:
Interested in a DJTT review of this unit? Let us know in the comments below.