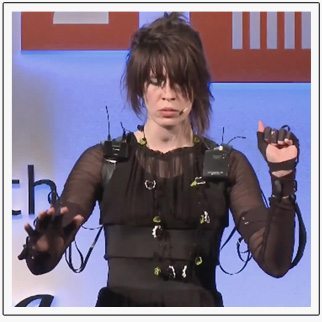 We've seen exciting advancements in live looping and performance control in recent years, particularly in Beardyman's new setup. Today we're excited to share this video (originally published by WiredUK in January) of Imogen Heap and her 3D performance gloves that she uses to control her Ableton Live session.
"It's really like playing an instrument in 3D space" – Imogen Heap
We've seen other videos of Imogen's gloves before, but here she does a great job of explaining the evolution and function of the system, and gives a solid demo performance. She's also using a Kinect in this video to create onstage locations that have their own associated effects- like an echo when she's further from the audience.
The video is below – but if you need a synopsis of what to watch, here's a quick guide:
0:00 – 7:20: her explanation of the evolution of the concept behind the instrument
7:20 – 13:20: her talk through demo of each of the different types of movements and controls available in her rig
13:20 – 19:56: her performance
[Via WiredUK – read the full story on Imogen Heap and her gloves]