Traktor Key Detection: Just How Good Is It?
Traktor's Key Detection vs. the competition
We've gotten a barrage of comments, tweets, and emails this afternoon asking us how well the new Traktor key detection algorithm works – and before we've even gotten a chance to give it a whirl, one of our forum members ibsh has jumped on the question and made the below quick graph comparing it to Rapid Evolution, Mixed In Key 4, Mixed In Key 5, and Key Finder. He writes:
"Now Traktor has a key detection feature, it seems; sneaked it into the latest point release. Based on some very basic research, it's a good algorithm, too. Higher number of exact matches than MIK and solid overall accuracy (…) Slightly fewer [compatible matches] than MIK." – ibsh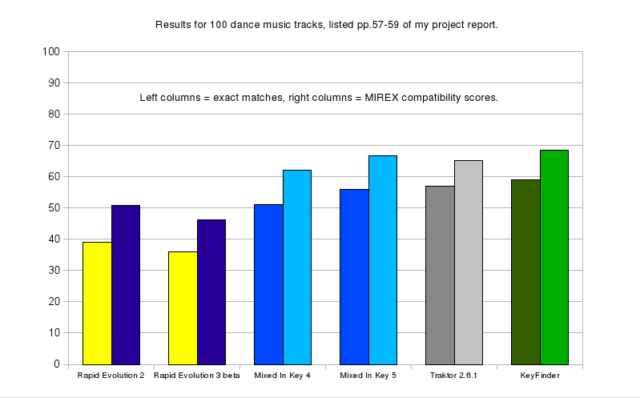 Full disclosure: Ibrahim (forum username ibsh) actually is the developer behind Key Finder, the free open source app that's the winner in the chart above. Additionally, the comparison is just results out of 100 songs, which doesn't make it the ultimate answer to which is best.
That being said, Traktor's key detection does seem hold up pretty well against the competition in this initial results!
Learn more about Traktor 2.6.1 here or more about Ibrahim's Key Finder over here.