Today's producer is on the move, spending a lot of time traveling from club to club, or city to city. If you're still coming up in the game, you might just be en route across the street, but creativity doesn't have to be limited to spending hours locked away indoors in your home studio. In 2013, the future of music is mobile, and your studio tools should be too.
SYNTH: ANIMOOG by MOOG
Portability Factor: Just another app on your iPad
Best Feature: Multi-touch screen = hands-on control of amazing Moog sonics
Price: $29.99 in the iTunes store
Similar: Propellerhead Figure, Korg iMS-20
Animoog is an award-winning professional, polyphonic synthesizer for the iPad. Powered by Moog's AES (Anisotropic Synthesis Engine), it uses the iPad's multi-touch surface and animated visualizations for sound creation and sculpting. It sounds a bit like Moog's classic synths; overall its sound is big, thick and 'analog'. Moog is famous for powerful filters, and the low pass filters on the Animoog live up to the company's reputation.
The main screen on the application features an X-Y pad, with a keyboard underneath. When you play the notes, lines appear on the grid, encircling a node in the middle. Drag the node around the grid to modulate the sound, and add in other nodes for further sonic experimentation.
Moog's classic modules are on the right of the X-Y grid, including controls for the filter, and effects like delay, overdrive, detune and bit crusher. If you're new to synthesis, there are a number of great-sounding presets, and you can also save your own creations to presets.
One of the great features about this synth is its use of the iPad's multi-touch capabilities. Moog's X-Y pad creates a visual canvas for sound creation, one that is both fluid and futuristic. Overall, the Animoog has excellent sound quality, and is capable of producing a wide palette of sounds. It's fun, easy to use and puts the legendary Moog sound into your iPad.
SYNTH: TEENAGE ENGINEERING OP-1

Portability Factor: Small enough to (almost) fit in your back pocket
Best Features: The built-in tape recorder, and its minimalist retro design
Price: $849.99 USD
Similar portable synths: Elektron Analog Four, Moog Minitaur
It's an all-in-one synthesizer, sampler, controller, an FM radio and recorder built by Teenage Engineering. The first thing that'll catch your attention about the OP-1 is the simplicity of the design, and color coded layout. It's a well-designed unit, built with high quality components, which makes it both fun and practical to use.

As a synthesizer, it features eight different synthesis engines, each with their own sound select keys. You can create sounds ranging form old-school 80's inspired synth leads to growling, distorted bass sounds. In the synth section, you can tweak the synth engine, ADSR envelope, modulate the LFO, or add effects. One of the OP-1's best effects is called Punch, which is a low-pass filter that can be added to the mix. Check out the style of the display screen; the graphics for each of the features are 80's inspired: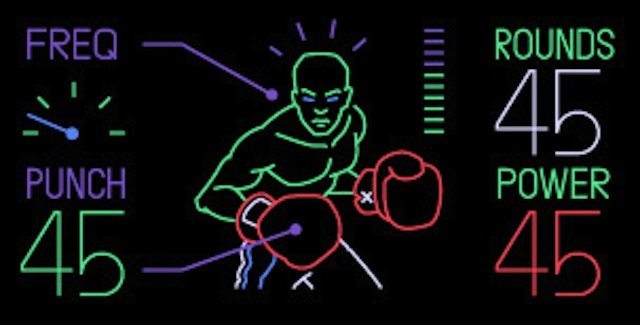 To create your beats, there's a drum sampler, pre-loaded with drum kits. You can easily load in your own samples, or record new audio with the built-in microphone or line in. Both the synth and sampler sounds can be played with the keyboard, or sequenced via MIDI over USB.
Once the beat is perfected, you can record your masterpiece using the 4-track tape recorder. The tape recorder speed can be sped up, or slowed down during recording for to create crazy effects. You can record the stereo output from the tape recorder onto 'two sides of vinyl', (the display screen shows a little record as you're doing this) with six minutes of recording time each.
While connected via USB, you can switch the unit into 'disk mode', which allows you to import each of the four tracks to your DAW. However, the OP-1 isn't able to send or receive any type of MIDI clock.
SOUND: GENELEC 8030A MONITORS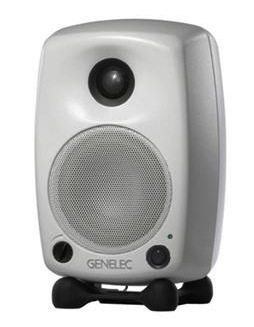 Portability Factor: Largest item on this list, but pack up in their own carrying bag for travelling
Best Feature: Great sound
Price: $895 USD
Similar: Adam P22A, Dynaudio BM5A Compact
The 8030A's are a bi-amplified studio monitor, and the sound they produce is both clear and full sounding. The low end response is exceptional for a monitor with a woofer that's 5" in size.
The 8030A's provide an accurate sound, so you're able to make good decisions while mixing. As noted above – they're a bit on the heavy side (12lbs per speaker) to throw into a carry-on bag and haul through the airport, but their compact size, (they measure in at approximately 10" x 6.5") means that that weight is in a smaller form factor than most monitors (Genelec also manufactures an accompanying carrying bag).
The 8030A's have come in two colours (grey and white) and look every bit as good as they sound.
BEATS: AKAI MPC STUDIO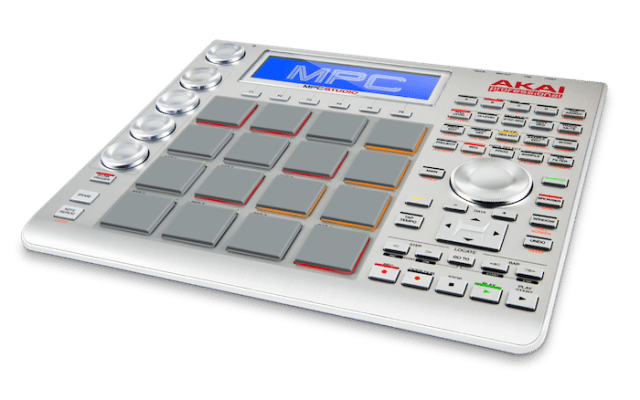 Portability Factor: With its slim build, the MPC Studio can easily slide into any gig bag
Best Features: Classic MPC layout and pads
Price: $495 on Amazon
Similar: iMPC, Maschine Mikro
The MPC Studio is one of the latest offerings from Akai, a company famous for their legendary samplers. The MPC Studio has a slim design, it's under one thick and just over eleven inches in length.
The layout of the MPC Studio is familiar, and features the same pads that Akai is well known for; these are great for drum programming and playing samples you've chopped. The velocity-sensitive pads light up different colors, depending on how hard or lightly you play them. Up top, there's an LCD-screen that displays all the classic Akai editing and sequencing features, you can choose to use the screen for sequencing, and/or the accompanying software program.
The MPC Studio's software program can be used as stand-alone software, or used as a plug-in inside your DAW. The software allows you to create, mix, and export music, although most users will likely benefit using the software as a plug-in. For those who are new to MPCs, one of the best things about this machine is its ability to easily chop samples, and lay down ideas quickly using the pads. It's a simple and timeless way of creating music.
The Studio is portable and light weight, comes with its own red traveling bag, and can easily fit into your backpack or gig bag.
BEATS: MASCHINE MIKRO MK2

Portability Factor: Two thirds of the size of the original Maschine, the Mikro can fit snugly in your backpack
Best Features: Huge sample library and on-board effects
Price: $348 on Amazon
Similar: Maschine MK2, MPC Studio
The Mikro MK 2 is a groove production system, a smaller, more portable version of the Maschine MK2. Both the Maschine and Maschine Mikro are popular production units, as it's easy to create beats and melodies by assigning sounds to 16-playable pads. The Mikro doesn't have the LCD screen or additional rotary controllers that its larger counterpart does, but it packs many of the same great features into a footprint that's just over 12.6" x 7.7".
A few of the Mikro's great features include loop slicing, a sequencer, a large sample library of sounds and on-board effects. However, what really sets the Maschine Mikro apart is its ability to host third party plug ins, instruments and effects. The Mikro can also be used as a MIDI-controller, and easily switch into this mode on the fly.
In order to fully utilize the Maschine Mikro, you'll have to learn to use the accompanying software. However, since the Mikro is small enough to slide into your backpack or DJ bag, you'll have plenty of time to do this on the plane, or during the downtime between your sound check and the show.
SOUND: APOGEE DUET 2
Portability Factor: About the size of your palm, the Duet2 allows you to turn any location into a recording studio
Best Features: Good quality A/D and D/A converters and mic pre-amps
Price: $595 http://www.amazon.com/musical-instruments/dp/B004W95TA6
Similar: RME Babyface, Focusrite Scarlett 2i2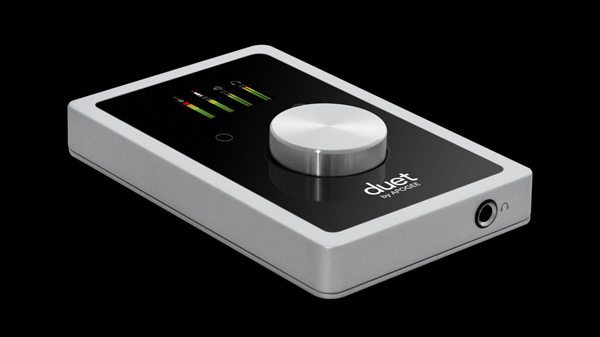 If you're making music on the go, you're going to need a portable audio interface for recording. The Apogee Duet 2 was specially designed with the mobile musician in mind. The new Duet 2 is housed in a black and aluminum chasis, small enough to fit in a side pocket of your gig bag.
The Duet 2 features Apogee's high quality D/A and A/D converters. (Apogee is best known for its high end converters, used in many reputable studios) It features two analog inputs with world-class mic preamps, with 48V phantom power, 2 analog line outputs, and a 1/4" stereo headphone output, and connects to your iPad or Mac using a USB cable.
Read our larger review of the Duet 2 in this article.
The Duet 2 has great sound quality, and an attractive design. While it may be a little more expensive than other portable sound cards on the market, it's worth it to spend a little extra for good quality A/D and D/A converters and mic-preamps.
SYNTH: THINGAMAGOOP 2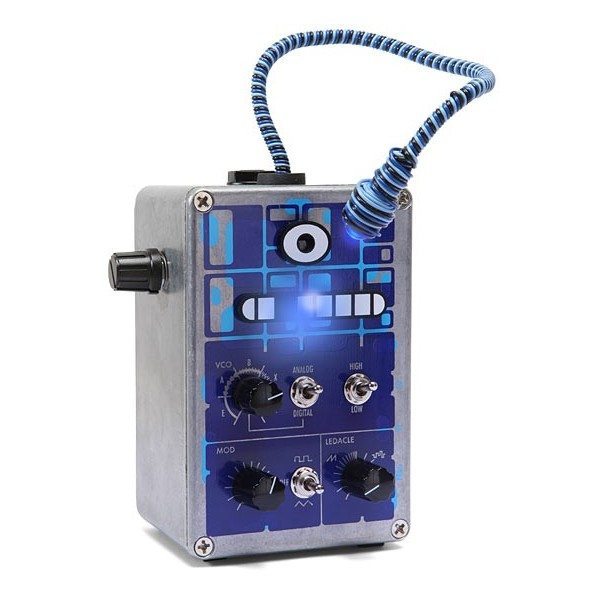 Portability Factor: About the size of a guitar pedal, you can take this synth with you wherever you go
Best Feature: Makes a lot of loud noise that you control using light
Price: $190 (fully-built)
Similar: The original Thingamagoop, Bebot Robot Synth for iPhone and iPod Touch
Lastly, a fun and kind of crazy portable instrument. The Thingamagoop is a handmade, analog and digital synthesizer you control with light; it looks and sounds a bit like a robot. It features both analog and digital modes, with sample and hold, arpeggios, noise and bit crush effects.
For those who like DIY, it also has an open source, Arduino code so you can program your own sounds. The exterior is built like a stomp box, but it has the face of a robot. To produce sounds on the synth, you move the light that is attached to the robot's head. It's small enough to fit in a little box for traveling, and its variety of analog noises have great potential for futuristic sound effects, and sampling.
The Thingamagoop also has CV out, so you can control any other synths you have with light. This would work especially well in a humorous video, or live performance. Who doesn't want a robot synth in their collection?
YOUR TOOLS HERE
This is one of those articles that needs your contribution – let us know what you think the perfect portable studio tools are and what you take with you everytime you leave the house. Add one device per comment – and vote up any that you use in the comments, we'll add the best to the article!