Mad Zach has just released a new compilation volume of his renowned sound packs – and this time, they are fully compatible with Traktor's Remix Decks. In today's video, Zach shares some creative ways to play with sound packs, including how to finger drum with a Kontrol F1, sequence a sound pack with Ableton Push, and more for all styles of DJing and live performance.
THE NEW MAD ZACH SOUND PACKS
If you're not already familiar, Zach's sound packs are dynamic collections of sounds that includes drums, synths, one-shots, atmospheres, risers – all designed to be played in live using any midi controller with buttons. With just a few buttons and your 2 hands, anyone can have fun playing a full song – totally freestyle!
In this volume, not only are there 6 of previously unreleased packs (including one epic 32-sample, two player pack), but Traktor Remix Deck functionality has been added for all of them.
Grab the new compilation here in the DJTT Webstore!
Mad Zach covers lots of things in the video so here is a summary of  the major points:
USING A KONTROL F1/S4 + REMIX DECKS

In order to achieve the new style demonstrated in the video, it takes simple modification on how Traktor users normally view the decks. Normally you can only play the vertical columns shown above at the same time 4-voice polyphony, instead of an Ableton drum rack or Maschine's 16-voice polyphony in which any sample can be triggered.
Mad Zach's packs are recommended with a simple 90 degree rotation of the Kontrol F1 (or other Remix Deck mapped controller) to the left. This allows you to play the sets as they are intended with certain voices like hats and kicks playing at the same time.
"Finger drumming on these controllers is fun and rewarding – although the buttons are not as ideal – the functionality of F1 (such as mouseless browsing, filters, and volume) makes up for it. It's a bit more limited because the columns are choke groups and on the S4 you only get 4 sounds per slot." – Mad Zach

In the video, Mad Zach plays a beat with his right hand and rocks the FX with his left, again using the Remix Decks. Try it out for yourself (there's a free sound pack at the end of this article).
C-C-C-COMBO BREAKER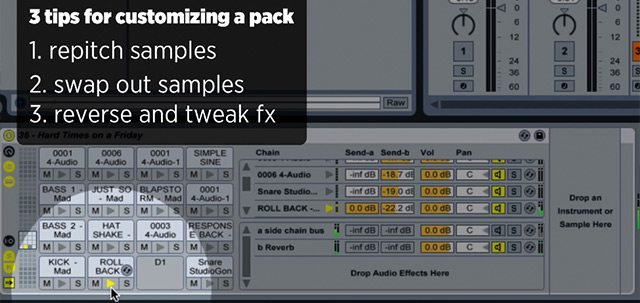 Having a massive collection of sound packs is one thing – but for those who want to create their own custom sound, try combining different sounds and moving samples around within packs. This is especially fun with a Launchpad or other controllers with 64 buttons which allow for four packs to be played at the same time.
ABLETON PUSH TECHNIQUES

In the video, Zach uses the Ableton Push controller alongside a Midi Fighter to play a bassline and the beat at the same time. Instrumentation is handled on the Ableton Push (usually a melody/bassline) while the Midi Fighter plays a beat from the sound pack. Mad Zach gave us the essential tips for this technique:
Pick a dope scale – like Minor Gypsy!
Root your thumb on the blue buttons (root notes of the scale) while "riffing" around with your fingers
Sidechain your bassline to the sound pack!
"Two-handed routines are the best!  Start by getting down the beat with one hand only, then slowly introduce your other hand with one or two note melodies and work up from there." – MZ

Additionally, you can use the Push's step sequencer to build up a groove using nothing but a sound pack. Then tweak parameters on top of it, like release, pitch, reverb, delay, etc. Sound packs can be modified, swapped in and out while keeping the same recorded patterns.
FREE SOUND PACK DOWNLOAD
"Wait, so I have to buy something to try any of this?" Nope. Zach has put a lot of work into making these packs useful for DJs, controllerists, and producers – but we still believe everyone should get a chance to play. For that reason some of Zach's sound packs come out first on the DJTT mailing list and are free to download for two weeks – then every few months we compile them – alongside a bunch of unreleased MZ heat – into a controllerist "album" of sorts. Sales from this compilation go directly to support Zach and help keep the DJ TechTools community going. To give you a taste of what you'll get in the new volume – we've thrown one up for immediate free download.