Earlier this year Pioneer DJ released their first entry into the In Ear Monitor (IEM) market with the DJE-1500 and DJE-2000. In ear monitors are a great alternative to over ear headphones as they provide superior sound isolation which allows you to monitor your mix at lower volume levels. Lower volume levels = less strain on your ears. We have discussed the benefits of IEM's and how they can help prevent the risk of developing Tinnitus. So are the new Pioneer DJ IEM's worth switching from over ear headphones? Keep reading to find out. The Pioneer DJE IEM's are just one of many releases from Pioneer this year. They kicked off the year with the Pioneer DDJ SZ (check out our review) and most recently the DDJ SX2. Pioneer has also released the HDJ-C70, new over ear headphones with user replaceable parts.
Pioneer DJE-1500 & DJE-2000 Breakdown
The Good: Aesthetically pleasing design, fabric lead doesn't tangle, great low end

The Bad:

 DJE-2000 lacks adjustable wearing style, DJE-1500 weaker in high and mid range.
The Bottom Line: Pioneer doesn't disappoint with their first release in the IEM market.
Aesthetics/Design: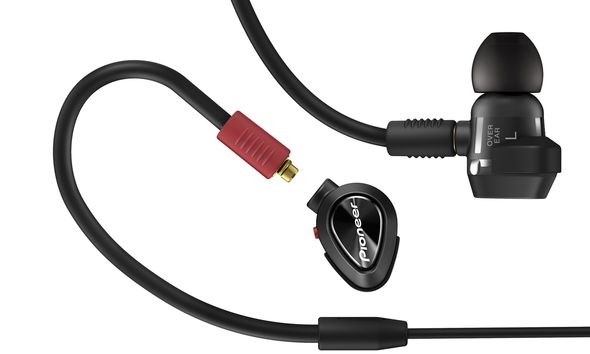 Lots of IEM's seem to ignore aesthetic design. They tend to look like bulky hearing aids. The DJE-1500 and DJE-2000 prove that IEM's don't have to look that way. Both models have a sleek design and are available in black or white. A notable feature on the DJE-1500 is the adjustable housing. This allows you to switch between over the ear or conventional listening (think iPhone earbuds). Over the ear allows for better fit and stability, ensuring that the headphones stay on while you're DJing. While the conventional fit makes the DJE-1500's a great pair of headphones for everyday listening. Unfortunately the DJE-2000 only allows for over the ear listening. This seems odd since the design of the DJE-1500 and DJE-2000 are nearly identical.
Both models have a thick fabric lead which makes it very difficult for the cable to become tangled. Even when the cable is somewhat messy, simply holding one end and letting the other hang causes the cable to straighten out. Several inches of the cable that plugs into the earphone are made of memory shape resin material. This allows the cable to hold it's shape around your ear when used in over ear applications. Finally both models feature a detachable cable. This means that if the cable ever wears out or becomes damaged, you can easily replace it.
Sound Quality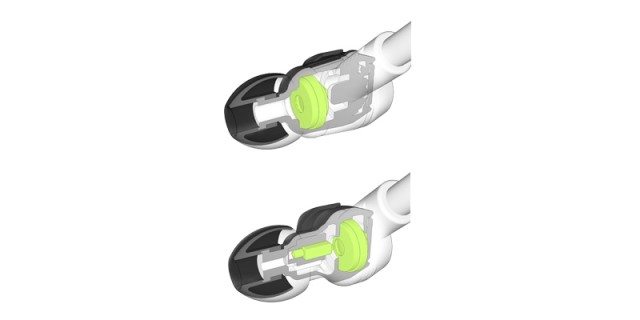 The sound quality is impressive on both the DJE-1500 and DJE-2000. The DJE-1500 uses a large 9.4mm dynamic driver while the DJE-2000 uses a "hybrid" 2-way driver system. The driver is what's responsible for producing sound. The advantage of having multiple drivers is that each one can be responsible for producing a specific frequency range rather then one driver doing all the work. There are in ear monitors that have as many as 6 drivers, however this drastically increases the price. The DJE-1500 uses one dynamic driver and CCAW voice coil reinforced by a powerful magnet to produce a wide frequency range. The diaphragm of the speaker also utilizes a ceramic powder coating composite that's designed to reduce internal vibration can cause distortion. The DJE-2000 "hybrid" 2-way driver system consists of a dynamic driver and a balanced armature driver. The small size of balanced armature drivers makes them suitable for in ear monitors. Some in ear monitors will utilize multiple balanced armature drivers, however dynamic drivers produce a nice bass response. With the DJE-2000, the dynamic driver resides in the back of the headphone to produce low frequencies while the balanced armature driver produces the high and mid frequencies in the front. What this means for DJ's is being able to monitor critical elements like kick drum's, bass, and hi hats. What is most surprising is how much low end the drivers are able to produce. Even at low volumes you can feel every kick thump in your ear. In terms of the overall frequency spectrum, the DJE-2000 has the edge over the DJE-1500. The hybrid driver system was better at producing the full frequency range, while the DJE-1500 wasn't as clear in the high and mid range. This was mostly noticeable in side by side comparisons. Prior to testing the 2000's I was still very impressed by the sound quality of the 1500's. Both models held up great at high volumes and never distorted.
Sound Isolation

A major advantage of IEM's are the sound isolation they provide and the Pioneer DJE's don't disappoint. Once you have some music coming through the headphones, it's very difficult to hear any noise leak in from the outside. This means you don't have to turn up your headphones as much to compete with loud environments. Using the 1500's with the conventional fit replaced my iPhone earbuds for listening to music in a coffee shop and allowed me to listen at lower volume levels. Pioneer includes a set of Comply ear tips for even better sound isolation and comfort. These ear tips are made of squishy foam that will expand to fit your ear. The 1500 only includes one medium pair while the 2000 includes 3 pairs (S/M/L). It would have been nice to see the 1500 include more Comply sizes, but the good news is that you can purchase additional sizes and styles from Comply.
Conclusion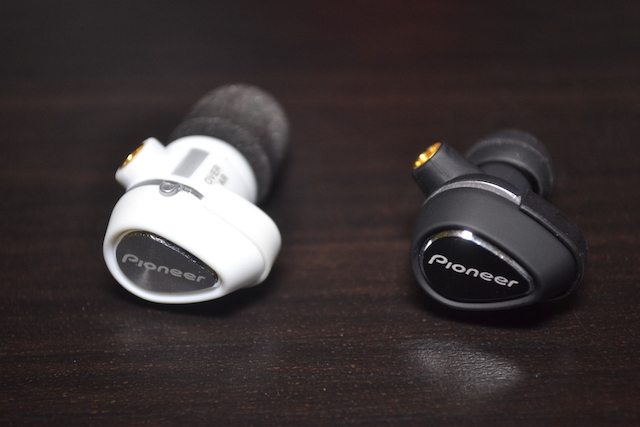 If you're DJing regularly then you'll want to seriously consider investing in a pair of IEM's. You'll be able to monitor your mix at comfortable volume levels and your ears will thank you the next day when they're not ringing. Both the DJE-1500 and DJE-2000 would be a great first pair to invest in. Now the question is which one should you pick? If you have the budget i'd recommend the DJE-2000, the sound quality is incredible. If it's out of your range then the 1500's are still a great choice. You'll get the same level of sound isolation and you can adjust the wearing style to your personal preference. Are these worth switching from over ear headphones? The answer is simple, yes.
Pioneer DJE-1500
Price: $159 (MSRP) Ships with: carrying case,1/4-inch plug adapter, 4 Silicone tips (XS/S/M/L), Comply Tx-500 foam tip Weight: 6.1 grams (not including the cable) Available: Now
Pioneer DJE-2000
Price: $299 (MSRP) Ships with: carrying case,1/4-inch plug adapter, 4 Silicone tips (XS/S/M/L), Comply Tx-500 foam tip (S/M/L), Triple flange tip, cleaning brush Weight: 6.1 grams (not including the cable) Available: Now
What is your personal preference? Over ear or in ear headphones?
Please support DJ TechTools editorial by checking out our selection of headphones in the store!