iTunes is one of the most popular programs amongst DJs for managing and organizing their music collections. This is mainly due to its support in major DJ software and for it's ease of use for general listening. However after all these years managing multiple iTunes collections has always been a pain for DJs.
It's impossible to have multiple iTunes libraries open so organizing music between 2 collections has mainly been left to manual transfers, with no easy way to compare the contents of libraries side by side. SuperSync aims to solve this problem. SuperSync seamlessly and intuitively lets you compare, organize, merge, and manage iTunes libraries across all of your Macs, PCs, and iOS devices. Does it succeed? Lets find out.
SuperSync Review
Reviewed: SuperSync
Price: 2 licenses: $22.95, 5 licenses: $29.95 10 licenses: $39.95
Supported Platforms: Windows, Mac, PC and NAS
Demo: Yes – available here
The Good: View and manage multiple iTunes libraries. Easily compare tracks to find/delete duplicates. Stream tracks to any computer with Media Server
The Bad: Filter tab can feel cluttered and overwhelming. Media server for iOS wouldn't play tracks. Unable to scrub track playback, some tracks wouldn't play
Bottom Line: SuperSync has some great tools for managing iTunes libraries but the software could use refinement.
Compare and Sync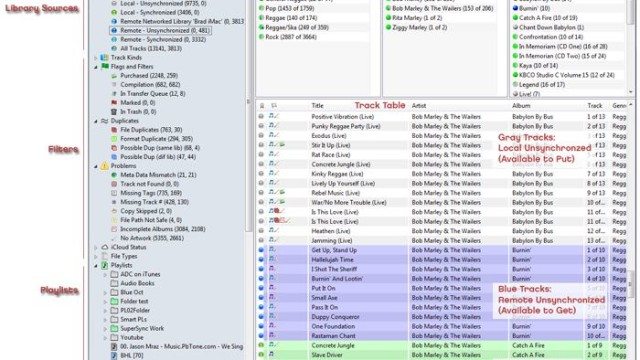 SuperSync's biggest strength is the ability to compare and merge 2 iTunes libraries. There are a few cases that could be beneficial for DJs:
DJs that want to start with a fresh iTunes library
DJs that have separate libraries on a laptop/desktop or a home/work computer
DJs that want to maintain a general iTunes library alongside a DJ specific iTunes library
SuperSync has a layout that feels very familiar with iTunes. On the left side there's a filter tab that sorts music into playlists, different formats, and also displays flags and problems. DJs can quickly see which tracks aren't found, incomplete albums, or tracks that don't have artwork. While it's possible to figure these things out from iTunes, it's easier having SuperSync automatically display and filter tracks that fit this criteria so that you can clean them up with artwork or locate the missing tracks. The library section resembles iTunes as well. There are 3 columns above the main list view for Genre, Artist, and Album and the library has all the familiar sorting columns that you'd expect to find in iTunes. Where it gets a little more complicated is with the icons and flags that are displayed beside the track names. These are meant to indicate the status or possible problems with the track.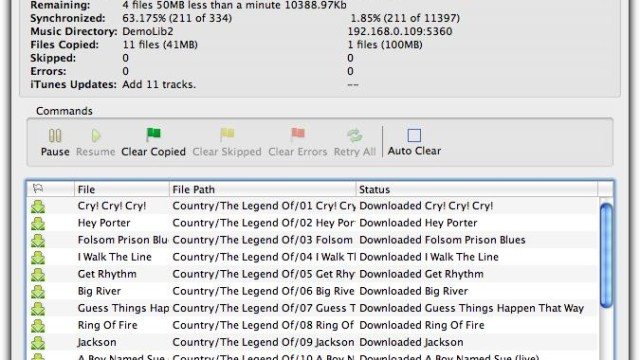 Things start to look different once you've connected SuperSync to a remote library on another computer, a second library on the same computer, or to an iOS device. Tracks will be highlighted grey, blue, or green. The colors indicate the synced status of the track – Grey = local, Blue = remote, Green = synced (on both computers). This is where SuperSync starts to shine and becomes a huge time saver for managing multiple libraries. Once Supersync is paired with another library, DJs have the ability to "Get" tracks from the remote library, "Put" tracks into the remote library, or "Sync" to have the song on both computers. A possible scenario is downloading a bunch of tracks on a desktop and then quickly syncing them to a DJ laptop. Another unique feature of SuperSync is  the ability to sync metadata from iTunes such as ratings and play count. Normally ratings don't carry over if tracks are transferred manually outside of SuperSync, so this is great for DJs that rely on ratings to organize and sort their music.
DJs can also listen to tracks from both the local and remote library. One complaint with listening to music from SuperSync is that it's not possible to scrub through tracks. DJs have lots of music to go through and typically skip to various parts of the track to quickly get a feel for it. This is a huge omission for software that's aimed at making music organization easier for DJs. Another issue with playback in SuperSync is some tracks simply wouldn't play, it would skip to the next available track without any indication for why the track wouldn't play. The same track would load and play in iTunes so the playback issue remains a mystery.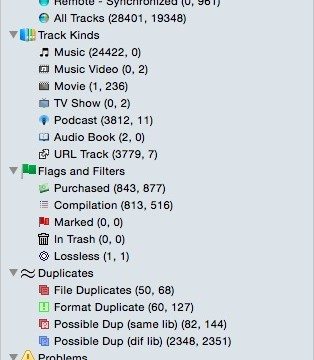 The filter view does become cluttered once SuperSync is connected to another library, it becomes a little overwhelming and I personally found myself hesitant to delete or sync tracks because I didn't want any duplicates in the new library. Which brings us the to second feature of SuperSync.
Looking for something besides iTunes to manage your DJ collection? Check out Beatport Pro.
Duplicate Removal
Duplicates are the bane of any music collection, they take up precious hard drive space (especially for MacBook Air or new MacBook users) and they can result in a confusing DJ collection: for example loading a duplicate track that doesn't have any cue points or needs to be analyzed again. Things can get especially confusing for iTunes users that haven't consolidated all their tracks into the iTunes media folder. SuperSync makes sorting through duplicates easier by filtering them into 3 categories: File, format, and possible duplicates.
File duplicates will filter tracks based on file size and meta data. Format duplicates looks at tracks that appear to be the same but are encoded differently (.wav vs. mp3 or .m4a vs. .mp3). SuperSync's remove duplicates feature will also try to keep tracks that have the highest sound quality/bitrate (learn more about bitrates and audio formats). Possible duplicates requires the most care, tracks that are poorly tagged or don't have all the same metadata are likely to be labelled as duplicates. In this case it's best to manually review and compare tracks before completely removing them from the trash. This is where the track comparison tool comes in handy.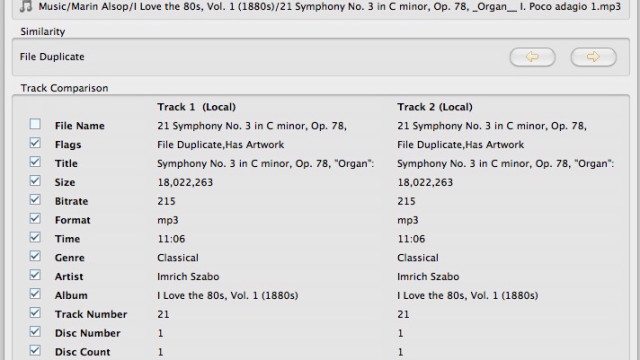 Comparing tracks will give users a side by side comparison of the selected tracks. This tool can help users make the right choice for which track they want to keep or delete. SuperSync will try to suggest the best track by looking at the file name, meta data tags, album art, and where it is in the library or based on the bit rate. Unfortunately a feature that's missing is the ability to edit metadata from within SuperSync. That means if a track is missing metadata such as artist or album it's not possible to add it in.
While iTunes does have a show duplicates selection, it still requires a lot of manual work. Tracks still need to be manually selected and deleted and iTunes doesn't make smart suggestions for which one it thinks should be deleted. A word of caution, always be sure to keep a back up of your iTunes library before making any changes, just in case you delete something by accident.
SuperSync Media Server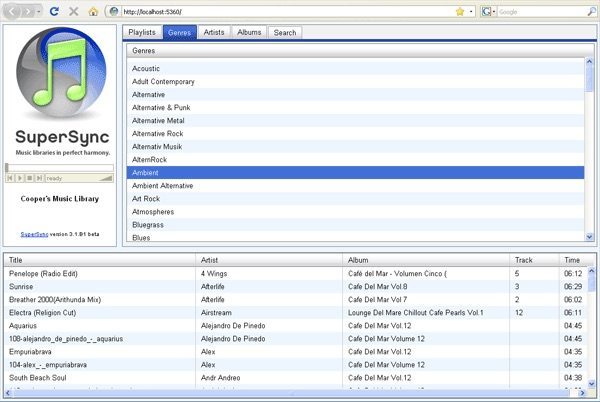 SuperSync features a media server that allows users to access their entire collection through a web browser on any computer. I was expecting this feature to be slow/unresponsive but searching and scrolling through the collection was really fast. Tracks played back immediately and even with a large collection I was able to search immediately. SuperSync makes it really easy to setup and access. Take note of your IP address and port, set a username and password and you're set. Ironically the SuperSync browser has the ability to scrub through the track, even though the desktop version doesn't.
Unless you're still rocking the iPod Classic, most DJs won't be able to fit their entire collection in their pocket. While there is the 128GB iPhone, a music library would still be competing with photo's and apps for storage. The good news it that SuperSync's media server supports the Safari browser on iOS, so DJs can stream their entire iTunes collection without taking up any storage space on their iPhone.
The setup instructions were easy to follow and I was able to access SuperSync and quickly browse my collection through my iPhone. Unfortunately when it came to actually playing a song, the track wouldn't load. Nothing indicated if the track was actually loading and no matter long I waited, the track wouldn't play. I tested it with several songs but was never able to get a track to play.
To be completely honest I don't think the streaming experience from SuperSync could compete with streaming services like Spotify and Rdio. It's very stripped down compared to the experience of dedicated streaming services. You can just as easily add albums/songs that you own to your streaming service and also get access to new music.
iTunes Libraries Finally In Harmony?
SuperSync has some great tools that are useful to DJs that are running multiple iTunes libraries, whether on the same or separate computers. The software does seem to suffer from usability issues and some feature bloat. While things like a media server sound great, the experience doesn't compare to a solid streaming service such as Spotify or Rdio. I also didn't understand the benefit of searching various services such as Google Music or YouTube for additional info about the track. If I wanted to find more info regarding a track or artist I'd do my own search. A better use of these services would be if it could pull and write metadata from services such as Discogs or Musicbrains.
Lastly the filter view can start to look really busy at times which I found to be overwhelming. For anyone using this software it's highly recommended to read the manual to get a better understanding of what all the filters and icons mean.
Overall if you're a DJ looking for a better way to manage and sync multiple iTunes libraries, SuperSync will definitely make life easier. Additionally if your library needs a good cleaning to get rid of duplicates and missing files then SuperSync will help. For streaming a collection or for metadata clean up it may be better to consider other alternatives.
Interested in purchasing a copy? Head over to SuperSync.com
Do you manage multiple iTunes collections? What are your tips?
Let us know in the comments below!