Flow 8 Deck: Mixed in Key's 8-Deck DJ Software, Supports Stem Files
DJing has advanced from a two deck affair to reasonably incorporating four decks in more advanced sets, but there hasn't been a DJ software that easily allows DJs to venture beyond "simple" four deck mixing. For the DJs looking to mix on eight decks (with full Stem file support) the time has come with Mixed in Key's new DJ software, Flow 8 Deck.
Mixing with 8 Decks
Like the name says, Flow 8 Deck is an innovator in DJ software with its ability to play eight decks of audio simultaneously. This has been possible before in DAW softwares, but this is the first time we are seeing it in a specific DJ deck format. DJs who use Pioneer, Numark, Native Instruments, Akai, and other major controller makers will mostly likely find their 2-deck controllers supported natively by Flow 8 Deck. The DDJ-SB, the Kontrol S2, Mixtrack Pro and many more are all supported.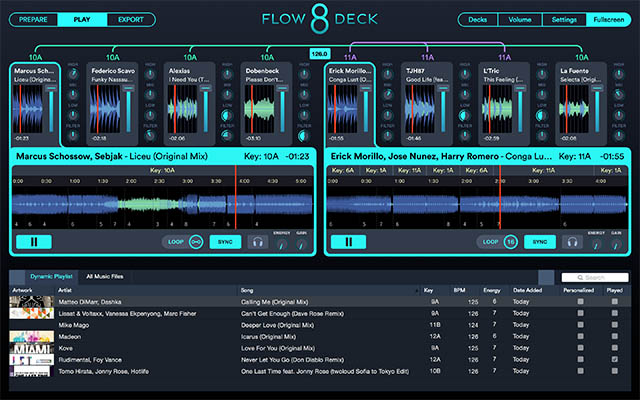 The 8-deck mode on the software puts each deck's waveform side by side on the left and right sides of the mixer; a total of four decks per side. The active track is then shown in more detail below the tracks on the respective sides of the controller. For having that many decks, it sounds really busy – yet Mixed in Key found a clean way to layout all the necessary controls a DJ needs to see to control 8 decks. Next to each deck is an EQ, Filter, and a pitch fader nuzzled up next to the waveform.
Stem File Support, Dimensional Mixing, Retina Support
There has also been a lot of talk about Stem files, and while most DJs will use Traktor to control them, Flow has the ability to play back these files as well. Interestingly enough, Flow is also more than able to display up to eight waveforms of Stem playback – something that Traktor is struggling with while they figure out CPU/GPU issues. Mixed in Key took the dedicated Stem controllers out of the equation by giving DJs the ability to control Stems, using the EQ knobs for the volume of each Stem. The High knob controls Vocal stem, the Mid knob controls the Melody stem, and so on.
On top of Stem support Flow 8 Deck also has a new way to mix called Dimensional Mixing. Sometimes, a DJ wants to chop up a track or skip to the last breakdown, but without any preparation. Dimensional Mixing allows a DJ to click anywhere on the audio waveform of a track and cross-fade to that point. Cut the song short or chop up a breakdown simply by clicking around on the waveform. A new spin on beat jumping that adds more fluidity.

Mixed in Key has also included retina support for every screen in the software; each screen looks is sharp and clear. There's also clear indicator lines – "Visual Flow Lines" – which show the decks that are playing in key, as well as a minimalist design that combines color along with motion to indicate important information.
Dynamic Playlists

A final notable feature in Flow 8 Deck is its integration with the Mixed in Key algorithms. Mixed in Key has been working on its key detection software for years, and the software brings in that knowledge with "Dynamic Playlists" – which automatically can bring up tracks that work well together based on their key, energy, and tempo.
As more companies develop DJ software there may be a pilgrimage to new styles of mixing. Flow 8 Deck is definitely for those seeking more decks to play and it is an interesting piece of DJ software that deserves to be put to the test by DJs all across the world. The software is only available for Apple DJs however a Windows version is on the way.
Flow 8 Deck is currently available for Mac OSX 10.9+ for $58 and it is free for current Flow DJ software users.