Last week, the team behind the largest free and open source DJ software Mixxx dropped a brand new version of their application, Mixxx 2.0. The new version adds a number of major new features that make it leaps and bounds better than when we last took a serious look at the program back in 2012 (see our review of version 1.10), including four decks, FX chaining, RGB waveforms, and harmonic mixing/key detection. Keep reading to learn what we think of the new version and how the features stack up against other, more costly DJ solutions.
Reviewed: Mixxx 2.0 open-source DJ software
Price: Free (download here)
System Requirements: Windows XP or later, Mac OS X 10.5 or later, Linux
Vinyl/Timecode Control: Serato CV02, Traktor Scratch MK1, MixVibes DVS V2
Controller Support: Over 50+ community supported controller mappings, soundcards, etc – see the full hardware compatibility page here.
The Good: The new version of Mixxx is a lot more polished in terms of features and overall experience. From the perspective of someone who is new to the digital DJ world, most of the skills and workflow that you learn in this software will transfer over easily to any other software if you switch. Beatgrid and key detection particularly feel on point.
The Bad: The interface is resizable, but could still use a more cohesive design to make it easier to quickly grasp. Some features (eg: FX chaining) don't seem to be on all skins. Limited FX selection, MIDI mapping is still a little too complicated to waste much time on.
The Bottom Line: Think of Mixxx as the software that you recommend to anyone who says they want to start DJing and don't have a budget for software. It's also perfect software for the DJ who finds themselves away from their own home decks and wants to mix on the fly. Mixxx 2.0 has successfully surpassed the experience of Virtual DJ in many ways – with a bit of attention to UI design, device compatibility, and overall cleanup, this could be an acceptable software for any DJ.
Mixxx 2.0 First Impressions + Skin Design

First impressions are everything – in previous versions of Mixxx, I opened up the software on my external monitor, resized the window, and immediately it was a jarring design that didn't scale or resize. With this new update, all the Mixxx 2.0 skins are resizable and dynamic – meaning that you can turn off elements of the interface that you want or don't want. Show or hide FX, samples, a preview player, the library, the EQs or the mixer. Tap the software into a four deck mode, or keep it at two decks. It's what you expect from a modern DJ software, but you quickly forget how critical a modular design like this is once it's present.
Speaking of first impressions, the skins for Mixxx are getting better (the RGB waveforms look great!), but still not perfect. The introduction of modular elements seems to have cluttered up the default skin, LateNight. What the Mixxx project really needs is for a professional UI designer to take the elements and create a skin that rivals Serato DJ, Djay Pro, or Traktor DJ for iPad (Sorry Traktor Pro and Rekordbox DJ, but you're not the best examples for UI design). Anyone reading this up for the challenge?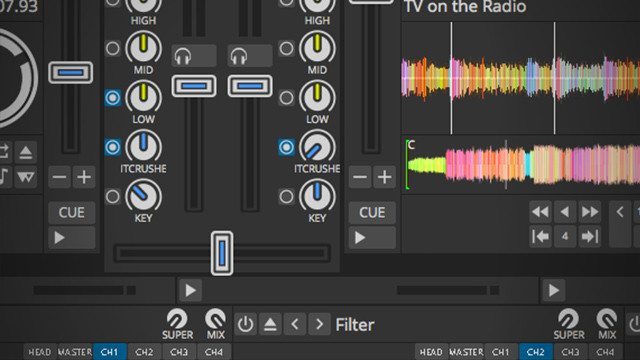 Mixxx 2.0's skins also need a bit of work on readability – in testing, I found myself squinting at the sometimes smushed interface letters while learning them (the Library and Track Deck labeling is great – everything should match that). One final note about having more than one skin: a comparable feature set needs to be available on all certified skins of the software. I went looking for single unit group effects chaining in the software and couldn't find it – until I switched to a second skin,
Four Decks + Master Sync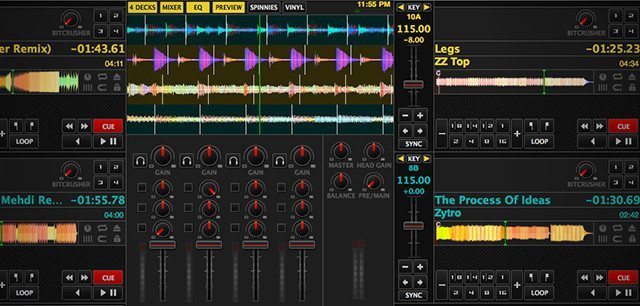 Mixxx mention that they've made major changes to the core mixing engine – but the biggest change since the last release is the support for four decks of audio playback. This is often used by other "free"(read: intentionally crippled) versions of DJ software as a paid feature. All of the track decks are identical (if you want to play with samples it's a whole different section of the interface, like Serato DJ's SP-6) with quick access to loops, cue points, tempo, key, sync and a quick effect knob.
Beat grids are relatively simple in Mixxx 2.0 – it's just a simple click to set downbeats at the playhead, nothing fancy here. In my testing, the beatgrids didn't need tweaking about 40-50% of the time. Not a big deal as you should always be checking your beatgrids with your ears and eyes before you rely on them.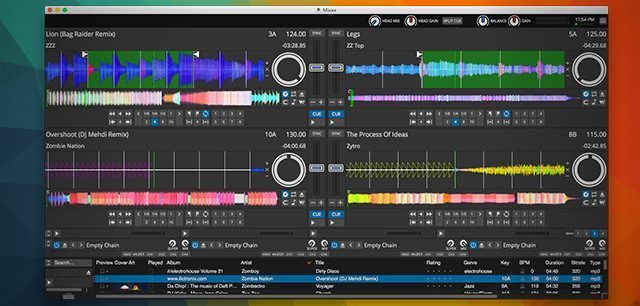 How does using four decks handle? I tested the software with four decks running concurrently (on a 2.2ghz 2011 Macbook Pro with 8GB of RAM) and only noticed a few minor CPU spikes when starting to tweak with the key shift buttons on each deck – to be expected as this takes up a bit more processing power. I suspect they'll continue making improvements to reduce any CPU and audio issues that come out of heavy use, but for a brand new feature on a free software, it feels fairly polished.
Speaking of the key lock/shift engine, this feature works very well – and Mixxx have put the most resulting key in the track deck. when you change keys on a track deck, it displays a new calculated key for the track based on the original detected key. It does this for tempo-locked key changes and when making changes to the pitch without key lock enabled. Very handy.
Effects + Chains

One of Markkus' biggest criticism's of Mixxx 1.10 in his review was that effects were limited to one at a time, and you could apply that unit to any deck. In Mixxx 2.0, they've put in a new effects processor that allows for four FX units, each of which can have a chain group of FX inside of it. The included FX are limited (flanger, Moog 4-pole ladder filter, Echo, Reverb, and BitCrusher, as well as a few EQ effects), but sound a lot better than the previous version.
A "Super" knob in the FX units control multiple of the parameters in the effect as you continue to turn the knob – giving the experience of a dual pole effect – simply click the blue button below any knob in the FX window to assign it to that FX unit's super knob. There are a few different types of interactions (forward, reverse, sweeping motions) to choose from. As noted earlier, not every skin seemed to show FX groups/chains as an option – but when they're enabled, they're pretty fun. The real power of these chains will really be more significant when more effects are added to the program – something that Traktor Pro and Serato DJ hold the trophies for (see our comparison between their FX here).
A New Library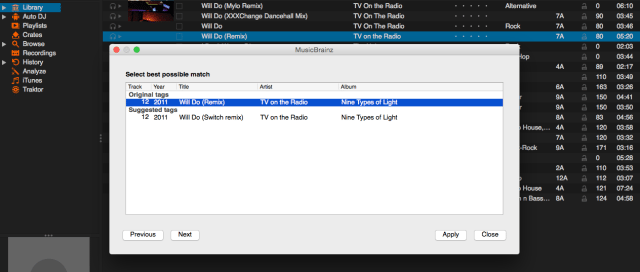 The last big update for Mixxx 2.0 has been the library – which now  includes support for cover art, multi-core library analysis (meaning quicker, concurrent analysis of new tracks), a bit of an update to the Auto DJ features, and a new feature for looking up ID3 tags. In practice, the MusicBrainz Tagger worked well – I scrolled to the end of my iTunes library where all of those tracks with no artist are and started going through them with the tagger, and it was surprisingly successful. Who did this TV On The Radio remix? Thanks to MusicBrainz, I was able to quickly update the ID3 tags and it's not just "Will Do (Remix)" in my library.
In terms of key detection accuracy, there wasn't time prior to this review's publication to do a full key detection test and compare the software against other algorithms – but it seems to be internally consistent. The software uses a key detection algorithm developed by the Centre For Digital Music at Queen Mary, University of London. In my mixing tests, I set the key readout to "Lancelot" (see: Camelot, except Mixed In Key have that trademarked) and found that most compatible mixes were at least internally consistent – meaning that even if it might have detected the wrong key on a track, it was doing so in a consistent enough manner that I could choose other tracks to mix in.
Mixxx vs Traktor, Serato, VDJ, Others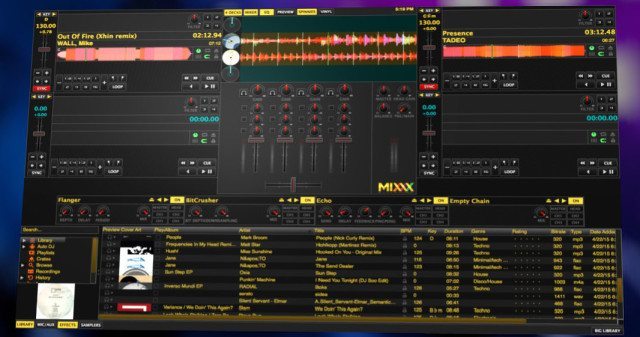 After a few hours DJing with the software, I quickly got into the groove of using it. As with any new piece of gear or program, there's a learning curve to become good at using it, but Mixxx has almost everything that a digital DJ regularly uses. The software has been built up the point where if all you need is a dead-simple piece of DJ software without any of the frills, this is the best and cheapest bet.
There are a few improvements that the current version of Mixxx seems in desperate need of:
Loop Move / Beat Jump
More effects to play with and use in chained FX
An easy MIDI mapping solution for any controller
A dead-simple, clean default skin that makes learning the software super easy
Finally, Mixxx 2.1 is coming in the first quarter of this year, so it looks like a fire has been lit under the project to keep it moving forward. 2.1 promises a rewrite of the software's Audio File Decoders and improved Controller support – if you want to help out, you can follow along on their blog here.
Have you given this free DJ software a shot yet? Let us know your experience in the comments below.