Rekordbox DJ got released late last year with a slew of features – but one of the most requested features for Pioneer DJ was to add mapping support to the software so that any controller could be MIDI mapped. With the Rekordbox 4.0.6 update, MIDI mapping has arrived – read on to learn more.
Rekordbox 4.0.6 What Can You Map?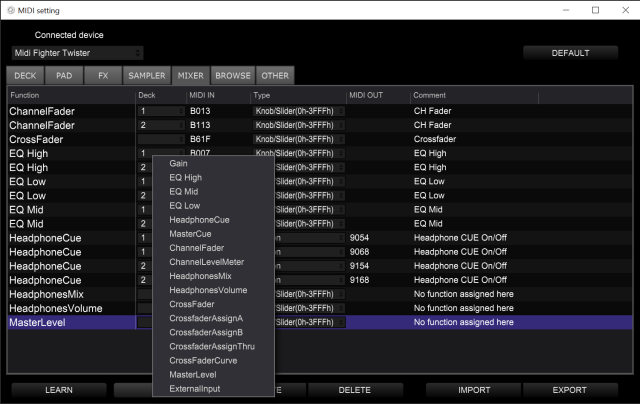 In the new Rekordbox 4.0.6 version there's a complete set of MIDI mapping controls for Decks, Pads (cues, loops, slicer), FX, sampler, mixer, browser, and more. For each MIDI control in Rekordbox DJ's performance mode, you can set:
Deck (which deck the control applies to)
MIDI IN (the control that Rekordbox is listening for)
Type (Button, Rotary, Knob/Slider, Pad)
MIDI OUT (particularly useful for sending LED output signals)
Based on our assessment, this puts Pioneer's Rekordbox MIDI mapping functionality right in the middle between Traktor and Serato – there's no advanced modifier controls like in Traktor, but there's way more depth here than Serato DJ or Scratch Live has ever had.
What's Still Missing?
Pioneer obviously want to keep their own controllers and media players as the primary way that people use this software, so they've intentionally left out jogwheel control from this mapping. This might be frustrating – but we can't fault Pioneer too much as they're looking to built a complete ecosystem that works best with their own devices.
Other Updates In Rekordbox 4.0.6
In addition to the MIDI mapping, there were a few other things that Pioneer DJ has added to the new version of Rekordbox, mostly to do with the new NXS2 units:
 CDJ-2000NXS2 new features [Export Mode]

FLAC/Apple Lossless with a frequency of 44.1, 48, 88.2 and 96 kHz.
WAV/AIFF with a frequency of 88.2 and 96 kHz.
8 HOT CUE buttons: A–H.
MY SETTINGS new features; QUANTIZE BEAT VALUE, HOT CUE AUTO LOAD, HOT CUE COLOR and PHASE METER.
USB DEVICE SETTINGS new features; Wave Color (BLUE/RGB) and Waveform (Half/Full).
Export My Tag/Matching information to USB devices.
HOT CUE color change.
Export of HOT CUE color information to USB devices.

[Export/Performance Mode]

Track filtering new features; KEY, RATING and COLOR.

DJM-900NXS2 new features [Performance Mode] (When using the DJM-900NXS2 as an audio device)

Input channels selected on DJM-900NXS2 are displayed on rekordbox dj virtual decks.
Quantize BEAT FX of DJM-900NXS2 can be applied to rekordbox dj output audio.
rekordbox dj BEAT FX tail can be heard after CH FADER/CROSS FADER is closed/cut on DJM-900NXS2 (POST FADER).
DJs can access the new version of Rekordbox simply by starting up their current version and a new update notification will appear. This update is free as it's just a minor release.
Want to upload you own MIDI mappings for Rekordbox, or check out what other people design? We've added an option to our own maps.djtechtools.com for Rekordbox – choose it when uploading a mapping! (note that it won't show up in the browse screen until someone uploads a first mapping)