Sketching out musical ideas on the go is one of the best ways to continuously be creating music – and apps like Auxy have opened up the doors to truly mobile creation. With a new 2.0 update to the app and a rebranding, Auxy holds even more weight – more tracks, Ableton Link support, and more. Read on for a quick review from DJTT contributor and experienced producer Tarekith.
The Good:
Three times as many tracks as previous version
Ableton Link Support
New UI and Scenes make song creation much easier
Great Sounds
Room For Improvement:
Audiobus, Inter-App Audio, Background Audio support.
Built in mixer to fine tune levels of drums and instruments.
More drum kits and instrument presets would be nice.
Since it's release in 2014, Auxy has been one of my go to iOS app's for making music and sketchy audio ideas outside the studio. Like Propellerheads Figure, or Korg's iKaossilator, the focus is less about cramming a full studio into your pocket, and more about letting you get down to creating great-sounding music quickly.
With its new version, Auxy has added much-requested features, and gets a bit of rebranding to become "Auxy Music Creation". The app has a new look as well that I find makes it easier to use, and adds Ableton Link support for those times you might want to jam with your friends or record in sync in the studio. Sadly, there's still no Audiobus, Inter-App Audio, or Background Audio support, which I'm sure will be upsetting to some users who've asked for this over the years.
Tracks and Sounds in Auxy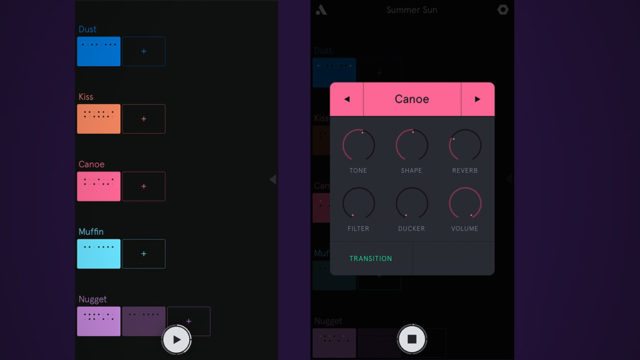 One of the biggest new features is being able to use up to 12 tracks for your Auxy projects, a big improvement over the previous version's 4 track limit. Each track can contain either an 8-part drum kit (8 drum kits are available) or a multitimbral synth (43 synth presets are included). Editing for both types of instruments is basic with only a few controls, but that's a few controls more than the last version allowed! Usefully you can now also create a variation for each instrument called a "Transition", handy when you want to change things up temporarily before a big drop for instance.
The sounds in Auxy have always been well done, and in the new version being able to alter each sound really improves how much of your own personality you can add to the song. There's not a lot of controls available as mentioned, but the ones that are there are useful and in a few cases seem to control more than one parameter (i.e. the Filter knob also seems to control a bit of the filter envelope on some patches). All in all there's a lot of scope for customization of the sounds you use in Auxy now.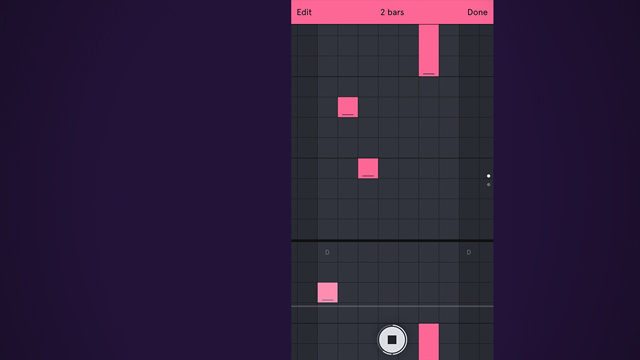 Once you have your instruments chosen, you can record each in a pattern that can be 1, 2, or 4 bars long. If you have notes in a 1 bar pattern and change it to 2 or 4 bars, the notes from the first bar are helpfully duplicated to the new bars as well. You can set patterns to be either chromatic, or in a certain key and scale, which can be changed at any time, even once you have recorded notes in a pattern.
You can have multiple patterns per instrument (I stopped counting at 24), and in the latest version of Auxy you can now create the equivalent of Ableton's scenes to trigger certain patterns from multiple tracks at once. This is accessed by sliding out a drawer on the right side of the screen, creating a new scene and then selecting which patterns on each track are currently active for that scene. Scenes can then either be triggered manually, or set to loop in order continuously. Great not only for performance, but also when sketching out the basic arrangement for a song. Once you're done arranging your song, the entire thing can be exported as an audio file or as a MIDI file to use in other software back in your studio. Or in other iOS apps if that's your thing.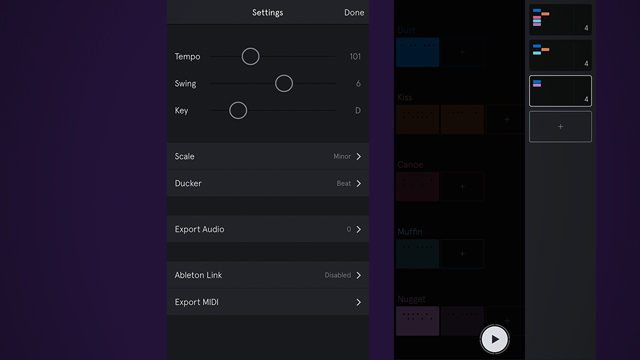 Usability on iPhone Screens
One of the things I like most about Auxy, is that it really nails that balance between ease of use on a smaller touchscreen, while still giving you enough flexibility to sculpt your sounds and add some personality to them.
Recording a quick melody or drum beat takes seconds, and the default sounds are very good overall so it never feels too cheesy. When you add in features like audio and MIDI export, sidechaining, and the new scenes functionality, it really is a lot deeper and more flexible than you might first assume.
Wishlist: More Sounds, Inter-App Audio
IAA and Audiobus support for those people who rely on those for their iOS music-making would be a great addition – something that would really turn Auxy into a more professional tool.
I would love to see more synths and drum kits. Also, while you can sometimes change the volume of the hi-hats in some of the drum kits, there's no other type of mixer functionality built into the app. Mostly things are very well-balanced already, but being able to at least change the different drum levels in a kit would be welcome.
Beyond a few minor quibbles, this is one of the most fun and engaging iOS music apps out there if you don't need advanced functionality, and I find myself often getting lost for hours sitting in a park using it.