Apple Music + Spotify Now Streaming Unofficial Remixes, DJ Sets Are Next
Most active music listeners are using streaming services to find new tracks. If you're a DJ or producer, making "unlicensed" remixes or DJ sets, you're out of luck in terms of getting your edits and tracks on these services – until now. Starting yesterday, Apple Music and Spotify have started adding unofficial remixes to their library thanks to a partnership with MixBank. Read on for details.
The First Legal Unofficial Remixes, Streaming
As we reported earlier this year, both Apple Music and Spotify partnered with the music licensing company, Dubset, to start licensing user-uploaded content. On both of these services, there's a lot of content from labels and big-name artists. If you're making music that isn't officially blessed by the original rights-holder, you've been traditionally out of luck.
This is all changing with these new partnerships. With Dubset's service, MixBANK, users can upload their own edits/bootlegs/remixes of songs. The rights to remixing the original track are verified and acquired (you have to accurately name the original works used in the remix). Any resulting royalties from streams get redistributed out to the original artist and to the remixer.
Starting this week, the first unofficial remixes that have been licensed via the MixBANK process are starting to appear on Spotify and Apple Music. The lucky first DJ to get this treatment is Jazzy Jeff, and his remix of Anderson .Paak's "Room In Here" – seen above in Spotify and below in Apple Music: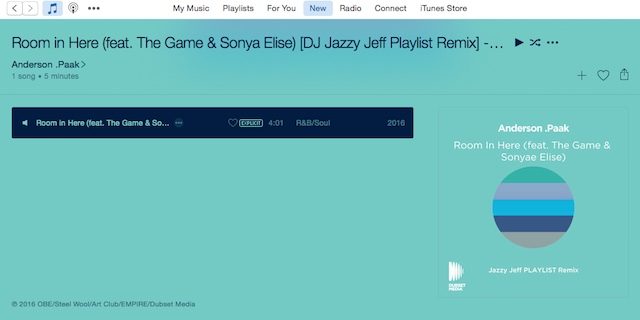 It's unclear how quickly these new unofficial remixes are being added – but if you sign up and apply for an artist's account on MixBANK you can already start uploading content for verification and processing.
DJ Sets Are Next
A big part of the news about these partnerships was that MixBANK also can license songs that are inside of longform DJ mixes. This will be huge – DJ mixes historically have always been relegated to dedicated sites like Mixcloud or Soundcloud. Being on a streaming service means you get a built-in audience for your mixes.
According to TechCrunch, Dubset's CEO knows that everyone wants DJ mix content:
"Still missing are the multi-song mixsets DJs often share from their gigs. But Dubset is also equipped to distribute royalties from those and its deals permit them. Dubset CEO Stephen White tells me "Mixes are coming next!""
And in MixBANK's support section of their website, there's even more evidence that Spotify will be the first platform to support mixes. A knowledge base article notes:
How can I distribute my mixes?
• Distributing to Apple Music: Apple Music is not currently accepting or distributing mixes at this time [..]
• About Spotify: Spotify supports the distribution of mixes & remixes
Now's The Perfect Time For Spotify To Buy Soundcloud

We reported last week on the potential acquisition that Spotify is looking at: buying out Soundcloud. We predicted that one of the major wins for Spotify would be the massive library of content that Soundcloud has held – which could easily be processed via MixBANK and be made available for streaming.
This could even apply retroactively to a lot of content that was taken down on Soundcloud – like mixes and unofficial remixes. Imagine how Spotify could breath life back into a service that's largely been under the stranglehold of labels and monetization issues.
We recommend that DJs who want their tracks and mixes to end up on these streaming services start applying for a (free) MixBANK account now – check out their site for details.