There's no doubt that DJs and hip-hop culture created a fanatical obsession and reverence for the legendary Technics SL-1200 turntable. When a relaunch was announced for the record player's 50th anniversary, DJs balked at the massive price tag. Revealed in a New York Times article this week is the truth: Technics doesn't seem to think DJs are worth marketing to.
The Technics-1200G Sticker Shock
When Panasonic announced at CES almost exactly one year ago that the legendary 1200 was being resurrected, DJs went nuts. It seemed a sure sign that the company had heard the requests of thousands of DJs who wanted the turntable to return after the last model went out of production in 2012.
But the reality of the redesign and relaunch was that Panasonic wanted to sell their turntable to an entirely different class of consumer. It's an incredibly boutique, small-run product, as the New York Times notes in their article:
"Only 20 [turntables] are assembled a day, with most of the work done by hand. Each unit's record platter is checked by lasers and human workers to ensure perfect balance. A specially developed machine drills tiny holes at strategic points in the undersides until they spin just right. These days, such deliberately crafted products are simply too costly to compete for a mass market."
This intense and slow manufacturing process guaranteed that the price would be well beyond the original Technics. At the current price of $2,800, a pair (for DJing) would cost DJs $5,600.
Who Technics Is Really Targeting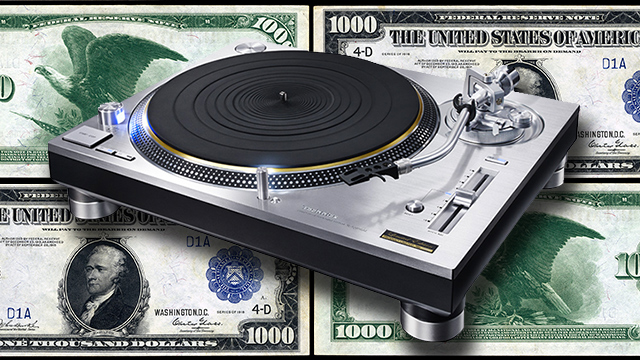 It's almost painful to read – but Technics' leaders simply don't care about DJs as a target market. In fact, they find them "problematic":
"Our concept is analog records for hi-fi listening," said Hiro Morishita, a creative director at Technics. "D.J.s are fine, too, but as a marketing target it's problematic. We don't want to sell the 1200 as the best tool for D.J.ing. The 1200 is the 1200." – New York Times
In the last two decades of DJ culture, it's unlikely you'll find a better naturally marketed product than the SL-1200. It's the ultimate tool for vinyl DJs. But instead of creating a "prosumer" product, Panasonic went completely towards luxury:
"Panasonic calculated, the SL-1200's core customers were not numerous enough, or rich enough, to make reviving the Technics brand financially worthwhile. It needed to reach wealthy, older audiophiles who would spend extravagantly on gear — not only the turntable, but also the amplifier, speakers and other equipment that the company markets alongside it."
[…] "Listening to records is like tea ceremony, or flower arranging," said Michiko Ogawa, director of the Technics division. She added that music recorded by live musicians showed off Technics's hi-fi qualities best. – New York Times
What Does The DJ Turntable Market Look Like?
At the same time as Technics has dismissed the DJ market, the pro audio industry seen growth in turntable sales numbers. Even despite a number of "low-cost" turntables coming into the market, the overall dollars spent on turntables continues to climb yearly.
Here's a graphic we put together using industry dollar sales data of turntables (specific numbers are withheld as the data itself is confidential). This is a monthly chart – from November 2013 until late 2016, with a linear trend line added: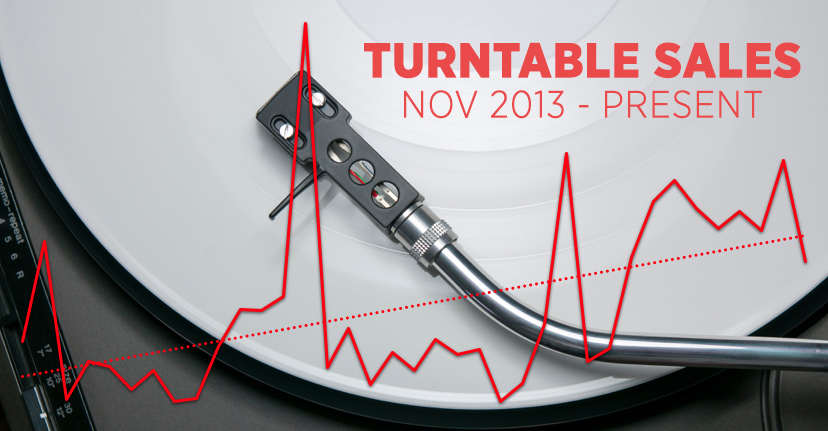 These sales aren't Technics turntables, either. A majority of the models sold that account for this dollar growth are 1200-lookalikes that are DJ-budget friendly like the Pioneer DJ PLX-1000/500.
Low-cost players made for digitizing vinyl like the Numark TTUSB, Audio-Technica's AT-LP1200USB also hold some of the market.
We don't have Panasonics' sales data – but the New York Times article notes that it might not even designed to be a profitable product:
"The company does not disclose sales numbers, but said an initial set of 300 special-edition SL-1200Gs, made available online when sales restarted this year, sold out in 30 minutes. Even at nearly $3,000, the turntable may not make any money for Panasonic, instead serving as a loss leader for other Technics products."
Read the full New York Times article about Technics' lack of concern about the DJ market.