As I've explored my extensive collection of DJ gear throughout this series thus far, I'm finding similarities that run through some of the gear. So rather than picking and choosing some of my favourites this time around, we'll focus on a few pieces of equipment that share one particular theme. Today, we're talking about Traktor – more specifically, about gear made for Traktor, or ones that get the best out of it. I have much fondness for Traktor. It was the first DJ program that I used, and I still do to this day whenever I play on a controller.
Over the course of the last few years, Traktor has gone through a bit of a rough patch. There have been arguments that it has not been as innovative as they were during the long years since when it started in 2000. However, because of that, I think it is an underrated piece of software. Moreover, I believe that many people still have much love for Traktor.
Here are a couple of reasons why I think Traktor should still very much be on your radar.
The audio quality of Traktor still has not been beaten, which – all things considered – is a crucial aspect, and underrated.
The flexibility of it is insane. Hook up any controller you like that sends out MIDI signal, and you can map any feature in the software you like.
It has the best-sounding FX processing.
The cost. While other software is busy with hardware unlocks, monthly subscriptions, and all kinds of expansion packs, Traktor is €99/$99. You can use it with any equipment you like; no certificated hardware. Apart from Mixxx, there is no software as powerful in this regard.
It features the best key detection and best beatgrid detection of any DJ software.
There are a handful of specific pieces of gear that I found make the most of Traktor software. We'll explore these four items:
---
Allen & Heath: the Xone:K1 + Xone:23C
If you're familiar with my first article, you know about my love affair with Vestax. Vestax is like that person you dated that got away but was also a little bit crazy. Well, in contrast, Allen & Heath is the stable one – the one that you end up staying with for the long haul.
A&H initially established itself as a brand that has been making PA mixers since 1969. It was a logical progression for them to move towards DJ mixers eventually. In 1999, they started that journey with the release of the Xone:464. Then, when they released the Xone:92 in 2003, they solidified their role as a mainstay in the DJ mixer world. The 92 is so good that 18 years later, it is still in production. The latest Xone:96, in my opinion, is the best mass-produced mixer currently on the market.
Xone mixers get much love for their analog filters, which I find to be the most quality-sounding ones in the industry. There is truly nothing like the Xone filter, which is one of the significant perks I see in it. So there's that, and there's their flexibility to route external effects devices such as guitar stompboxes.
The mixer
Today, on the Xone front, we aren't just talking about one controller or mixer – instead, we'll explore a combination of two pieces of gear worth mentioning. The first is the Xone:K1 controller, and the second is the Xone:23C mixer.
I believe that this is the most powerful combination you can get while starting as a new DJ. A few main perks that come to mind:
Although the Xone:23 retains all of the fantastic analog audio quality that you expect from an A&H mixer, the C variant of the Xone:23 does all this and more – it also features an onboard sound card used for DVS.
You can also link the Xone:K1 to your computer through a LAN cable instead of a USB cable, saving precious USB ports on your laptop.
While the Xone:23 and the C variant feature an external send return path. It is not quite a complex as on the more expensive big brother the Xone:92. But that comes as no surprise seeing the Xone:23 costs four times less. The EXT ON turns on a 50% dry/wet on the master chain. But not on a per-channel basis. The same goes for the filter. While Xone:92 and Xone:96 feature two filters, Xone:23 only has a single filter. Nevertheless, you still get that often-replicated-but-never-duplicated, sweet Xone filter sound.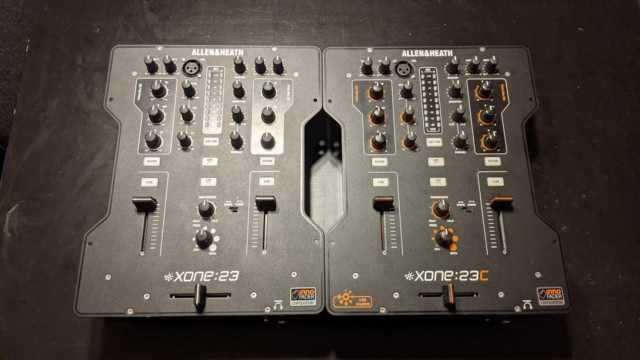 An important note about the Xone:23 is that it is a 2 + 2 mixer. Meaning it has two line-level inputs and two phono-level inputs. However, the odd thing about this mixer is that instead of having a phone/line switch, it has two separate gain knobs per channel. This design provides the user with the ability to run audio from two devices on one channel. You do, however, only have one 3-band EQ on that channel – which is not ideal.
Another exciting part about the Xone:23 is that you can turn the phono preamp into a line-level preamp, making it a four-channel line-level 2 + 2 mixer by a simple soldering mod.
One downside to the Xone:23 is that the crossfader on it is not very good. You can, however, mod it with the famous credit card trick or replace it altogether with a mini-Innofader.
The controller
While many people know about the Xone:K2 controller, few know about the Xone:K1. It had far less success and a far shorter run in production. While the Xone:K2 saw its release in 2011, the Xone:K1 followed three years later in 2014. Although the Xone:K1 was discontinued a few years back, the Xone:K2 is still in production ten years after release to this very day. Now, that is staying power.
The K1 is essentially the little brother of the Xone:K2. The Xone:K1 lacks a soundcard, as well as the latching layers feature. But apart from those changes, it is essentially the same device – just a little cheaper to buy.
Since the Xone:K1 features many buttons, knobs, faders, and endless encoders that are entirely unmarked, you can change the way you want to play with this device to any way you would like. This blank slate design ultimately makes it one of the most flexible controllers ever made.
For anyone wanting to upgrade from a beginner controller to something more, I would very much recommend the Xone:23C. It is, in my opinion, the best mixer that currently is in this price range (which is around 350 Euros). Nothing comes close to it – maybe except for the Ecler Nuo 2.0. But when you add a Xone:K1 or Xone:K2 to it, they make an incredibly compelling combination.
The Xone:K1/K2 build upon Traktor's insanely flexible MIDI mappability, providing a blank slate to do whatever you like with it. They truly provide the opportunity to create your own experience.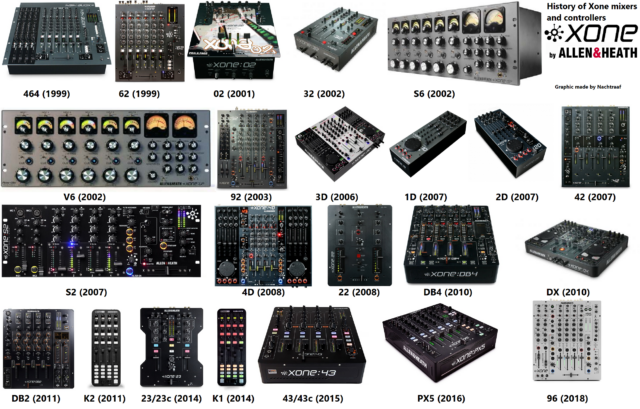 ---
DJ TechTools: the Midi Fighter 3D
Who does not know and love DJ TechTools? I mean, the obvious answer here is that you're currently reading this article, so you know something. DJTT has been instrumental in the digital DJ progression. Ean, DJTT's founder, was part of the creation of quite a few historic controllers such as the Vestax VCI-100, Native Instruments Traktor S4, Novation Dicers, and more. I own some of these, such as the Vestax VCI-100 SE – DJ TechTools edition and the Midi Fighter 3D you can see in the picture below – and I am sure I will acquire a few more of those pieces.
The Midi Fighter 3D is quite unlike any other controller in my collection. In comparison, almost every other piece of DJ gear has hard plastic buttons or rubberized pads. Instead, they built this thing like a tank.
Do you know those old-school arcade machines with the arcade buttons that withstand button-mashing 8-year-olds on a tantrum all day? This has those. So short of having actual hammers for fingers, I doubt you will be able to break this device in any significant way. And in the unlikely scenario that you manage the impossible, you can go to the DJ TechTools store for a replacement button.
The Midi Fighter creates a whole new window of possibilities that were not previously possible, for example, enabling live performance in DJ sets by finger-drumming, triggering samples, and all kinds of other tasks you may want to try out.
The story behind this device is also a fascinating one. One of the users on the DJTT Forums named Midi Fiddler – an individual commenting from New Zealand – saw one of the Midi Fighter prototypes that Ean made and improved on it further. Thus, he made the Midi Fighter an intercontinental collaboration. It makes me wonder, had this ever happened before in this space?
There are a couple of versions of the Midi Fighter. It initially began as a DIY Kit, followed by the Pro series, Spectra, Twister, and 64. The 3D version that exists in my collection today has parameters that are enabled by tilting the device.
Here is a demonstration by Choke; using the Choke Sound Packs.
While you can use sample packs, you can also opt for sampling your sounds, as Rick Fresco proves in this video.
And no article featuring the Midi Fighter would be complete without mentioning Shawn Wasabi using the Midi Fighter 64.
Because of the tight integration with Ableton, Maschine, and focus on the possibility of matching live performance with DJing, Traktor lends itself magnificently to partner with the Midi Fighter 3D.
---
Faderfox: the 4MidiLoop
While Faderfox makes this controller, it is a collaboration with the Swiss Glanzmann Digital DJ Solutions. I would love to tell you more about Faderfox and Glanzmann, but their information is sparse and proved to be challenging to find. All I can tell you is that both are one-person operations.
Faderfox started back in 2004 and still builds small handmade custom controllers to this day. Glanzmann began in 2010 and eventually ceased business in 2016 after making three controllers in collaboration with Faderfox – the 4MidiLoop, 4TrackTrigger, and the Versus.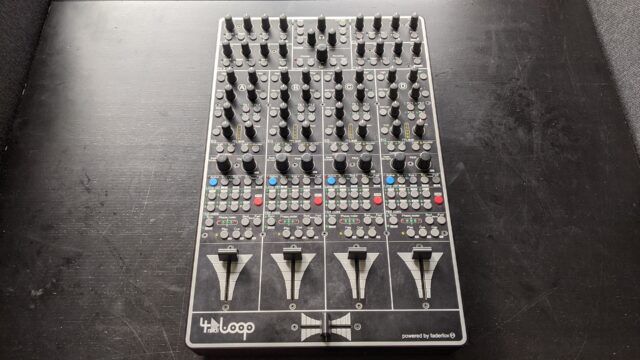 Did you ever feel like you wanted to have all the controls of Traktor on your screen at your fingertips, like every single one of them? Well, this controller does that. It is the physical manifestation of Traktor Pro. Every control in the Traktor software has a physical knob, button, fader, or encoder on this device at the exact location where you see it in the software. I think that is awesome and maybe just a little bit crazy.
As someone who has been using Traktor Pro for almost a decade now, this controller makes absolute sense. Everything is where you expect it to be. Every single function you see on screen is there physically. Do you need every single control in Traktor? No, not really. But it is fantastic that it is there.
If you do not count the Denon DJ SC6000M as a controller, this is by far the most expensive controller I have in my collection. But then again, it was entirely hand-built by Mathias. Seeing this controller saw its release in 2011, Traktor has released a couple of more features. So maybe it is time for a 2021 update. I, for one, would love to see that happen.
The Faderfox 4MidiLoop: for when you absolutely have to control every single aspect in Traktor.
---
Native Instruments: The D2
Native Instruments saw the light of day in 1996 in Germany. They started with music production software before moving into the realm of DJ software in the year 2000. They were one of the frontrunners of DVS (Digital Vinyl System) when they worked together with the Dutch company N2IT, Richie Hawtin, and John Acquaviva.
In 2003, they partnered with Stanton and started working on hardware devices. Their Maschine and Kontrol lineups have seen numerous innovative changes over the years, with Machine on the production side of things and Kontrol on the more DJ-focused hardware side. Both sides mesh well together. Because of this, it piqued the interest of DJs who prefer to combine DJing with live production.
The Traktor 2D is no longer in production, which is a great shame because it is a fantastic controller. Unfortunately, it is not in my collection. However, I have used it many times and grown familiar with it because my DJ partner owns a set.
Each unit has a dual-layer feature with a small display that provides all the information you need, making it so you have no reason to look at your laptop at all. Not having a big screen in front of you is a huge benefit. A computer display can inevitably become a visual obstacle to a crowd. There are various opinions on computers, whether good or bad – but the screen standing as a barrier, in my opinion, is one of the few valid arguments against them.
As with the Novation Twitch, NI opted to ditch the jog wheel on this unit and replace it with a touch strip. Additionally, it also has remix decks and effects controls. To me, it is the best, the most full-featured modular controller you can buy without a jog wheel. It is a real shame that it did not take off. I think this is more or less the most underrated controller ever made by Native Instruments. I have talked about it before, but there is resistance with people against controllers that do not feature jog wheels. But that's the thing with modular gear – you do not need a cheap jog wheel when you can put a turntable next to it and have 12-inch control vinyl instead of a small plastic jog wheel.
The only real unfortunate thing with this controller is that the dual-layer will only switch from deck A to C or B to D. While not impossible, it is a bit of a bother to run just a single unit.
Some excellent quality of life additions on this device is the foldable feet underneath the unit to raise it to the proper deck level of a regular mixer or turntable and the USB hub on the back – that every DJ gear should have nowadays. This fact is especially true because modular setups tend to require more USB cables. Even more so now that laptops seem to come with fewer USB ports.
Although the D2 is no longer in production, it still more or less exists – just in the form of the S8 controller with the attached mixer in the middle. So I think it is a wasted opportunity not to release the mixer of the S8 and the D2 as separate modular devices.
I have used the S8, and while it is an excellent controller, it is massive and impractical to take with you. The D2, on the other hand, is small and very portable. Combine that with the fact that we have wanted a 4-channel mixer from native instruments for such a long time. It feels like we have all been begging for a Z4 mixer for years now. Having a modular set with turntables would be extremely powerful.
---
Conclusion: why Traktor is still great
Traktor is great DJ software that has received much love as an established and appreciated software staple in the space. However, it has also gotten a bit of criticism in the last few years – partially because Native Instruments haven't focused as many resources on the development. But let's not forget about all the things Traktor already does well. I don't believe that all of the criticism is deserved, and I still find it to be the best DJ program out there. Together with these controllers and the software itself, it feels like the Japanese dish of okonomiyaki (which translates to "how you like it"), in the sense that you can customize the recipe in any way you would like. For example, you can change the toppings or mix them up. I think that is a far more interesting take on DJing than being formulaic.
We need to switch things up; we need to do things differently. DJing and, by extension, music, is an art form. With art forms, you must think outside the box. Take a look at the unique ways this gear has changed the art of DJing – for example, the Xone:K1 and the Midi Fighter 3D are like okonomiyaki because you have the flexibility to do what you want to do instead of being funnelled into a particular road. And while the Xone:K1 and Midi fighter 3D is like okonomiyaki, the Traktor D2 and 4MidiLoop controllers provide a fascinating contrast to it. This is because instead of making it your own, they offer a complete platform straight out of the box.
In the DJ world, there are three things I truly love: Vestax, Allen & Heath, and Traktor. Why you may ask? Well:
Vestax: as they were incredibly innovative.
Allen & Heath: because of their audio quality and flexible design.
Traktor: for being incredibly unrestrictive.
A final word: just before this article launched. Native Instruments announced their development of new Traktor software and hardware for its 20th birthday. They will be hiring new people to work on Traktor – all pointing to signs that NI is looking to grow its focus and put more effort behind the Traktor brand. I believe in a future where Traktor can be amongst the popular DJ software choices. We'll see what comes next.
My collection is ever-expanding, and the counter is currently at 122. This amount of hardware would, of course, be useless if it wasn't being used. So every week during my live stream on Twitch, I use a different device in the first hour of my stream. Be sure to tune in around 21:00 EU time [CEST] on Friday evening, and you might catch something I'll discuss here in the future.
You can check out Nachtraaf on Twitch, Mixcloud, Facebook, Youtube, and Website for more interesting digs on weird DJ gear.