Native Instruments had a party last night to celebrate the tenth anniversary of Traktor, and there they unveiled their powerful new version of Traktor as well as the new piece of hardware we've been waiting to learn more about, the Traktor Kontrol F1. Read more about NI CEO Daniel Haver's semi-official announcement last night!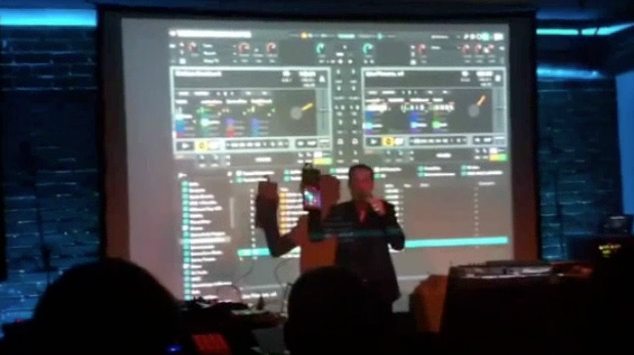 Editor's Note: Looks like the video of the official announcement got taken down from YouTube, but you can get the idea from the screencap above.
We'll have complete details on both the Kontrol F1 and Traktor 2.5 later this week, but for now we're excited to see that Traktor is taking things to the next level with Ableton-style clip launching and performance modes that will continue to drive innovation in the DJ software world. In the video that was taken down, Daniel Haver refers to the new Traktor F1 and Traktor 2.5 Remix Decks as a package and feature set that he calls "Ableton-in-a-DJ-way". Here's his words from Saturday night:
So those of you that like Ableton but actually didn't feel that it's quite a DJ product, (…) this is it. We take the whole production clipping aspect right into a DJ application, and these pads light up in just the same color as the cells in the Remix Decks.
The new Traktor Remix decks mentioned in the video seem to be a promising step forward, and hopefully they'll be completely open for intense mappings on not only the F1, but also on other controllers. In case you missed their official teaser video of the F1 and some of the Remix Deck features, check it out below.
Also mentioned during this announcement, the Kontrol F1 is set to drop early April, and that will most likely be concurrent with the release of Traktor 2.5. We talked to some folks at Native Instruments about the new software and they told us:
There are new Remix Decks set in a 4 by 4 configuration of clip launching units.
The sync mechanism for the loops has been totally revamped.
The software is expected to drop some time around April concurrently with the F1 controller
No word yet on if this will be a paid or free upgrade.
For more information about Traktor 2.5 and the Kontrol F1, check out the our speculation and analysis of their teaser video.