It's been another wild year at one of the largest trade shows in the industry, and over the last few days, myself and the entire DJTT editorial team have been hard at work bringing you the latest and greatest from the convention floor. NAMM is over, and we're getting back to normal DJTT articles very soon,  but we wanted to compile one final post with a summary of every new DJ product we covered this year.
Last year we had the tounge in cheek "nammies" that were given out to our favorite new products. This year, we will postpone awarding individual products and instead recognize our favorite new trends.
And the winner of this year's sole NAMMie goes to: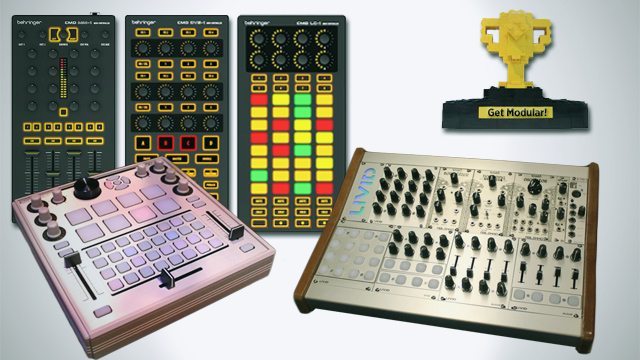 The Movement….. to Modular!
We saw a lot of all-in-one controllers but none of them were particularly innovative. Probably the best of the all-in-ones we saw was the Numark 4Trak, which is solid, polished and well designed, but considering that it's a year and a half after the launch of the S4, is it wrong for us to expect advances forward in these controllers?
Instead, we'd like to award a NAMMIE to a movement in general – the movement of modular DJ gear. We're big fans of custom workflows and creative new devices that allow DJs to set things up just how they like them, and this year we've seen strong contributions into that field by three companies:
Behringer's CMD Series

With designs from our very own DJTT forum members, Behringer came out swinging with these new modular controllers, and they're priced move.
Release Date: May 2012
Price:CMD-DVS-1, CMD-DC1 $99/CMD-PL1, CMD-LC1, CDM-MM1, $149
We Loved:MM1's USB hub + all the units can be locked together
Not so Much: The Buttons are what you would expect at this price level
For more info, see our post on the Behringer CMDs!
Electrix's Tweaker

The Tweaker has been on everyone's plates for quite a few months now, but at NAMM we got to see the final model and get a feel for it.
Release Date: May 2012
Price: $350
We Loved: Packs a large variety of control surfaces (sequencer, velocity pads, channel strips) into one unit
Not so Much: The knobs, while harkening to classic products, are a bit hard and uncomfortable.
See our full post on the Tweaker here!
Livid's Omni Modular Series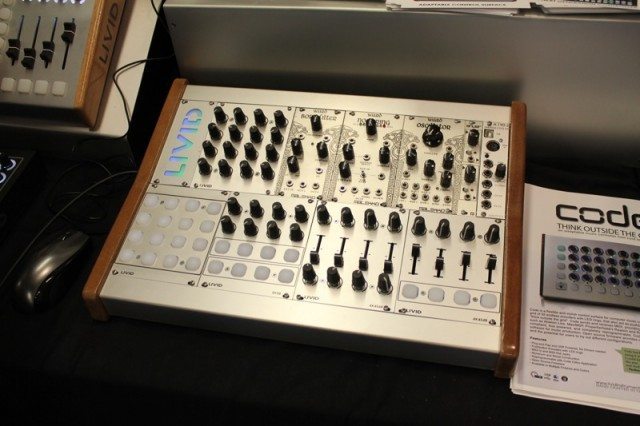 Livid is taking the very boutique direction here, and launching their new MIDI modular series later this year. Additional details on price and availability are TDB, but we did do an extensive writeup here.
Native Instruments's Traktor Kontrol F1
We're still waiting on the complete release of the F1, but we've got the latest info on the public announcement here.
Full NAMM Roundup
Aside from the modular DJ kit above, there were loads of other new NAMM 2012 DJ gear and products, and we did our best to see it all. Here's a quick roundup of all the gear we looked at NAMM in one big list, brought to you by our incredible Powers of Compilation.
New 4 Deck Controllers


Reloop Terminal Mix 4: Reloop's New Flagship Controller

This is Reloop's first real 4-channel controller, and it's a pretty nice setup, especially considering the price.
Release Date: May 2012
Price:  $599
We Loved:  The extensive slicer / cue point layers, low profile jogwheels.
Not so Much: Only ships with Serato Intro!
For more information on the Reloop Terminal Mix 4, click here!
4Trak: Numark's Traktor Controller + MPC DJ

Numark finally made a controller with Traktor Pro 2 users in mind. Additionally, they showed off the MPC DJ, which is included in the above video – but no final word on if it's anything more than a random concept.  Here are the stats for the Numark 4Trak:
Release Date: Q1 2012
Price:  $1099
We Loved:  The metallic, space-age shine
Not so Much:  Quite expensive considering other similar DJ controller options
More information on the 4Trak here!
DJ Tech Dragon 2: Analog Mixer Included

Dj Tech continues to step up their game and come back from their less "serious" DJ products in the past. Remember: Dj Mouse?
Release Date: Q1 2012
Price:  TBD
We Loved:  Real analogue mixer options at a potentially reasonable price
Not so Much:  Lack of compelling software integration
Full product page and details on the Dragon 2 on DJ Tech's site!
ALL THE REST!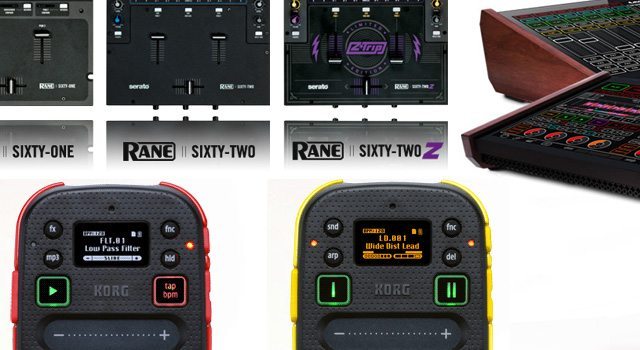 Rane Sixty One and Sixty Two

Rane introduced their new mixers, phasing out the TTM line in favor of the Sixty-One and Sixty Two. We got a chance to have a chat with some of the top folks from Rane and Serato and hear them chat about the synergy that exists between these two companies.
Release Date: TBD
Price:  $TBD, also.
We Loved:  Collaborating with DJs and Serato to make killer designs
Not so Much:  Why such hard, plastic buttons?
Alesis Vortex MIDI Keytar

Everyone on Twitter keeps tweeting about our video post on the Alesis Vortex, and they all seem to have the same question: Do we really think the keytar will come back in fashion with this new controller? We're now accepting bets who the first major DJ will be to embrace the keytar. Hit us up @djtechtools with your prediction.
Release Date: TBD
Price:  $TBD, also.
We Loved:  The light show and built in accelerometer
Not so Much:  Wishing the overall look was more Slash and less Yanni
For more complete info on the Alesis Keytar, check out their product page.
Korg's mini Kaoss Pad 2 and Kaossilator 2

It's well time for a refresh for these two devices, and Korg totally delivered on this one. The mini Kaoss Pad 2 and Kaossilator 2 are cool-looking updates to their older counterparts, and they come with a few new features as well.
Release Date: May 2012
Price:  $220
We Loved:  The new synth sounds and effects are killer!
Not so Much:  AA Batteries for a $220 device? Where's our rechargeable, long-lasting lithium ion battery?
Onward to more info on the mini Kaoss Pad 2 or the Kaossilator 2!
The One's Quiet Public Launch

Tucked away in the Mixware booth was the first official demo of what still seemed like an early version of The One Core Edition. We got to see a few modular interface elements in play, and it was cool to drag around and re-size the mixer/decks, but we're still waiting on a complete release before we make any judgment calls.
To stay in the loop on the lastest on The One, visit their page.
Smithson Martin KS-1974, The Emulator's New Sister Hardware

Alan Smithson himself took some time to chat with Chris Cartledge about the process behind designing the KS-1974. The first run of these will be a limited 100 units and come with the awesome Emulator software.
Release Date: Within a few weeks.
Price:  $2,500
We Loved:  Dedicated touch screen based hardware in a high end chasis.
Not so Much:  The high price
Complete details about the KS-1974 in our full writeup!
American Audio VMS Touch

American Audio clearly has seen that touch devices are popular and is capitalizing on that. That being said, we're not completely ecstatic about the VMS Touch, mainly because buttons are the one area where touch fails to be superior than the tactile alternative.
Release Date: TBD.
Price:  $TBD, als.
We Loved:  The boldness of going all touch in a big format.
Not so Much:  Stanton's all touch devices failed to gain traction – what is different here?
The Quieter Giants
A lot of folks were expecting big things from some of the heavy hitters, and we look forward to see what new gear and software comes out of Pioneer, Ableton, Denon, and others who didn't have that much new to show at NAMM 2012. Our DJTT Labs have a few crazy surprises for this next month planned as well, so lock in your seatbelts- it's sure to be an incredible year for the DJ industry.
We now return you to your regularly scheduled DJTT articles. Thanks for reading throughout all of our NAMM coverage – we've got a lot of awesome tutorials, interviews, tips, and more coming up this month, so stay tuned!