We've just gotten word that Vestax is announcing the V-MIDI, a product designed to act as a simple central hub for iOS musicians and DJs who want to add MIDI input devices into their devices. Read on for the product specs and learn how the V-MIDI solves some of the common complaints about making and mixing music on iOS.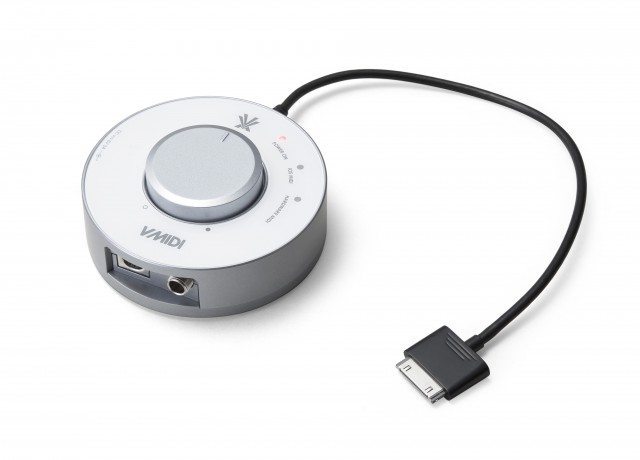 Manufacturer: Vestax
Price: 169 Euro (US price unknown, but that's about $220)
Expected Launch Date:  May/June 2012
Best Feature: Uses dock connector cable to both input MIDI data and output high-quality audio!
What It's Missing: A USB port for USB MIDI devices.
Fixing iOS DJs/Producer's Woes
There's no doubt that many of the music apps on iPad and iPhone are limited by the minimal inputs and outputs on those devices – with just one port for high-fidelity audio, charging, and  Core MIDI connectivity, many users have to sacrifice one for the next. There have been a few solutions attempted in the past, but it looks like Vestax might have it right with a simple no-frills solution that acts as a hub for the iOS musician.
Wait, What About USB?
Yep, it looks like keeping the device no-frills has it's drawbacks – with such limited space, it looks like Vesax has decided to forgo putting a USB port on the V-MIDI. We're not sure why, especially considering so many of Vextax's products can send MIDI over USB – perhaps they're thinking more of the iOS electronic musicians than the iOS DJs.
Vestax has instead decided to just include a Mini-DIN to USB adapter cable with each unit, meaning that you can still hook up your USB devices, but it's one more proprietary cable to keep track of.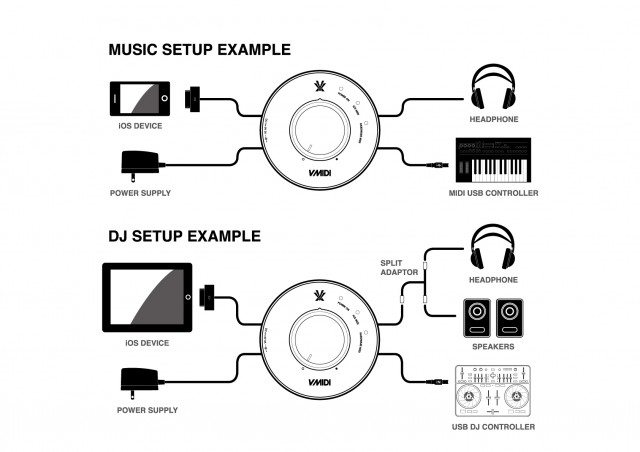 Amplify Your iOS Audio Out!
For many who have messed around with iOS music apps and output their audio into a mixer, it's clear that the iPad puts out a pathetically low signal from the headphone jack. The V-MIDI solves this problem by using the same dock connector to output amplified audio, the volume of which can be easily controlled with the large dial on the unit.
Full V-MIDI Tech Specs
Features:

Core MIDI in/out interface
Connects to any USB MIDI device to control more than 100 CoreMIDI compatible apps available from the App store
The only CoreMIDI interface compatible with iPhone®, iPad® and iPod touch®
Charges iOS devices and USB MIDI devices at the same time
USB host IC connector for MIDI USB devices
Stereo headphone output
Headphone amplification & volume control
MIDI send (iOS / Hardware) LED indicators
Mini DIN(6pin) to USB convert cable included
Headphone split cable included

Specs:

Size: 95(W) x 95(D) x 38(H) mm
Weight: 150 g
Power: SDC-6

Included:

V-MIDI unit
User's Manual
Mini DIN(6pin) to USB convert cable
Power Adapter
Will this Vestax iOS hub solve problems you've been having with completing an iOS setup? Worth snatching up or worth passing up – talk about it below!