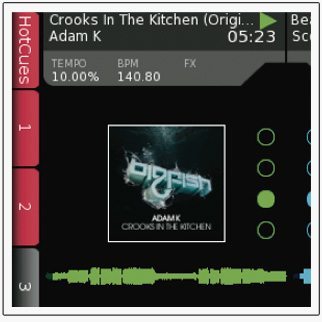 Stanton today is releasing a brand new update to the operating system that runs inside of their SCS.4DJ standalone DJ controller system – version 3.0. The new version has a number of major upgrades and new features to continue to build a viable computer-free DJ interface all built into one unit.
There are a number smaller performance improvements that include and behavior adjustments in the OS, such as more accessible headphone gain and increased compatibility with smartphones/ tablets as the library source. The main new features in version 3.0 are largely features that bring the OS up to speed with the wide array of other DJ solutions on the market, and include:
BeatGrid editing: Instead of being limited to just preparing tracks, realtime editing is now available with "Tap Tempo" "Dial-In-BPM" options.
Hot cues: We're amazed that Stanton didn't have these before, to be honest – but it'll be a very welcome new option to anyone with a unit! Limited to just three per deck at the moment
Optimized system management – This was one of the more noticeable drawbacks to the old SCS-IX operating system – the speed of using the interface was a but slow. Stanton promises that internal menu + library navigation is much faster.
Loop memory: Again, a feature that probably should have been included at launch, loops are now able to be held in system memory after turning the unit off and on again.
 Broader device support for smart phones, MP3 players and tablet computers.
We'll be interested to see if there's a new product coming at NAMM from Stanton that uses the SCS-IX system – considering that the SCS.4DJ was first announced in April of 2011, it makes sense that Stanton might have something new up their sleeves. This becomes even more poignant as complete standalone systems that build off of existing portable DJ platforms like Vestax's Spin2 enter the market, potentially stealing some of the SCS.4DJ's potential users.
More Info: