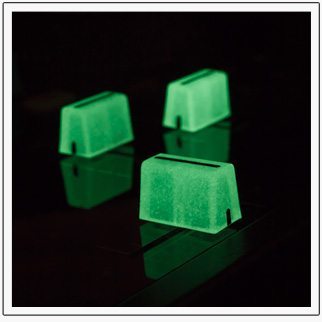 Ever since we first started making our own knobs and faders, we've gotten requests to make a glow-in-the-dark versions – and DJTT is excited to announce that we're putting glowing faders in stock today. The faders are a translucent hard polypropylene plastic, and glow green after being exposed to light.
They're in the DJTT webstore store now for the usual Chroma Caps prices – check them out here. Special thanks to all of the DJs who have tested them out and gave us feedback! We've heard from a number of turntablists that the hard plastic faders combined with the slightly fatter fader is pretty fast and fun to play with.

CHROMA CAP-TION WINNERS
Congratulations, TechToolians, you made us laugh. We posted a picture of Neo stopping bullets Chroma Caps with his mind a few weeks ago and asked for your best captions in an epic contest of hilarity – and got a ton of great responses both in the comments and on our Facebook page.
As always, we wish we could give you all prizes, but then we wouldn't have any Chroma Caps left to shoot at Mr. Anderson, so the DJTT staff chose our two favorites as the winners. First place went to this popular gem from David Halford:

Second place goes to this short and sweet gem from Murray Nuttal:

Thanks to everyone for their great submissions, and watch out for déjà vu!