The parade of compact, affordable, all-in-one controllers marches on with the Numark Mixtrack Pro II taking the spotlight. This clear improvement over the original ditches stiff buttons and giant jog wheels for a sleeker design, including 16 inviting MPC-style pads for playing your samples, loops, and cue points. Out-of-the-box integration with Serato DJ Intro and maps for other software make it a formidable controller – read our full review inside.
Reviewed: Numark Mixtrack Pro II Controller for Serato DJ/DJ Intro (official site)
Price (MSRP): $399 MSRP, $299 (common retail price)
Available: Now ($222 on Juno)
Communication: MIDI over USB
Ships with: Serato DJ Intro, USB cable, user guide
Weight: 4.7 oz (2.13 kg)
Dimensions: 10.4 x 18.3 x 2.0 inches (26.4 x 46.5 x 5.1 cm)
The Good:  Sixteen high-quality drum-style pads with different layers of functionality. Two headphone outputs; microphone input. Lightweight and very portable. Sleeker design includes smaller jog wheels. Good sound quality for the price. Standard MIDI over USB for use in any software. Traktor Pro 2.6 and VirtualDJ Pro maps available.
The Bad: No booth outputs. No EQ kills. Odd orientation of connections on the right-hand side. Knobs and faders not quite as sturdy as high-end units.
The Bottom Line: What may otherwise be a fairly standard all-in-one controller gets an injection of excitement by way of the 16 MPC-style pads that rule over the looping, sampling and cueing aspects of the Mixtrack Pro II. An upgrade path to Serato DJ and mappings for other software mean the controller can progress along with the user. This is a tidy package for the price.
BUILD QUALITY AND DESIGN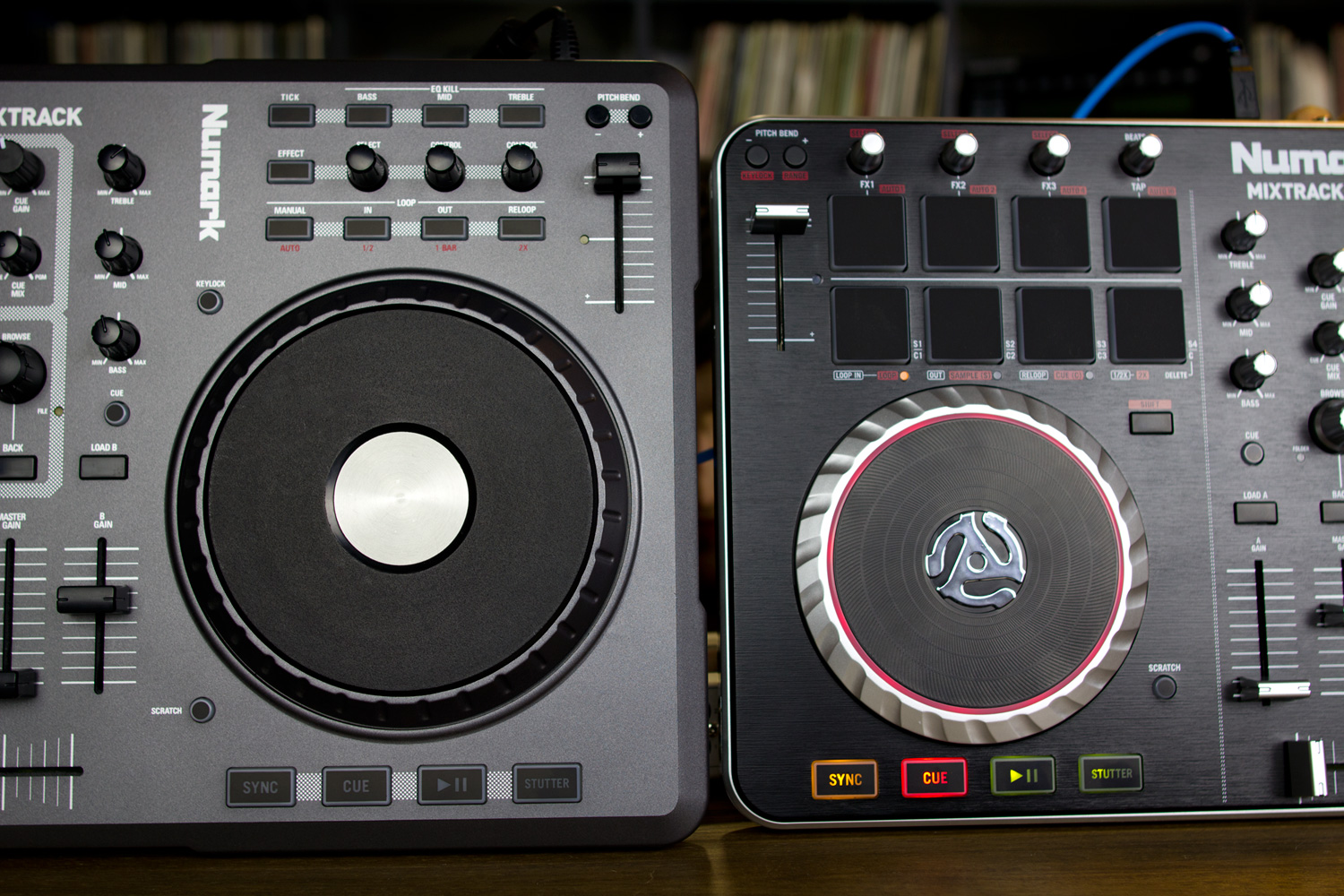 If only we DJs were a little more like the controllers we use, once we got a little old and less relevant, our corporate benefactors could step in an bless us with a rejuvenating update.
That's what Numark has done with the Mixtrack Pro II, a welcome upgrade from the original model that began life a couple of years ago as a Virtual DJ controller.
Now tricked out with a slicker design that incorporates rubber backlit drum pads, the Mixtrack Pro II caters to the new feature set of Serato DJ Intro (included) and Serato DJ (requires $129 upgrade), but also works as a standard MIDI controller over USB for any MIDI software. Additional mappings are already available for Virtual DJ Pro 7 and Traktor Pro 2.6 from Numark's site.
Besides the 16 total pads, the Mixtrack Pro II features more streamlined jog wheels that take up less surface area, and it has moved the mic and headphone connections to the right-hand side. That may not matter to some, but could be disconcerting to other DJs who are accustomed to having other gear on either side of their controller. The Mixtrack Pro II feels compact and very portable at 4.7 pounds, but it is wider from side to side than many controllers, the Kontrol S2 being one example. So the extra space needed on the right-hand side for protruding headphone connections may be a concern depending on the size of your workspace.

Despite the "Pro" moniker, the components of this controller may not qualify it as truly professional-grade for rigorous traveling DJ schedules. Though I would not classify it as "cheap" per se, the chassis is all plastic, as are the knob and fader caps, and the faders and FX encoders feel a little more loosely connected than on obvious high-end units, such as the fellow Serato DJ controller, the Pioneer DDJ-SX.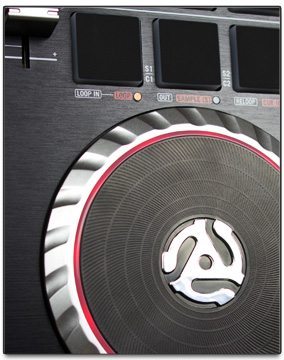 However, the highlights of the Mixtrack Pro II's controls have to be the drum pads and the jog wheels. Owing to Numark's association with Akai, the pads feel and perform truly professionally. They have more give to them than pads on other controllers like the Maschine or QuNeo, which is just a matter of preference. They are very responsive, able to be played with two finger in rapid-fire style. As with all pads, just don't be too timid with them; if you tap really lightly, they may not trigger.
The jog wheels score both form and function points for being smaller than older models in both height and diameter. They lie nearly flat against the surface and take up less space overall. Yet both their tops and their side feel very grippy, and their red LED circle around the top edge doesn't hurt in the dark, either.
Some final design notes: The faceplate labels the multifunction controls well, including their Shift functions in red type, and the rubber feet on the units bottom do an unusually effective job in hold the controller in place on a flat surface.
Mixer section:
Non-replaceable 45mm crossfader (crossfader curve adjustable in the software)
2 channel strips, each with 45mm volume faders, 3-band EQ knobs with center detent, and headphone cue buttons
Master Gain 45mm fader, providing software master output control, but not a hardwired analog master out for the soundcard
Browsing section, including browsing push encoder, 2 deck load buttons, and Back button
Cue Mix and Cue Gain (headphone level) knobs
Deck section x 2:
Transport section with 4 plastic click buttons for Sync, Cue, Play/Pause, and Stutter (jumps back to the last set cue point)
Touch-sensitive jog wheels with vinyl grip top and pitch-bending side sections, as well as a Scratch button for toggling the top of the wheels from scratching to pitch bending
45mm pitch faders with Pitch Bend buttons (that control Keylock and Pitch Range with Shift)
8 multi-function backlit rubber pads that control looping, sampling, cue point and effects functions depending on the mode and Shift status
4 rotary encoders for manipulating and selecting effects, as well as the time signature for the effect's beat-syncing
Shift button
Back Panel:
Master Out: unbalanced stereo RCA outputs
USB 2.0 port for audio and MIDI transfer, as well as bus power
Side Panel:
1/4″ Mic input with Gain control for dynamic microphones
2 headphones outs: 1/8″ and 1/4″ stereo (active simultaneously)
Also available, the Mixtrack II ($299/$199) offers the same feature set as the Mixtrack Pro II, except without the soundcard and in a different color scheme.
Que Sera, Serato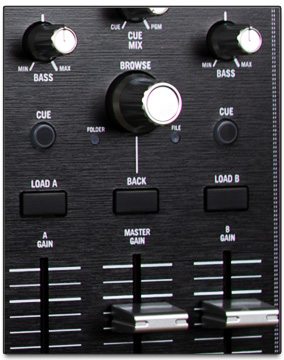 In describing the way the Mixtrack Pro II works, the context of what software you're using will mean a lot, since it's designed for out-of-box integration with the Serato DJ Intro (free download) and/or Serato DJ, which you can upgrade to for $129.
To start off, you can use the push-button Browse encoder to scroll through your folder tree on the left or the main track browser, and pushing the encoder or the Back button beneath it toggles between the two areas. Twisting the Browser knob slowly scrolls through tracks one at a time; twist it quickly to jump through the tracks at an accelerated rate. Then load tracks with the Load A and Load B buttons.
From there, the basic operations of the Mixtrack Pro II are straightforward and fairly self-explanatory. It's with the multifunction pad grid where things get a little more interesting. There are a few small differences to how the pads work in Serato DJ Intro and Serato DJ. First we'll go over their default action in Serato DJ Intro.
The top row of pads from left to right turn on/off the software's three effects per deck, and the fourth pad lets you tap in a different tempo for the effects' Beat Multiplier, which uses the track's tempo as a default. To complement these pads, the FX encoders above them control the Depth of the three effects, and the fourth encoder increases or decreases the time signature for the effects' Beats Multiplier with 10 values from 1/8 to 8/1. Using the Shift key, the first three effect encoders select the active effect from a list of six (highpass filter, lowpass filter, flanger, phaser, echo, and reverb).

When using Shift, the top row of pads activate Auto Loops, of either, 1, 2, 4, or 16 beats.
The second row of pads operates in three different modes that you choose by pressing Shift + one of the three pads with LEDs underneath to indicate either Loop, Sample, or Cue mode.
In Loop mode, the bottom row of pads work as Loop In, Loop Out, Reloop (loop off/on), and loop halve/loop double (which you can also use on Auto Loops). In Sample mode, the four pads trigger Sample Pads 1-4 from the software Samples section.
Finally, in Cue mode, the first three bottom-row pads set cue points 1-3, while you use hold down the fourth pad and hit pad 1-3 to delete cue points. Standard procedure is to delete cue points with the Shift+cue button combination, so it feels funny to use the pads as a cue point delete button. If you are using Serato DJ, the pads in Cue mode let you set 4 cue points and then delete them using the normal Shift + cue point method.
Traktor and Virtual DJ Maps
Despite marketing the Mixtrack Pro II as a Serato-oriented controller, the Traktor Pro 2.6 mapping that Numark provides gives you a very workable template for the Native Instruments benchmark software. Once you import the TSI file, Traktor Pro is ready to go, with hardly a single control wasted on the hardware (although it does stick with the three cue point pads, instead of four). The TSI also includes GUI settings that provide a three-effect FX unit for both FX decks, which are controlled with the encoders and top row of pads; Remix Sets in decks C and D, which you can trigger from the pads in Sample mode; and full Browsing ability from the hardware, including using the Back button to toggle the expanded browser view.
It's one of the more complete and immediately usable Traktor maps I've seen from a manufacturer this close after the units release date.
The VirtualDJ Pro 7 mapping does an equally admirable job of utilizing the available controls and pad modes of the Mixtrack Pro II. Although it's not as much of a 1-to-1 mapping as the Serato DJ and Traktor Pro maps, it still gives you full browsing capability, and effective control over the loops, cue points, effects, and sampling within the software.
Audio Interface & Sound Quality
There is a trend lately in all-in-one controllers not to disclose the particulars of the audio interface's sound quality. We've seen this in budget controllers like the Pioneer DDJ-WeGO and Vestax Spin 2, but even the mightly Pioneer DDJ-SX kept mum on the audio resolution of the sound card within. I have a sneaking suspicion that the audio components of these and other controllers all come off of the same cargo container from China.

But no matter. The point is that even the budget all-in-one controllers sound pretty nice these days. And with Numark's pedigree in low-cost, yet good-quality audio interfaces like the old standby DJ iO, the extra hundred bucks in cost of the Mixtrack Pro II over the Mixtrack II goes to an audio interface with simple features but a sound that stands up against all of the above-mentioned controllers, as well as the Kontrol S2 and Stanton DJC.4.
As is the norm with such controllers, the Mixtrack Pro II exhibited a sound that was even-keeled across the frequency spectrum; bassy, but not overpowering in the low end, and with a clean separation of the lows, mids, and highs.
The output levels from this little USB-powered soldier weren't off the charts, but adequate especially out of the single pair of unbalanced RCA main outputs. The two headphone outputs can be used simultaneously, with some noticeable output strength being lost when you plug in a second pair. With a single set of headphones, the output at its max should probably be enough for loud club environments, but using a good set of sound-isolating in-ear monitors sends the perceived loudness levels even higher.
LASTLY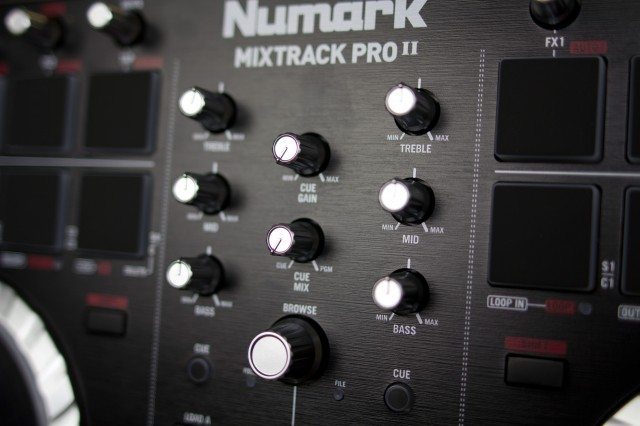 Serato DJ is still a fresh newcomer to DJ software, and it's interesting to see how various compatible controllers are taking it on. The DDJ-SX laid down the standard, and its multifunction pads served as an inspiration for the Mixtrack Pro II's budget-conscious adaptation of a similar theme. To achieve much smaller size and price, this Numark controller had to shave off some of the flexibility of the monstrous DDJ-SX. Ultimately, the Mixtrack Pro II improves one giant leap over the original Mixtrack Pro, giving you a pro set of multimode pads made possible through smaller, sleeker jog wheels.
The couple of nitpicks I have with the pads probably stem from experience with higher-end units, but I do feel that they would be even more user friendly if there didn't need to be constant switching between the pad modes using the Shift button. There will most likely be times when you'd like to use the pads in different modes at once or at least in quick succession. I feel you could get more out of the pads if the FX on/off functions were offloaded from the pads and onto push-button FX encoders. Then if both rows of pads could be made into multimode pads (instead of just the bottom row) and a dedicated pad mode button were added to switch modes instead of using the Shift key, you could do much more with them. All of that would probably necessitate a higher price, though, so maybe we'll see something similar in some mid-level Serato DJ controllers down the road.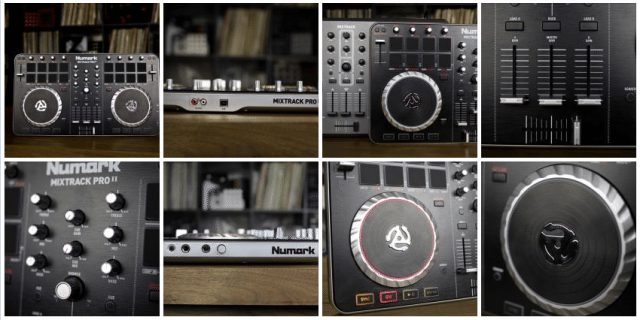 Any way you look at, life is just getting better for digital DJs as time goes on. Today, $299 for the Mixtrack Pro II gets you a better sound card, a better control set and layout, and a better free software program than the same price would fetch a couple of years ago. And this controller's standard MIDI compatibility and additional available mappings should keep it relevant to the buyer for years to come.
Markkus Rovito is DJTT's tech editor – have a controller you want him to review? Let us know in comments.