The tail end of December is rapidly approaching, meaning that it's time to be looking for any last minute holiday presents for your DJ friends, producer compatriots, or just as wishlist ideas for your family and friends. This guide is an awesome starting place – read on and share your own ideas with us as well!
See our 2016 Holiday gift guide here :

Low Cost DJ Stocking Stuffers (<$50)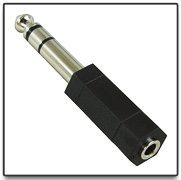 Headphone Adapter
Price: <$2 (on Amazon)
Ideal For: Every DJ Ever
Why It's A Good Gift: To be honest, this is without a doubt the most lost/stolen item in every DJs gear bag. These adapters are critical when a mixer doesn't have a 1/8″ headphone jack – an all-too-common occurrence. Have plenty of spares!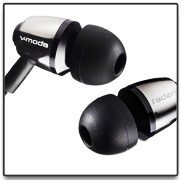 Musician's/DJ's Earplugs
Price: ~$15 (on sale in DJTT webstore)
Ideal For: DJs who regularly go out to clubs/festivals
Why It's A Good Gift: Losing your hearing is a natural by product of working in an industry built around amplified music – so protect your ears! We're partial to the V-Moda earplugs because they cut frequencies equally and are about 100X more comfortable than other over-the-counter earplugs.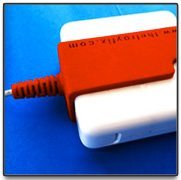 The Fray Fix for Macbook Power Cables
Price: $10 (on their website)
Ideal For: Macbook users
Why It's A Good Gift: Apple makes damn reliable laptops, but for some reason their power adapters and cables inevitably succumb to wear and eventually die. The Fray Fix is a classy way to prevent the death of Apple power cables – giving the cord just a little more support to prevent frayed wires.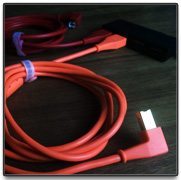 Chroma Cables
Price:$12.50 for one / 3 for $30 (on DJTT webstore)
Ideal For: Any DJ with a USB device
Why It's A Good Gift: Speaking of fixing crappy connectors, the Chroma Cables do just that for USB cables. With a right-angle and straight variety and an array of colors, we're not ashamed to recommend them as a perfect stocking stuffer.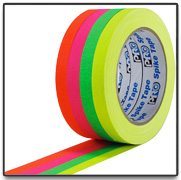 (Colored) Gaff Tape
Price: $13 for 4 rolls (on B&H)
Ideal For: Mobile DJs, audio engineers
Why It's A Good Gift: We love color-coding things, and we also love the versatility and power of great gaffer's tape – better than duct tape because it doesn't leave residue. This colored gaffer's tape looks great – time to re-up for the DJTT studio!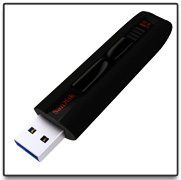 USB 3.0 Flash Drive
Price: $35 for 64GB model (on Amazon)
Ideal For: Almost any digital DJ
Why It's A Good Gift: USB flash drives have dropped immensely in price in the last year – so there's no excuse for a digital DJ to ever be without a least a good portion of their library. Even if you have an older drive, the USB 3.0 makes all the difference when moving tracks onto it.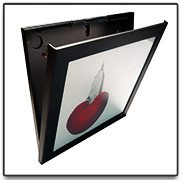 Play & Display Record Flip Frame
Price: $49 (on Turntable Lab)
Ideal For: DJs who spin vinyl in their home / studio
Why It's A Good Gift: Being able to have a place to securely store your favorite records while still showing them off is a big deal for a lot of vinyl DJs – which is why this swing-open picture frame is perfect. Pull out the record, drop it on a deck, but keep the artwork and record secure when it's not in play.
Medium Cost ($50 – 150) Stocking Stuffers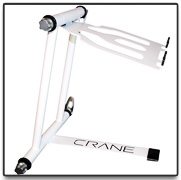 Crane Stand Plus
Price: $80 (in DJTT store)
Ideal For: any DJ who uses a laptop (and is tired of hunching over)
Why It's A Good Gift: Crane simplified their laptop stand design this year and made a great low-cost steel version of their infamous stand. Having a laptop stand not only keeps it out of the way, but it also makes it way easier to avoid (but doesn't prevent) Serato Face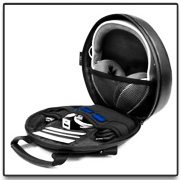 Deloop Sport Headphone Bag
Price: $70 (on Orbit Concepts' store– and maybe soon the DJTT store)
Ideal For: CDJ/headphone-only DJs who don't need a big bag
Why It's A Good Gift: The Deloop headphone case is a great way to transport your headphones and a few other items easily and securely – without the worry of a larger gear bag. We're fans of the simple Sport model, but 3 other versions are also available.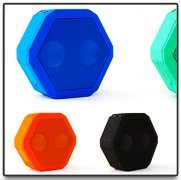 Boombot REX
Price: $60 (in the DJTT store)
Ideal For: Checking out tracks on the fly
Why It's A Good Gift: Boombots are fantastic portable Bluetooth speakers that allow on-the-move previewing of tracks. They sound better than anything else around the same size and come in a variety of colors!
Higher Cost (>$150) DJ Presents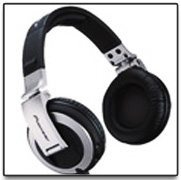 Great DJ Headphones
Price: ~$140 – $300 (in the DJTT store)
Ideal For: DJs still using iPhone earbuds
Why It's A Good Gift: Be very careful just nabbing a pair of headphones out of nowhere to get for a DJ – it's good to have some sense of what they might like. But a great pair of headphones is central to enjoying and mixing music – we recommend the V-Moda M-100s and HDJ-2000s particularly.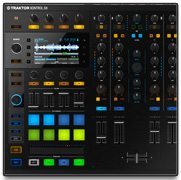 Traktor Kontrol S8
Price:~$1,199 (in the DJTT store – but check with our live chat operators to see if there are any deals available!)
Ideal For: Traktor DJs who love Remix Decks
Why It's A Good Gift: Having spent an evening at my friend's house with his S8 and his collection of 40+ Remix Deck Sets, it's safe to say that the S8 is a serious Traktor powerhouse. Being able to build unique sets on-the-fly is super fun – something that no other hardware workflow does this well.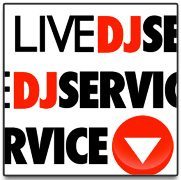 Live DJ Service (Premium Record Pool)
Price: $29.99/month or $70/3 months  (at LiveDJService.com)
Ideal For: Club DJs
Why It's A Good Gift: This record pool is curated by DJ Benzi – who has his fingers in any number of dancefloor-filling genres at one time. The service is great because he'll release self-curated batches of winning songs. It's less like a traditional record pool and more like having access to Benzi's playlists, bootlegs, and secret DJ edits.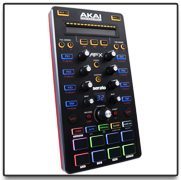 Akai AFX Serato DJ Controller
Price: $199 (in DJTT webstore)
Ideal For: Serato DJ users
Why It's A Good Gift: Hailed as the missing controller for Serato DJ, the Akai AFX is the equivalent of a Kontrol X1, only taken to the next level. Full FX control, loops, cuepoints, and strip search all in a compact package.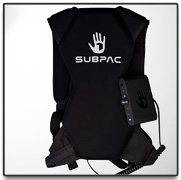 Subpac M1 Bluetooth Tactile Subwoofer
Price: $379 (in DJTT webstore)
Ideal For: Feeling the bass without a subwoofer
Why It's A Good Gift: Almost every DJ booth has a critical missing element: great bass. Subwoofers are often oriented for the dancefloor – but with the Subpac a DJ can get great personal bass monitoring with a simple backpack. The new version is shipping in less than two weeks and has Bluetooth streaming integrated.
Solid Presents For (Aspiring or Thriving) Music Producers (>$150)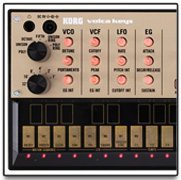 Korg Volcas
Price: $149 (in DJTT webstore)
Ideal For: Simple analog beatmaking
Why It's A Good Gift: The three Volca models – Keys, Beats, and Bass – are some of the most fun small pieces of analog synthesis we've ever found. They even have MIDI in, sync in/out, and more features that make them realistic additions to a full live production setup.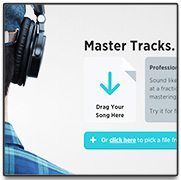 Landr Mastering Service Membership
Price:starts at $9/month (on Landr's site)
Ideal For: Quick mastering on projects
Why It's A Good Gift: Read our full review of the Landr on-the-fly mastering service here – but suffice it to say that any producer who doesn't have a good mastering service will enjoy having access to Landr.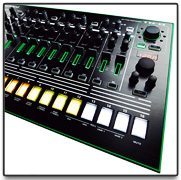 AIRA TR-8
Price: $499 (in DJTT webstore)
Ideal For: Crafting amazing drum patterns in an 808 style
Why It's A Good Gift: Roland's recrafting of the infamous 808 has had a fantastic year – with modern features and functions that take it well beyond the spec of the original machine. Truly a professional piece of production gear at a reasonable price point.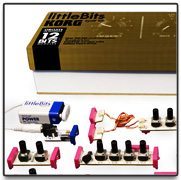 littleBits Synth Kit
Price: $159 (on LittleBits.cc)
Ideal For: Building your own analog synth 
Why It's A Good Gift: littleBits is bringing soldering-free electronics kits to the world – and their synth kit allows anyone to quickly create a traditional analog synthesizer. It's incredibly fun and versatile, and connects to the whole littleBits lineup for even more hacking/experimentation.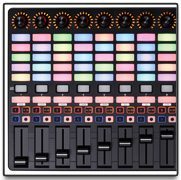 APC-40 MK2
Price: $399 (in DJTT webstore)
Ideal For: Ableton Live users
Why It's A Good Gift: Akai's follow up controller to the APC 40 is one of the most anticipated controllers for Ableton users on the market. Instead of trying to out-do the Ableton Push, they stuck to a full mixing workflow – read our full review here.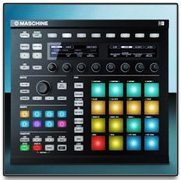 Native Instruments Maschine (+ Free Expansion Packs)
Price: $349/$599/$999 (in DJTT webstore)
Ideal For: Producers looking for complete production workstation + software
Why It's A Good Gift: Native Instruments has added 7 free Maschine Expansion packs to every one of the Maschines purchased before the end of 2014 – making it a great value for a holiday present. A hardware/software solution, Maschine is heavily praised by beatmakers worldwide.
DJ Culture/Swag Items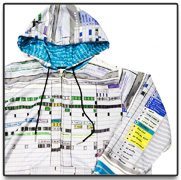 Ableton Live Hoodie
Price: $79.50 (at Burning Artists Collective)
Ideal For: Ableton advocates
Why It's A Good Gift: Rock your favorite DAW in hoodie format – complete with the full timeline of a track from ill.Gates and Stephan Jacobs on this full-wrap graphic hoodie. You even get a free download of the track on the hoodie when you buy it.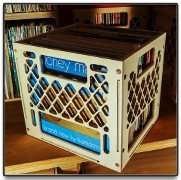 Lookwright Crates
Price: $55- $125 (at Lookwright.com)
Ideal For: Vinyl Collectors and DJs
Why It's A Good Gift: Lookwright record crates are quality, American-made crates crafted by a friend of DJTT, perfect for transporting your vinyl wherever needed. The 12″ Dollar Bin versions even fit perfectly in Ikea Expedit / Kallax shelving.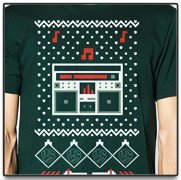 Winter Boogieland T-Shirt
Price: $25 (at Mixerfriendly.com)
Ideal For: Looking good, Christmas-style.
Why It's A Good Gift: Our friends at San Francisco-based Mixer Friendly have taken the traditional ugly Christmas sweater style design and turned it into a clever boombox-centric shirt design. Well done!
DJ/Producer Pendants
Price: $25 (at fludwatches.com)
Ideal For: Excessive style accessorizing
Why It's A Good Gift: FludWatches has put out a series of chain necklaces with MPCs, Boomboxes, or Turntables on them. It's pretty over-the-top, and that's why we like it.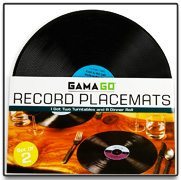 Record Placemats
Price: $18 (on Amazon.com)
Ideal For: Your dinner table, of course.
Why It's A Good Gift: Probably the only gift on this list that has an appropriate role in the kitchen, these placemats are shaped just like records – but instead of you protecting them, they'll protect your table from messes and spills.
Have your own thoughts on great holiday gifts for DJs? Let us know in the comments!
Or check out our guides from 2013 and 2012.