From the DJTT mailbox this week comes a tip about a brand new feature on Mixcloud – the ability to directly import your mixes from your Soundcloud uploads.
Try the feature here – or keep reading for more details. 
It's no secret that Soundcloud is taking aim at DJ content, with a recent flurry of high-profile takedown stories that have only grown in number in the last six months. They're current undergoing business negotiations with major labels, and even last month they partnered with YouTube's content tracking company, Zefr, to bring a more robust form of Content ID to the platform.
So many DJs used to ask "Mixcloud or Soundcloud?" and debate the merits of each – Soundcloud has a bigger audience, Mixcloud is devoted to mixes and negotiates rights for all uploaded content. But Berlin-based Soundcloud has simply become a risk for many DJs – if you make a popular mix and then one day Soundcloud decides to take it down, you've lost an important ranking piece of content.
How Mixcloud's Soundcloud Import Works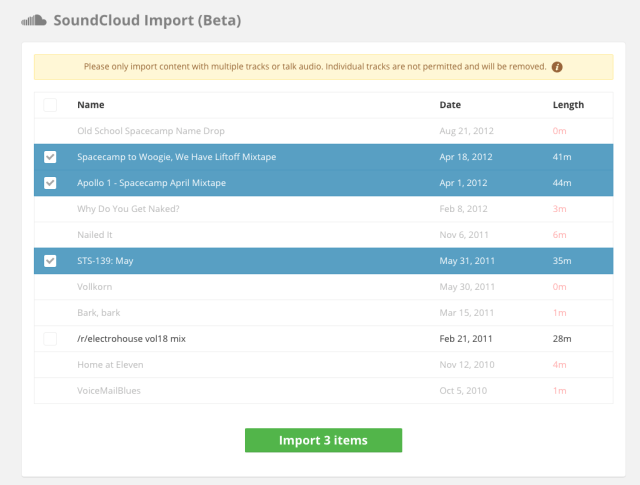 The Soundcloud Import feature is still labels as a Beta, and at the moment it's a pretty basic feature. After authorizing Mixcloud to access your Soundcloud account, you're presented with a list of all of your files uploaded on the service, with checkmarks next to any that Mixcloud thinks are a mix. So far the rules seem to be that accepted mixes must be:
Over 10 minutes in duration
Visible on your tracks list (no hidden tracks are visible)
Once you click import, wait a few minutes (based on how much content you selected) for Mixcloud to copy the content to their servers and your profile. Most of the metadata comes over alongside it- including your tags, the title, description, and artwork for the mix.
Check out six alternatives to Soundcloud in this DJTT article from July 2014
Have a listen to some of the best mixes that every DJ can learn from