2015 Edition: What Controller Is Right For You? All-In-One vs Modular DJ Setups
Back in 2012 we posted a popular article about all in one vs. modular controllers. The controller landscape has changed a lot since then so we're bringing you an updated 2015 edition!
Whether you're buying your very first DJ controller or getting a new one, the question "Should I go modular or all-in-one?" will come up. Deciding between these workflows can be an important choice, as both have specific advantages you may not be aware of. In today's article, I will help you understand the key differences and advantages of each – and explore the conceptual debate of DJing on a mixer versus in DJ software.
CLARIFY THE OPTIONS
To make sure we're on the same page, let's define what each of the two choices mean:
"All-in-one DJ controller": A single controller that houses a sound card, mixing section, and deck controls in a single interface. Most all in one controllers also include a software license – entry level models typically include a lite version (i.e. Serato DJ Intro or Traktor LE) while higher priced models ship with the full version (i.e. Serato DJ or Traktor Pro 2).

"Modular DJ controllers": Piecing together various controllers to make up a full control surface, and potentially using an analogue mixer and separate sound card.
Popular Examples Of All-In-One Controllers: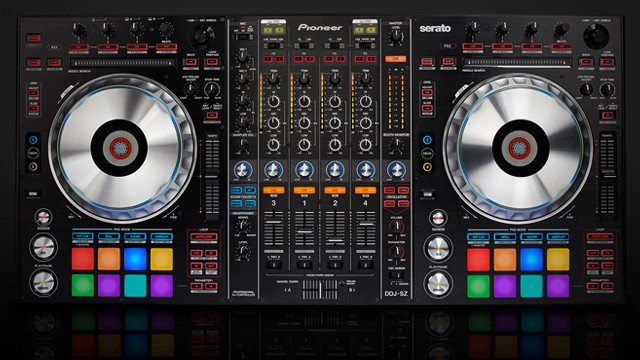 Traktor Kontrol S2 MK2 (Review) – Portable 2 deck controller, hi resolution jog wheels, transport controls, loops, and FX
Traktor Kontrol S4 MK2 (Review) – 4 deck controller with dedicated filter knobs, remix deck triggers, and loop recorder
Traktor Kontrol S8 (Review) – Premium 4 deck controller with large color displays for waveform view, track browsing, and a touch strip
Pioneer DDJ-SX2 (More Info) – 4 deck controller, improved jogwheels with better LED feedback, RGB pads, and DVS compatible
Pioneer DDJ-SZ (Review) – Large 4 deck controller, full size CDJ platters, large RGB pads, FX section, and can also work as a standalone mixer
Pioneer DDJ-SR (More Info) – Portable 2 deck controller, dedicated filters, large jogwheels, and 4 deck switch
Numark NV (Review) – 4 deck controller with large color display for track browsing, waveform display, and FX control
Numark MixTrack Pro 3 – Entry level 2 deck controller for Serato DJ with 5″ metal jogwheels, 100mm pitch sliders, and 16 backlit performance pads.
All of these controllers can be used by themselves to DJ with a laptop alone.
Popular Examples Of Modular Controllers: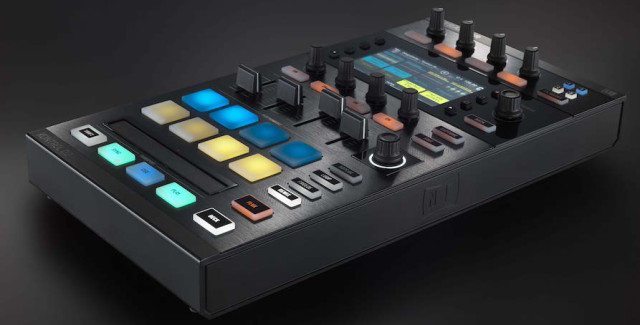 Traktor Kontrol X1 MK2 (Review) – Dedicated Traktor controller with controls for hot cues, loops, and effects for 2 decks. Features a new touch strip for pitch bending and FX control.
Traktor Kontrol F1 (Review) – Designed for Traktor's remix decks with 4×4 pad grid for samples/loops. Dedicated filter knob and volume faders for each remix slot
Traktor Kontrol D2 – Dedicated track/remix deck controller with large color display for waveform display, browsing tracks, and viewing remix deck cells
Traktor Kontrol Z1 (Review) – Portable 2 channel Traktor mixer, compatible with Traktor DJ for iOS. Add a Kontrol X1 or Kontrol F1 for deck control.
AKAI AFX (Review) – Dedicated Serato DJ controller with controls for hot cues, Serato Flip, effects, and loops.
AKAI AMX (Review) – Portable 2 channel Serato DJ mixer with phono/line inputs for turntables and CDJs, DVS compatible
Pioneer DDJ-SP1 (Review) – Serato DJ controller with 16 velocity sensitive pads, loop controls, FX section, and compatible with Serato Video
Midi Fighter 3D (Review) – 4×4 grid controller with high performance Sanwa arcade buttons. 4 banks, customizable RGB LED rings, and a built in motion sensor (perfect for modulating FX)
Midi Fighter Twister (More Info) – 4×4 grid controller with large push style endless encoders. Customizable RGB LED indicators and white LED ring on each knob. Built in sequencer for sequencing Traktor's remix decks.
Xone:K1 – 52 assignable controls, fast access to level controls, triggering hot cues, adding FX and instant looping
All of these controllers generally require other devices such as mixers and soundcards for full DJ control.
TO PLAY OUT OR NOT TO PLAY OUT (THAT IS THE QUESTION…)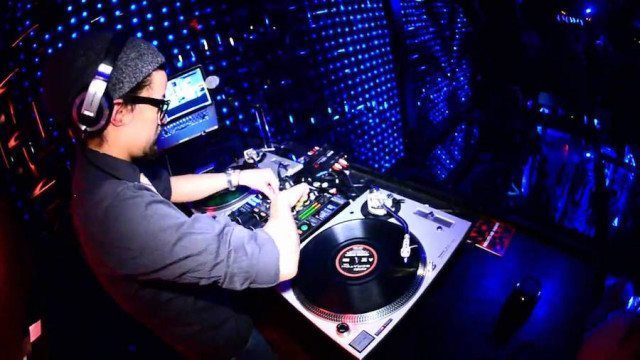 The first question to ask yourself is how much time you plan on spending DJing live. The reason is the requirements become very different in live environments and must be taken into consideration when choosing professional equipment.
"I PLAN TO MAINLY PLAY AT HOME AND A FEW HOUSE PARTIES"
An all-in-one controller will probably be the best option for you. They are generally the most economical way to get started, portable, and easiest to use/set up.  Just want to plug in and start mixing right away? The all-in-one console style systems are your friend, since packages like the Kontrol S4 MK2 or Pioneer DDJ-SX2 come with a controller, soundcard and DJ software. Especially when compared to the cost of CDJ/XDJs, the money spent on a single CDJ/XDJ would be enough for a high quality all-in-one controller.
"I WANT TO PRACTICE AT HOME AND THEN USE THAT GEAR IN CLUBS "
This is where it gets more complicated. The gear you want in a party environment will often be very different than a basic home setup – for reasons we'll go into later. The gear you practice at home with should ideally also be the same style of gear you play on in public, so that the skills and experience translate smoothly into the club. Not always, but usually, a modular setup is better at that.
REAL MIXER VS. VIRTUAL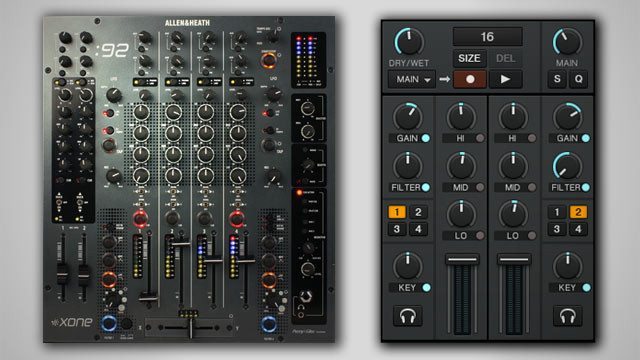 This is the next important question you need to ask yourself. Do you want to mix inside software and use all virtual controls, or keep a little analogue flavor in the mix and run your decks out to a mixer? DVS DJs using Serato DJ or Traktor Scratch Pro 2 typically mix externally outside the computer by default, but Traktor Scratch also has the option of mixing internally or externally depending on your preference.
"I WANT TO MIX INSIDE MY SOFTWARE AND SEND A SINGLE STEREO MASTER OUT TO THE SPEAKERS"
This is common for Ableton Live and many Traktor users. Having a sound card inside a controller is all you will need, and often a lot easier to set up. These sound cards, like on the Kontrol S2, generally have two or three stereo outputs:
One for your headphones
One for the master
One for the monitors/booth (sometimes)
"I WANT TO MIX MY VIRTUAL DECKS ON A PHYSICAL MIXER OUTSIDE THE COMPUTER"
In this case you need a multi-channel sound card, which I recommend be separate from your controller. Each deck or channel goes out of a discrete output on the soundcard and is then mixed on a "real" analogue mixer, just like any other DJ input including CDJs or vinyl.
Since each virtual deck needs its own discrete audio output. The correct sound card depends on how many decks you plan to run in parallel.
2 decks: Audio 2* (*has no inputs for turntables/CDJs)
3 Decks: Traktor Audio 6
4+ Decks: Traktor Audio 10 
BENEFITS OF MIXING INTERNALLY?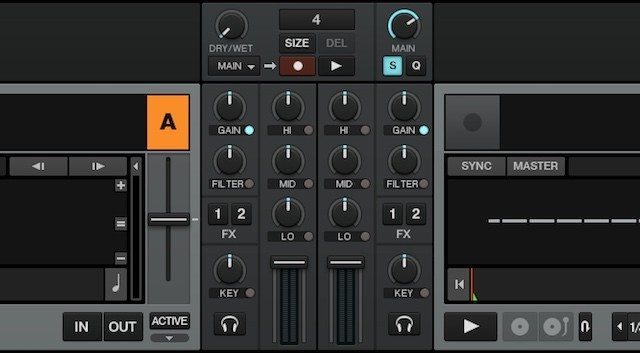 There are a few benefits to mixing inside the computer with all signals mixing together there.
The routing is more flexible
You can easily record and edit mixes in the future, no need for cables and external recorders
There are no digital to analogue conversions
It's much easier to mix more than three sources of audio with a limitless virtual mixer
Here are the downsides:
It's debatable that analogue summing sounds better and can be pushed harder without digital clipping
You don't have easy access to the booth, loud headphone, and master output controls on the house mixer in clubs (big disadvantage)
BENEFITS TO MIXING EXTERNALLY?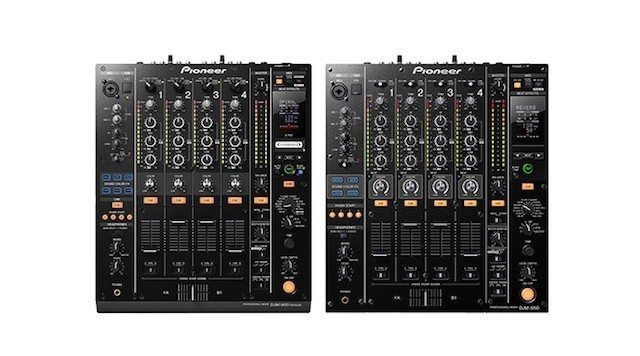 Mixing externally has some significant advantages if you plan on playing live:
The mixers are all full-sized, well spaced and designed for live performance
There are always mixers available and plugged into the sound system at most venues ready to be used
Access to analogue clipping and a 2nd gain stage on each channel is very useful
The headphone outputs are usually much louder
You have direct access to the DJ booth and system master directly on your mixer
Some mixers like the DJM-900 Nexus/SRT have a built in soundcard for easier setup
It also has some downsides:
Running multiple channels of audio into a mixer can be a pain in the ass to set up properly – requires more cables to setup
You need to have a good sound card with multiple outputs, which drives the cost up
Personally, I think that mixing in clubs using the real mixer is the best way to go. Therefore, your home setup should also have a mixer involved so the entire setup translates well. I prefer mixers like the DJM-900 Nexus (read my review here), which have four channels of USB audio available right on the mixer. Just plug in your USB cable to the mixer and 4 decks are instantly routed to each of the 4 channels on a house mixer. Very few people can afford to have a $1500+ mixer at home, so I advise getting an budget 2-3 channel mixer in the $300 – $500 range for practice only.
INTERNAL SOUND CARD VS. EXTERNAL SOUND CARD

This next question is important. Should you buy a controller with a soundcard in it, or buy a separate sound card with it's own USB plug. This is a more subjective choice, but here are a few things you should know about them.
In the past internal sound cards were not the highest quality, and usually consisted of a $50 sound card thrown in for marketing buzz. However in recent years controllers like the Pioneer DDJ-SX2 and Traktor Kontrol S8 have solid internal sound cards with great converters and loud outputs.
If your sound card and controller are combined, this may present a problem when there's downtime. If the controller glitches (which they do sometimes), restarting it will require turning off the sound to the club – not good! Keeping mission critical systems isolated is good for NASA and good for DJs too! If the sound card is separate from the controller, then you can disconnect a controller that's glitching without any audio drop outs and carry on with your set.
Internal sound cards have two primary advantages:
Convenience: eliminates multiple USB/audio cables
Price: the "bundle" is often less expensive than purchasing comparable items individually.
MODULAR VS. SINGULAR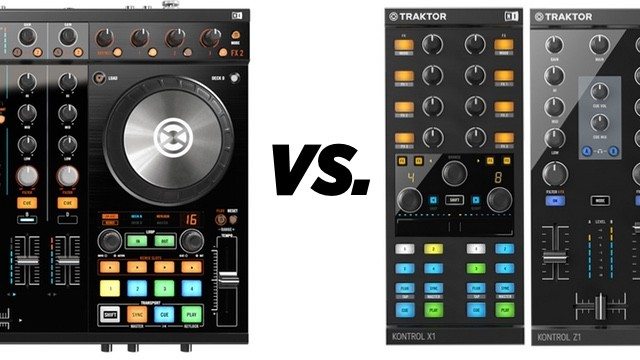 Now that we have teased out the soundcard and mixer issue, let's ask the more simple question. Should all of your decks and effects controls be on a single surface or pieced together?
THE CASE FOR SINGULAR
A single uniform playing surface that is well-designed with all critical controls is very nice to play with. I'm a big fan of the Kontrol S2 for its simplistic ease of use. They're quick and easy to setup for small, short gigs and if you're travelling for gigs you can easily throw it in the right backpack.
THE CASE FOR MODULAR
This comes down to flexibility over time. If you want the ability to easily add more controls, take some away and slowly add more pieces at incremental $200 price bumps – then modular is fantastic. Pick the exact parts you need and add more over time without a huge investment. Using an analogue mixer means that it's possible to incorporate hardware like synths or drum machines that can be layered into the mix.
Personally I use 2 Kontrol X1's for 4 deck control, a Midi Fighter Twister for sequencing, and a Midi Fighter 3D for samples and motion FX. If I want to play a simple gig with two decks, then Kontrol X1's make the flight. If its a big set with all four decks in the works, then all four controllers come along.
In this particular case, since I use analogue mixers and only a few small modular controllers – my DJ bag is actually smaller and lighter than most all-in-one "singular" controllers.
SOME LIVE DATA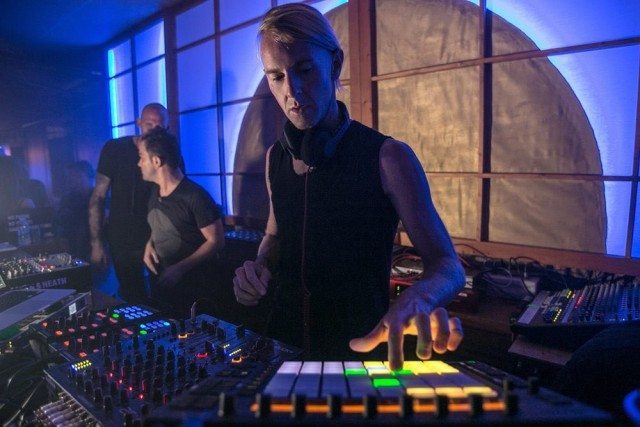 Now it's time to bring up some observations from the real world. Most professional DJs using controller who I encounter play in a similar fashion:
Just a few choice modular controllers, in many cases just one or two X1s and a standard analogue mixer.
This provides them with a simple utilitarian interface, where very little can go wrong. It's very rare that I see touring DJs use all-in-one controllers on the road (Zedd and Porter Robinson are the notable exceptions). In some cases they actually present a serious problem. The S2 and S4, for example, have magnetic jog wheels which, when subjected to intense vibration, can move on its own and completely throw off a mix!  For this reason a live rig should:
Be very easy to set up quickly
Be simple and easy to understand under stress
Be fairly indestructible and take the regular abuse of a show
Integrate and fit well into a wide variety of DJ booths without much hassle
THE BOTTOM LINE

There is no clear cut answer on which model of DJ controller will be right for you as it depends on your personal style and how you want to play. That, of course, is the exciting part of this entire controller revolution! DJs can finally choose how they want to perform without being wedded to a single "industry standard" and express themselves creatively through whatever interfaces they want.
What do you use – a modular or all-in-one setup?
Let us know in the comments below!