Back in December 2014, a new automated mastering service, LANDR, launched – allowing producers to submit unmastered WAVs and MP3s to an online algorithm that quickly processes the track and produces a basic mastering of their song. Now the company has launched a new service, in partnership with Native Instruments and Serato, that masters full DJ sets. Read on for the details, a listen-for-yourself comparison, and a quick Q+A with the LANDR team.
How Does This All Work?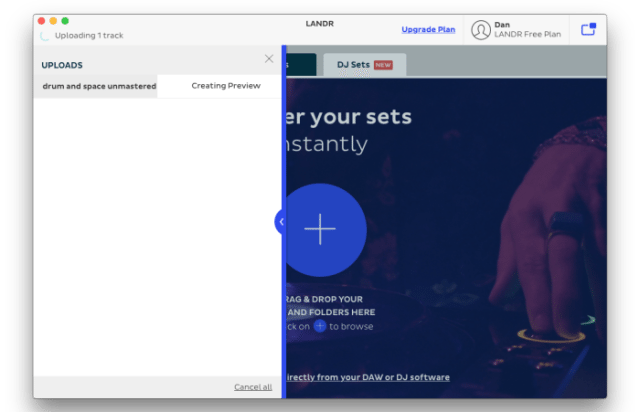 To get started mastering a DJ set with LANDR, you have to first download their desktop companion app – it's a small download and is primarily an uploading tool. Something cool that the app enables are Bounce Folders – folders on your computer where the app is watching for new files to appear, and it will automatically upload those files to LANDR when they appear.
When you've finished a DJ mix, simply upload the audio file with the app
LANDR will create a 30 second preview so you can "try before you buy" (DJ sets are free to master as a temporary promotion for the new service) – this takes a few minutes.
You choose a final format for your mastered set (WAV, MP3, etc)
The file processes with their service and creates a final mastered file to download to your computer.
Before And After: LANDR DJ Mix Mastering Compared
I decided that the best way to get a good idea of how well LANDR's DJ mix mastering algorithms work would be to run one of my own mixes through it and hear the results firsthand. So here's the before and after comparison with a drum and bass mix that I recorded last year. Worth noting that on the original, below, I only did some basic mixing adjustments after recording it – primarily to compensate for turning up the gain at one point. Other than that, no mastering was applied to the mix.
Before / No Mastering: 
After (LANDR DJ Set Mastering):
You can also take a look at the two files compared side-by-side in Audacity below – (mastered version on top) and it's clear that LANDR has done a significant amount of work to the volume and dynamics. But what do YOU notice when comparing the two mixes? Let us know your thoughts in the comments at the end of the article.

BONUS: Stem File Mastering
It looks like in addition to simple DJ Set mastering, LANDR is planning on adding Stem file mastering in the "near future" in a new version of the DJ Engine – details are sparse so far, but stay tuned here on DJTT and we'll have the details as they come emerge.
Want to know how the LANDR track mastering engine stood up to a professional engineer? See our review here.