A significant lull in the news coming out of Musikmesse 2016 has created space for highly acclaimed loudspeaker manufacturer Funktion-One to announce the details of their new collaboration with mixing desk designers Formula Sound: a high-end analog DJ Mixer. Learn more about the Funktion-One FF6.2 in this article.
First things first: this isn't a new collaboration. Formula Sound and Funktion-One have teamed up to design two other DJ mixers in the past: the FF-6000 and the FF-4000 (six and four channel DJ mixers, respectively). This new mixer continues to sport a number of elements that make it clear that it's designed by a company that focuses on front-of-house mixing desks: flared fader caps, small metal EQ knobs – both ideal for more careful, precision tweaking and not aggressive manipulation.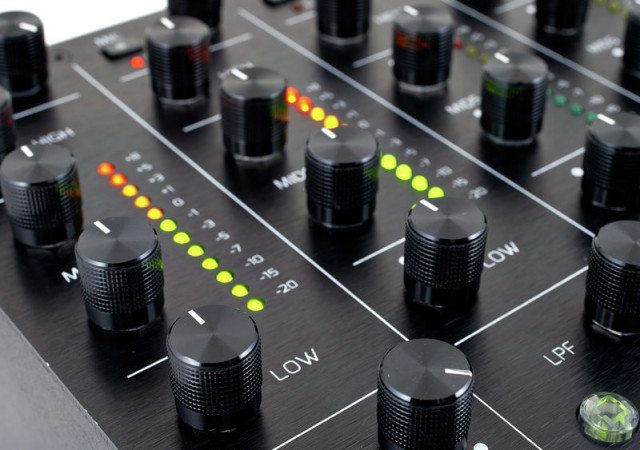 But what's the main focus of this mixer? First up, it's a fully analog six channel mixer, and the key here is that many of the features that are present on the FF6.2 have never been seen on other mixers that are fully analog.
Both of these companies are clearly focused primarily on sound and build quality more than aesthetics – there might be sharp edges and a generic-looking metal enclosure, but those elements are secondary to the quality of the components themselves and the mixer's feature set.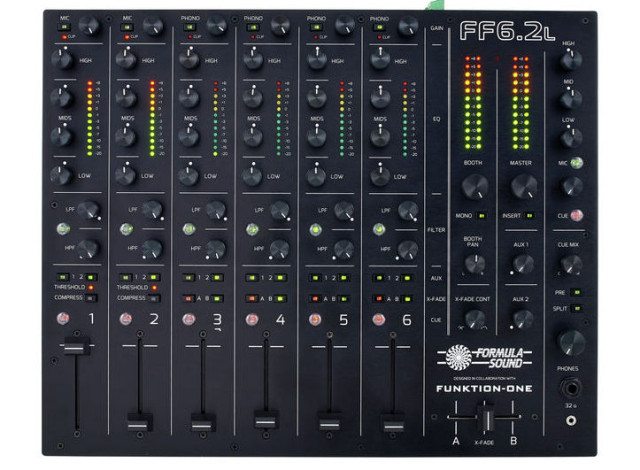 FF6.2 Mixer Feature Set
We've taken Funktion-One's press release and edited it down to the feature set below for quick readability (if you want to see the full thing, check out their launch page):
Precise four-band full-kill EQ: this means complete frequency band cuts/isolation, but also for subtle spectral balance mixing more common in studios. The EQ frequency response characteristics are optimized for precise control of bass, low-mid, high-mid and highs.
Separate high pass and low pass filters on each channel: specifically developed adjustable filters cut frequencies with accuracy and transparency – or bypass them when not in use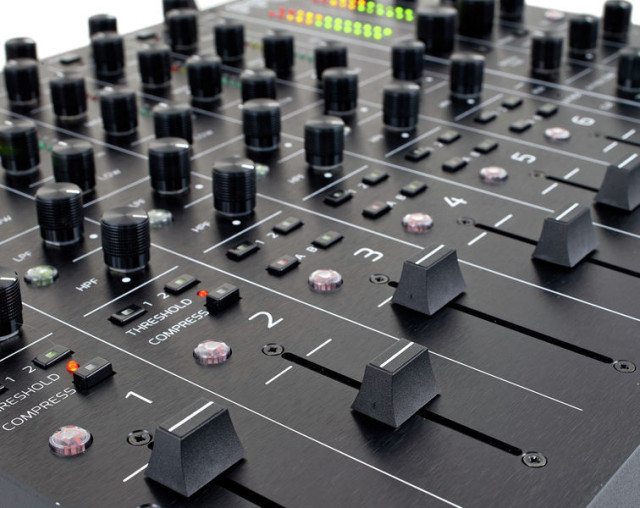 Channels 1 and 2 are switchable between microphone or stereo line inputs. These channels also both have a selectable compressor built-in
Channels 3 to 6 are switchable between stereo phono or line inputs. These channels have separate cross-fader routing selection. The contour of the cross-fader is adjustable to preference.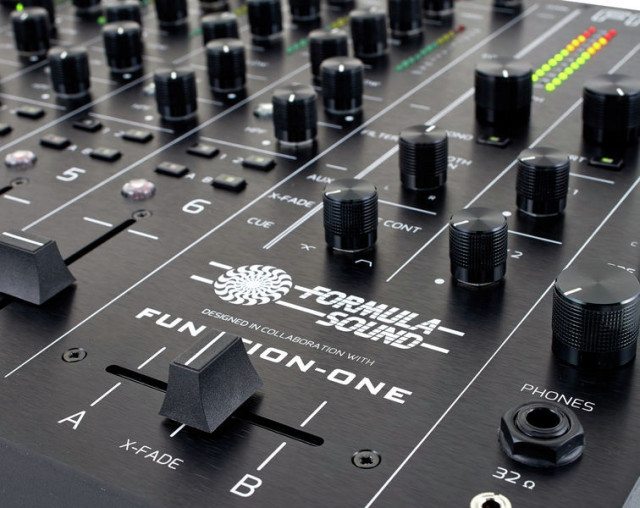 Dedicated microphone input: three-band EQ, level, on-off and cue selection – and routed directly to the master output.
Two separately selectable auxiliary sends: can be selected from any of the six channels, can be used to route audio to external effects. Individual level controls for both auxiliary sends are located in the output section of the mixer. The effects return via any other channel, allowing for full control in terms of level, EQ, filters and compression.
Extensive metering is provided to encourage correct gain structure to maintain the highest audio quality. Input channels have 12 LED metering with an extra clip warning LED. Master + booth outputs have 2 x 12 LEDs for stereo metering.
High power cue headphone output with 3.5mm and 1/4in sockets. The precise cue/master mix, split cue and pre EQ/filter selection provides complete listening control.
FF6.2 Mixer Inputs + Outputs

It's not a mixer post if you don't have an entire section focused on drooling over the I/O – so here's what the FF6.2 is packing:
Well-aligned placement of jacks: Each input and output connector is aligned with the corresponding front panel controls for ease of patching.
Channels 1 & 2 have twin balanced 1/4in jack sockets for line and single balanced XLR sockets for microphone inputs.
Channels 3, 4, 5 & 6 all have two sets of stereo RCA connectors. The lower pair are for phono inputs and the upper pair are for line inputs. Both have recessed gain trim. The phono pre-amps are of very high quality.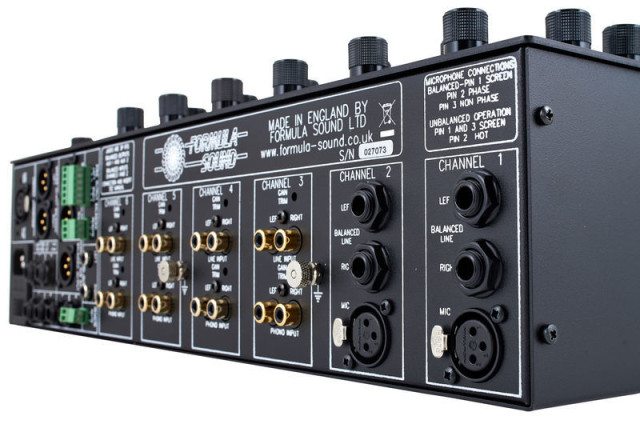 Sound Tech Controls: More controls designed for system engineers are located on the rear mixer, including: Microphone level trims; phantom power switching; optional microphone to DJ booth routing and threshold & ratio for both built-in compressors.
Microphone input is a single balanced XLR socket, with the corresponding gain trim and phantom power switch next to the connector.
Stereo master and booth outputs are twin balanced XLR sockets. A separate single XLR socket is also provided which can be switched (via the underside of the mixer) between a mono master output or a sub-bass (<80hz) output.
The stereo direct insert is via twin 1/4in jacks (both 3 pole send and return). The two stereo auxiliary send outputs are via twin balanced 1/4in jacks.
Record out: via stereo RCA.
All aforementioned connectors are gold-plated.
An additional stereo 'zone' output is provided via a 9 pin Phoenix connector. This output is controlled by a dedicated remote panel which can be physically located within the zone (for example in a bar or green room). A fire alarm interface via phoenix connector allows all signals to be muted in case of emergency except for the console microphone.
Power supply can be switched to operate at 110V or 230V. IEC socket with on/off switch.
A version of the mixer with external power supply is also available to special order and 19″ rack mount wings are available upon request.
The price on the FF6.2 is a whopping £2,683.33 (about $3,800 USD), coming in at £3,220 when you include VAT. What drives the price so high? It's mostly the particular specifications that Funktion-One demands of the components used in their products. Jordan Rothlein at Resident Advisor summarizes it well:
"Funktion-One also has electronics components, like amps and polarity checkers, manufactured to their specifications. They even had Formula Sound start making Funktion-One-branded DJ mixers, because save "an old Urei, maybe," they didn't think there was one on the market up to the standards of their rigs.
If Tony Andrews could, he'd have a hand in every link in the chain: master and cut the vinyl, code his own digital audio file format, design every component in the booth, maybe even set the gain and work the EQ so that DJs couldn't redline. "It's like a series of windows, one behind the other," he said, using his favourite simile for the signal chain at clubs. "You only need one dirty window and you can't see the view any more." But he realizes that all he can do is keep tinkering with the thing he knows best, the one he's committed to professionally and spiritually for more than four decades. "I've just got my whole being tuned into listening to audio. It would be crazy to not keep going with it, if you see what I mean.""
One final note in terms of upcoming variations on this mixer – in addition to this fader-heavy layout, Formula Sound has confirmed that there will be a rotary fader version of this mixer that will launch later in 2016, and a 4 channel version (likely called the FF4.2) will be available later this month.