About a year ago we first saw a prototype of an incredibly unique bit of turntablism kit that removes the turntable altogether: the SliderKut. First imagined and championed by 2012 DMC Online World Champion DJ Fong Fong, the SliderKut is "linear timecode" – signal sent to a DVS system via a straight line control surface instead of a round vinyl record. Keep reading for details, and to find out how the Kickstarter hopes to turn a one-off prototype into a ready-for-purchase, portable, DJ scratch tool.
SliderKut
The SliderKut prototype was first teased in late February 2016 with this performance video from DJ Fong Fong:
In the last year, the prototype has undergone some clear revisions to make it a more complete product – with a new case construction, Interestingly, there isn't a new video yet of the second design pass – we suspect this version is still being finalized. Fong Fong did just put up a video on his Facebook page of a new session on the SliderKut – a whole hour of performance: (Editor's Note: this has since been taken down?)
A Portablist's Feature Set?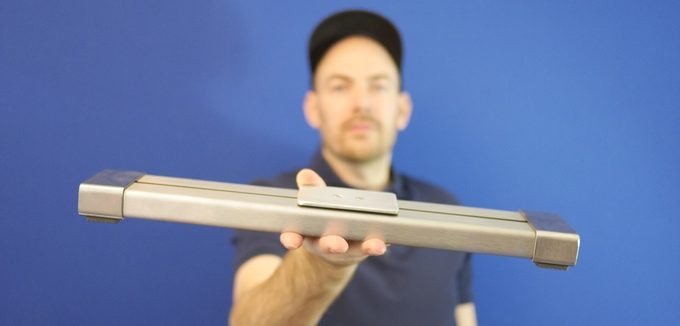 So how does the actual unit work? There aren't specific specs released yet on the SliderKut, but clearly there is some kind of timecode on a straight line inside of the unit, which is read by the "Scratchpad" which slides overtop of the code on ball bearings. From the Kickstarter description:
"We have implemented an analogue TIMECODE , which is read by our gadgetry inside our slide carriage allowing you to simply connect it to a DVS interface for SCRATCHING, JUGGLING, MIXING and much more. The linear design offers ultra low latency allowing super tight control with direct response. Solidly perform the most advanced scratching techniques with confidence. Forget about jumping cartridges, calibrating your decks and worn out needles."
The unit doesn't require batteries or a power supply, and is portable – coming in at around 16″ long and 3″ wide. Here's the rest of the feature set mentioned on the Kickstarter:
Built in timecode technology with analogue accuracy
Ultra smooth gliding scratch pad for tactile controls
Low latency through linear design allows tight 'vinyl' interaction and precision
Simply connect the sliderkut to your DVS-enabled mixer
Rugged yet sleek construction, built to last
Mega portable. Easily fits in your bag to take anywhere
How Will SliderKut Be Received?

So far, the project has raised just $652 out of a goal of $48,529 – meaning it could be a bit of an uphill battle if the rate of support doesn't increase in the next few days. I suspect the portablism community could latch onto this technology if they wanted to as it seems to allow precision turntablism without a lot of the restrictions of a moving platter – but record-based traditions can be hard to shake.
The turntablism world can be very fickle, and vocal online commenters often frame unique takes on DJ technology as a threat. A few anonimized examples of comments when we first shared the SliderKut prototype:
"HORRIBLE! THIS IS NOT DJING ANYMORE … just stupid stuff that makes weird noise"
"Unless it can do something a turntable (with DVS if needed) can't do, I don't see the point in this."
"this is not real ..scratching is with a vinyl record and turntable.."
The SliderKut Kickstarter is live now – with pre-order early units starting at about $193 and moving up to $310 after that. Have thoughts or comments on this concept? Share in the comments below.