At CES, we first caught wind of the Technics SL-1200GR, a lower-cost version of the new generation of turntables. At £1,300 / $1,600, it's still not a cheap DJ turntable. That said, a surprise over-the-weekend press release came in, announcing not only a new all-black SL-1210GR model, but also reaffirming Technics' commitment to DJs. Keep reading for details.
Technics SL-1210GR: All Black Everything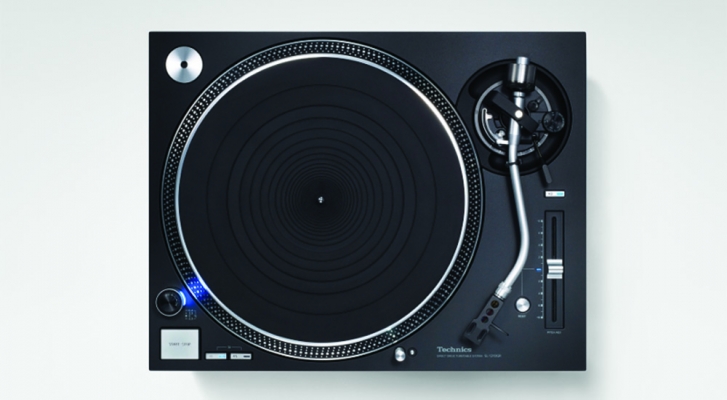 The new SL-1210GR harkens back to one of the slickest models of original Technics. It makes a lot of sense to release a black variation – after all, much of the DJ gear out there is black. But aside from the color choices on this new model, all the specs are almost completely identical to the SL-1200GR that was announced at CES. It's just a cosmetic difference.
The new SL-1200GR and black SL-1210GR are set to be available for sale in April of this year – and Technics has confirmed that the price will be roughly $1,600 in the US. It's absolutely an expensive gear purchase – but one that's a bit more wallet-friendly than the $4,000 reference-quality model SL-1200G/GAE.
Technics Clarifies Their Position On DJs
Many people in the DJ community bristled last month when a New York Times article came out in which Technics creative director Hiro Morishita snubbed DJs as a viable market. It was an odd choice for a brand that has had so much great natural marketing come out of the DJ community. But in this new press release for the SL-1210GR, we noticed a heavy backpedal that DJs will welcome:
"The SL-1200GR and SL-1210GR combine the best of both worlds," says Michiko Ogawa, Director Technics at Panasonic. "We are sure both models will fulfill the expectations of Technics fans around the globe. Our objective was to extend our top range for audio enthusiasts as well as professional DJs."
Full Specs On SL-1210GR
Here's the full specs for the SL-12010GR from this same press release – if you want more details, check out the official Technics site.
Technology for Rotational Stability
Coreless Direct Drive Motor
High-Precision Motor Controller
Construction for Vibration Tolerance
High-dampening Turntable Platter
Rigid Cabinet Construction
Silicon Rubber Insulator
High Quality Parts
High Sensitive Tonearm
Gold–plated Detachable Terminals
Technics Definitive Design
Inherited SL-1200 Series
Turntable Section
Type: Direct Drive Manual Turntable
Turntable Speeds: 33 1/3, 45, 78 r/min
Adjust Range: ±8%, ±16%
Starting Torque: 2.2 kg?cm (1.91 lb-in)
Build-up Characteristics: 0.7 s. from standstill to 33 1/3 r/min
Wow and Flutter: 0.025%W.R.M.S.
Rumble: 78dB(IEC 98A Weighted)
Turntable Platter: Aluminum die-cast
Diameter?332mm (13-5/64?)
Weight?Approx. 2.5kg (5.5 lb) (Including rubber sheet)
Tonearm Section
Type: Universal, Static Balance
Effective Length: 230mm (9-1/16?)
Overhang: 15mm (19/32?)
Tracking Error Angle:
Within 2° 32?(at the outer groove of 30cm (12?) record)
Within 0° 32?(at the inner groove of 30cm (12?) record)
Offset Angle: 22°
Arm Height Adjustment Range: 0 – 6mm
Stylus Pressure Adjustment Range: 0 – 4g (Direct Reading)
Head Shell Weight: Approx. 7.6g
Applicable Cartridge Weight Range: [without auxiliary weight] 5.6 – 12.0g (14.3 – 20.7g (including head shell))
[with auxiliary weight] 10.0 – 16.4g (18.7 – 25.1g (including head shell))
Cartridge Mounting Dimension: JIS 12.7mm, interval
Head Shell Terminal Lug: 1.2mm? 4-pin terminal lug
Terminals
Audio Output: PHONO (Pin Jack) x 1, EARTH TERMINAL x 1
General
Power Supply: AC120 V, 60 Hz
Power Consumption: 11 W (Approx. 0.2W (Standby))
Dimensions (W x H x D): 453 x 173 x 372 mm (17-27/32 × 6-13/16 × 14-21/32 inch)
Weight: Approx. 11.2kg (Approx. 24.7lbs)