Traktor was first introduced over 10 years ago, and since then, it has become an institution when it comes to digital DJing. The impact the software has had on the DJ scene as well as shaping the trends and developments is both undeniable and impressive. Looking back at the development of Traktor sparks nostalgia and warm fuzzy feelings very much like old school Nintendo does for many of us. In today's article I will take you through the evolution of Traktor from 2000 through today.
The video below is a great example of how far digital DJing has come but continue reading for a look back to its humble beginnings.

I remember it like it was yesterday. I was in a pretty committed relationship with PCDJ when I first met Traktor and the chemistry was spot on. The switch was an obvious choice for me and I haven't looked back since. Today, the market has branched off into many different focuses and styles of digital DJing with very impressive software like Ableton and Serato. Here is a look at how the program and the UI has changed over the years.
Traktor DJ Studio 1

Traktor was first released in 2000. The initial versions were Traktor Studio and Traktor DJ, with Traktor Studio being more full-featured.
Traktor DJ Studio 2
In 2002, Traktor DJ Studio 2 was released, which offered several new features including scratch macros. It also expanded its looping, MIDI, and cue point functionality. In 2003, Traktor DJ Studio 2.5 was released. This new version expanded the time stretching functionality, added Open Sound Control(OSC) support, and gave the user limited ability to customize the look of the interface.
Traktor Final Scratch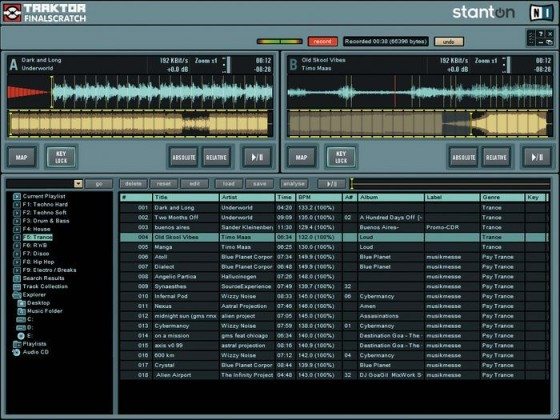 In 2003, Native Instruments partnered with Stanton Magnetics to develop the software for their "Final Scratch" digital vinyl system. This partnership gave Stanton a Win/Mac version of the Final Scratch software and allowed Native Instruments to use the Final Scratch timecode engine in their own Traktor line.
Traktor 3

In 2005, Native Instruments added vinyl emulation capability to version 2.6 of Traktor DJ Studio. Version 2.6 included live input, streaming internet broadcasting, support for more file formats, and greatly expanded MIDI capability. Soon afterward, Traktor DJ Studio 3 added two more playback decks (for a total of four), built-in effects, Beatport online store integration, a four-channel mixer, a Universal Binary version, deck caching, and minor improvements to existing features.
On October 11, 2006, the partnership between Native Instruments and Stanton Magnetics ended, and Traktor DJ Studio 3 was renamed Traktor 3.
Traktor Pro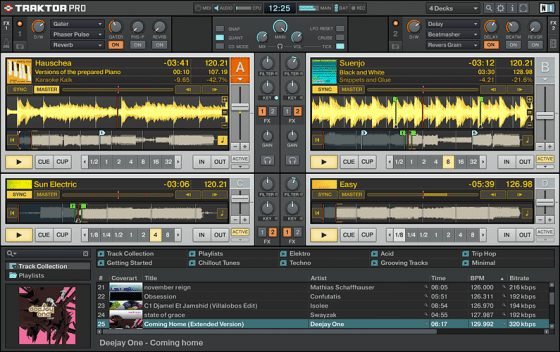 In 2008, an updated version of Traktor Pro, and a new version of the DJ studio, Traktor Scratch Pro were released. Traktor Scratch Pro had additional DVS functionality enabled, including the specifically designed Audio 8 DJ audio interface, and timecoded CD or vinyl control.
Traktor Pro S4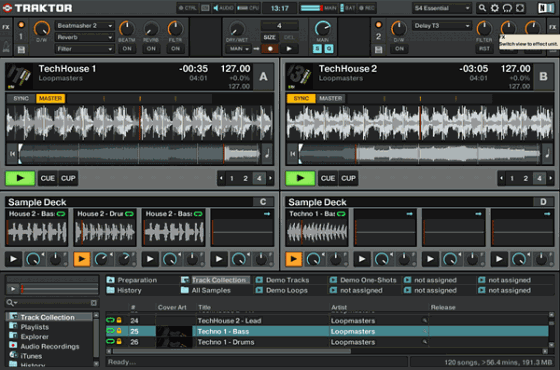 When Native Instruments released its newest DJ controller, the S4, it came bundled with an, in many ways redesigned software, adding sample decks among other things. The Traktor Pro S4 also became the natural inspiration for what came next.
Traktor Pro 2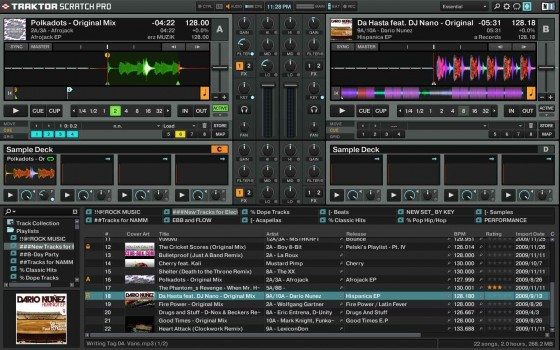 On April 1st 2011, Native Instruments will release its newest DJ software and if you haven't already read our article with a solid 10 minute video walk through by Ean Golden, you should do that right now. In the meantime I'll be right here, waiting for holographic DJing with Minority Report gestures.
Special thanks to DJ FDRK, StuC and the people who posted in the thread which gave us the idea to put together this article.